Century 1075S
Power + Versatility = Performance
Century rotators have set the industry standard for superior design and performance in heavy duty recovery equipment for years. Based on that same past knowledge and experience the 1075S has brought the rotator market to a whole new level.
More +
The Century 1075S rotator is fitted with 60,000lb planetary 2 speed winches, newly designed winch buckets, and increased boom reach to tackle he toughest recovery applications.
For supreme stability in a variety of situations Century's Rotators are equipped with a hydraulic stabilization system that includes front hydraulic out riggers with over 432mm of spread and rear patented out riggers designed for stability, in lifting as well as anchoring your unit during those tough recoveries.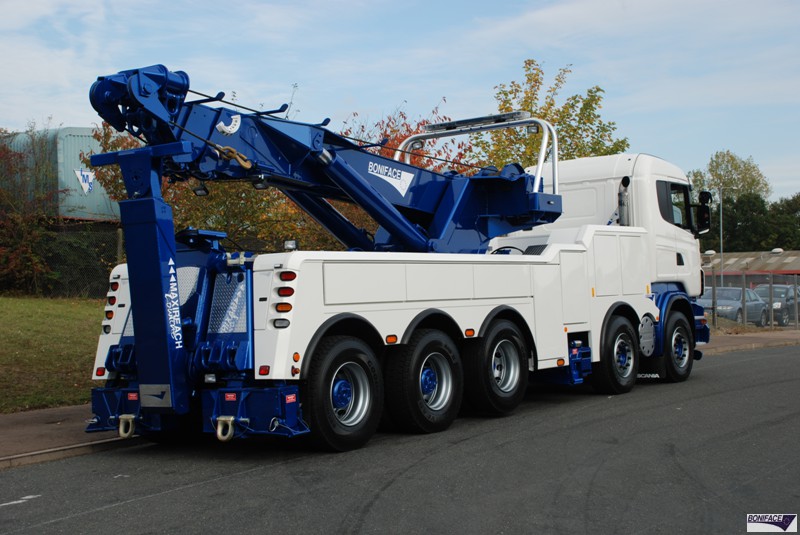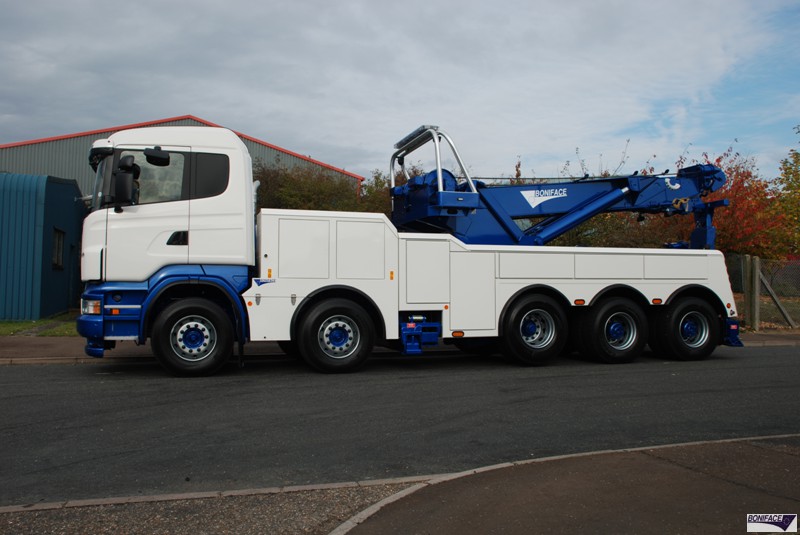 Full Gallery
Features
Top of Page
Standard
Large Forward Compartments
Dual Speed Winches
Power Toolbox Compartment Locks
LED Toolbox Lighting
Mud Flaps
Gas Door Checks
Fork Stowage Bracket
Bubble Angle Indicators
"D" Rings on each Stage of the Boom
1st Stage "D" Rings on the Tailboard
Safety Chains
Power Protections Valves
1 Set of "D" ring Camlocks
3-Stage Rear Hydraulic Outriggers
Tailboard Air/Electrical Hookups
Body Door Locks
Remote Control for Underlift
Door Checks
Rubber Fenderettes
Side Work lights
Dual Control Stations for Legs
Pressure Gauges
LED Tool Compartment Lights
2 Position House Lock with Indicators
Rear Outriggers Spade Attachment
Aluminium Modular Body w/ Rubber Mounting Isolators
House Lock Window
Adjustable Shelves
LED Body Lighting
Chain Stowage
Tailboard Fork & Chain Stowage
Aluminium Tread-Plate Walkway
Driver Side Manual Controls
Hour Meter
Hydraulic Pump
Front Outriggers
4-Stage Rear Outriggers
Large Outrigger Pads
Rotator Pylon Flyer
"D" Ring Package
Quick Connect Air
Safety Chain Roller
Boom
360° Continuous Boom Rotation
Cable Tie Back (Boom)
Dual 2-Speed Planetary Winches
Power Elevation
Power Extension
Air Cable Tensioners
360° Sheave Heads
Winch Air Free Spool
Boom Mounted "D" Rings & Cam Locks
Underlift
Boniface H-Maxireach Lowline
Boniface I Lowline
SDU4 Standard Low Rider
SDU4 (Without Dual H-Beams)
HHU (Rear H-Beam Only)
Coach Low Rider Underlift
3-Stage Design
Low Profile 70° Pivoting Heavy Duty Fabricated Lift Bar
Power Tilt
Hydraulic Fold
Low Profile Fork Holders
Pivoting Spring Lift Adapters
Chain Hook End Caps
9 Sets Of Cast Steel Forks
Optional
Sumo Sidewinder Front Legs
Sidewinder Mk3 Front Legs
Sidewinder SP850 Front Legs
Front Mounted 2-Stage H-Beam Outriggers 212" Stance (1150S)
Front Mounted 3-Stage H-Beam Outriggers (Standard On 1150S & 1150R)
4-Stage Rear Legs
Rear 4-Stage Outriggers 220" Stance
Additional Lift Forks
Extension Stowage Compartment
Endless Loop Sling Package
Snatch Blocks
Snatch Block Stowage Rack
Halogen Work & Hook-Up Lighting
Wide Load Light Bar
Rear Camera & Monitor
Cab Control System
Tailboard Underlift Controls
Convenience Group (Rails & Steps)
Offset Fork Holder Extension
3-Drawer Toolbox
4-Drawer Toolbox
Folding Wash-down Sink
Heavy Duty Tyre Lift
Fork Riser Brackets
Pintle Hook Attachment
Trailer Ball Adapter (Requires Pintle Hook Attachment)
5th Wheel Plate (Requires Pintle Hook Attachment)
Low Pull "D" Ring Kit
Chain Package
Recovery Straps
Light Bar
Xenon Boom Lights
Strobe Kits
Rear Air & Electrical Hook-Ups
Air Shift PTO
Manual Override Control for PTO
Aluminium Dress-Up Kits
Central locking for Lockers
Chain Hook Slide Adapter
Tailboard Cable Tiebacks
Additional Lighting
Stainless Steel Fenderettes
Front Outrigger Side Pull Attachment
Chain Rack Carousel
Foundry Hooks
Shackles
Spreader Bar
Rotator "D" Ring Package
Winch Bucket Mounted Aluminium Tubular Pylon Flyer
24", 30", 36", 48" Saddle Tunnel Box
Water Tank Kit
Specifications
Boom
| | | |
| --- | --- | --- |
| Boom Structural Retracted Rating at 30° | 63502kg (140000lb) | |
| Boom Structural Extended Rating at 30° | 16329kg (36000lb) | |
| Maximum Hook Height | 12319mm | |
| Boom Maximum Angle | 60 degree | |
| Boom Rotation Angle | 360 degree | |
Underlift
| | SDU-4 | H-Maxireach Lowline | I-Lowline |
| --- | --- | --- | --- |
| Underlift Rating Extended | 7711kg (17000lb) by 3556mm | 9000kg by 4295mm | 9000kg by 3747mm |
| Underlift Rating Retracted | 24947kg (55000lb) by 1371mm | 33000kg by 1995mm | 33000kg by 1813mm |
| Underlift Extendable By | 2185mm (hydraulic) | 2300mm (hydraulic) | 1934mm (hydraulic) |
Winch
Twin Winch Rating Each
27215kg (60000lb)
Winch Type
Planetary 2-Speed
Air Cable Tensioner
Air Winch Clutch Release
Chassis Recommendation
Minimum GVW 41000kg
Important: All ratings are based on structural factors only, not vehicle capacities or capabilities. Specifications shown are approximations and may vary depending on chassis selected. Miller Industries Towing Equipment Inc. reserves the right to change or modify product and/or specifications without notice or obligation. Some equipment shown is optional.
Keywords: