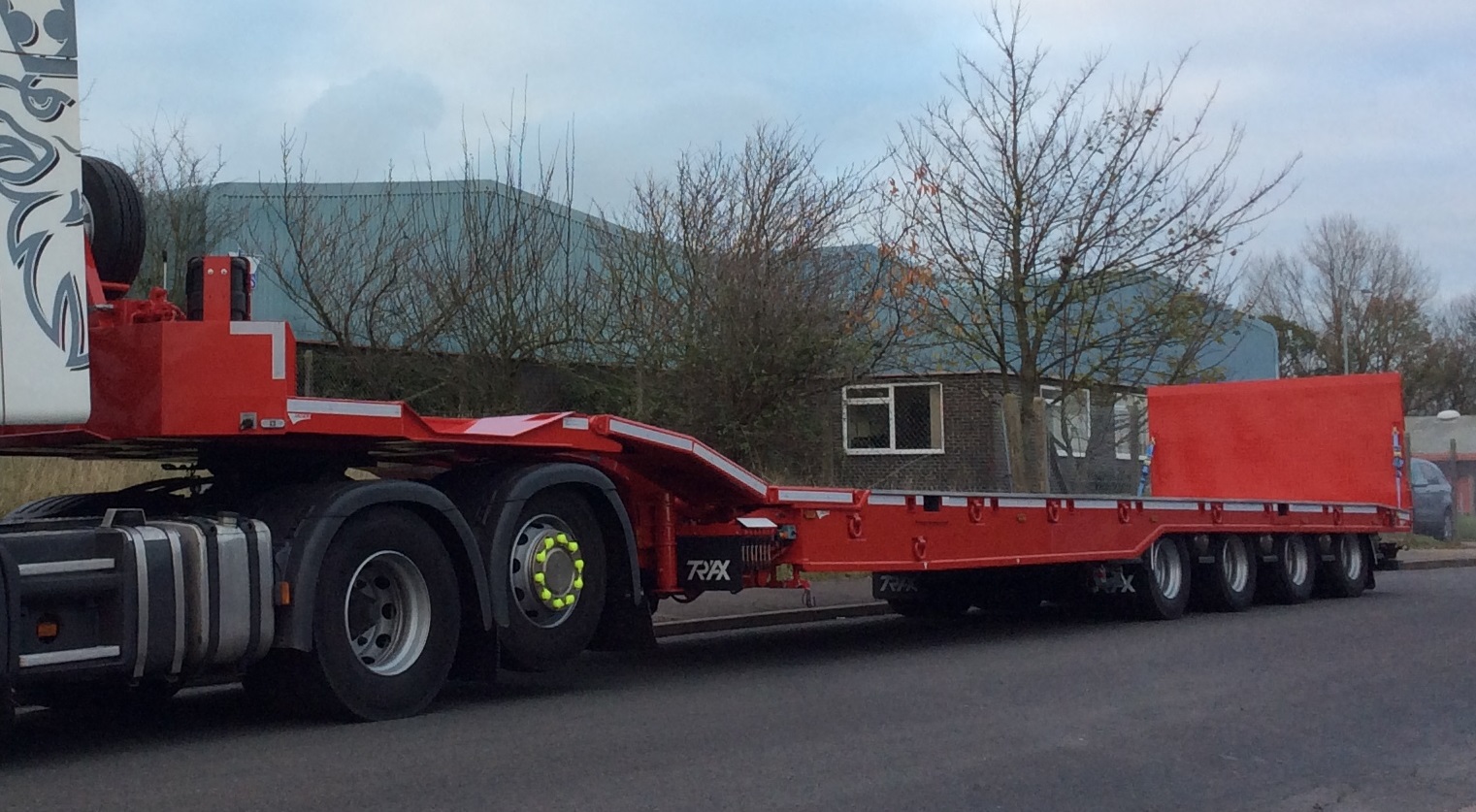 RECOVERY VEHICLE: SEMI-TRAILER WITH VARIABLE GEOMETRY EXTREME VERSION
TYPE: S415.PVGV153.AT10J Maximum GVW 60 TONNES
AXLE ASSEMBLY
4 SAE-GIGANT 15", 12 tonne axle capacity, with auto slack adjusters mounted on a sliding structure with hydraulic movement of 3900mm, including pneumatic locking - Air suspension with automatic and forced axle lift on the front and rear most axle - Wheels with hub alignment, 10 holes, twin formation, Goodyear 235 / 75R 17.5 RHT - Double braking circuit complying with EEC standards and EBS 4s3m ISO supply - Spring loaded parking brake
GENERAL EQUIPMENT
One position interchangeable king pin 2". Coupling height: 1060mm - Hydraulic landing legs - Electrics and lighting in accordance with road regulations – 5 function rear lights - Wheel spanner
DIMENSIONS AND DESCRIPTION
Fabricated ST52 steel frame - Goose-neck: 4000 x 2530, reinforced, 18 tonne king pin, with 40mm thick hard wood floor - Interface behind the front panel for fixing centrally mounted Superwinch H30P c/w 19mm DIA x 50m long wire rope, radio remote control for winch, pneumatic rope tensioner and free spool and roller guide - Hydraulic socket on the front with flow divider - Straight Platform: 11000 x 2500, with 40mm thick hard wood - Hydraulically powered pantograph mechanism drive allowing the optimum inclination to load a vehicle from the rear - Rear hydraulic ramp for accessing to the platform - Eight reinforced sockets for telescopic expanders each side - Nine pairs of lashing rings - Planks pit between spars with depth 100mm - Chain slots on deck
Painting:. Top and sides painted single solid non metallic colour (post office red). Underside painted single solid
£ P.O.A.