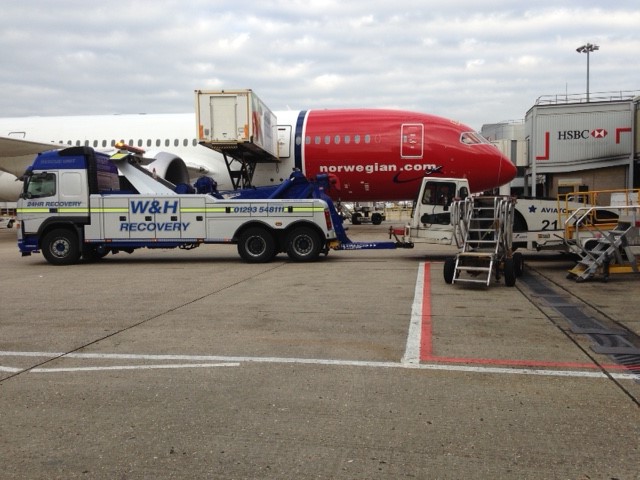 W&H Making Airside Jobs Look Easy!
2017-01-25
When you get a call from the airport asking you to go and move a tug, you need to know not only that the equipment you are sending is reliable but also that it's up to the job and capable of moving heavy loads.
George Herron of W&H Recovery in Gatwick recently sent in these two pictures of a 50T tug which had broken down airside at the airport and needed to be moved urgently. As you can see in the pictures, W&H's Recoverer Trident was dispatched to the airport to handle the job. Most people are familiar with the Recoverer Trident but for those who aren't, it is a heavy duty integrated machine manufactured by Boniface Engineering in Thetford. It features an impressive 100,000lb capacity top boom, twin heavy duty winches, rear legs/spades and can be fitted with a selection of underlift booms including the Maxireach Lowline H boom pictured here. The W&H truck pictured is a well-balanced truck and as you can see here has great lifting performance on the underlift. When asked how the job went George said ''NO SWEAT – it was an easy job for a great truck".