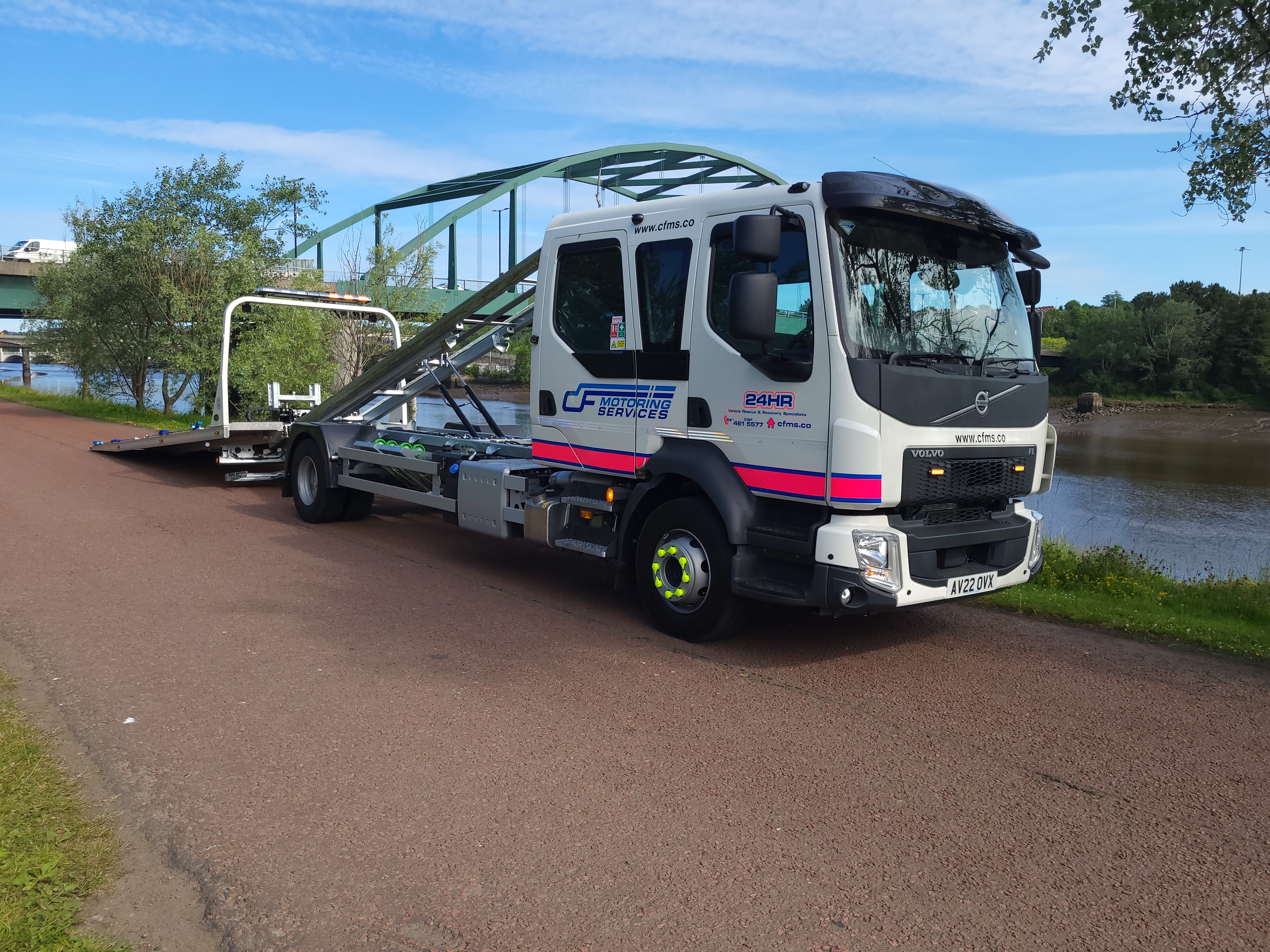 Two New Boniface VLA's Join CF Motoring Services
2022-06-28
Established over 40 years ago, CF Motoring Services Ltd are a very well-known and well respected operator providing breakdown and recovery assistance throughout North East of England. Their well-trained, professional staff undergo continuous training and development to ensure they provide the very best service to their customers. Operating from depots in Gateshead, Newcastle-Upon-Tyne, Sunderland and Stockton-on-Tees, CF Motoring Services have a very large, modern fleet of vehicles which can easily cope with any vehicle they are asked to recover. Continuous re-investment into the business ensures they always have state of the art equipment as well as presenting a clean, professional company image whilst out on the road.
The Boniface VLA product remains a popular choice amongst operators throughout the UK. It's simple operation via a single push button or lever makes it quick and easy to use. In addition, the VLA provides a high payload, quiet operation and smooth deployment – all of which promote a positive experience to the customer. The VLA easily handles everyday recoveries such as large vans or cars but is equally capable of moving high value low clearance prestige vehicles. The VLA's deck is durable, light weight and incredibly strong. It provides a very low angle of approach making it ideal for all kinds of vehicle from sports cars with low spoilers to large vans or vehicles with long overhangs.
Standard features of the VLA include fully galvanised sub-frame and tilt-frame, 8000lb capacity sliding winch, nylon ground contact rollers which help provide smooth quiet operation, radio remote operation for the body and winch, lever controls (providing a backup in case of loss or damage to the remote), LED beacon, LED work lights and LED marker lights. As with all Boniface products there is an extensive list of optional extras which can be used to customise the VLA to your exact requirements. CF Motoring Services latest 14t Volvo's had numerous options including LED beacons, LED work lights, wrecker kit, full radio remote control with charging handset holder, jump pack with charger, low winching facility, side winching points, Dynacycle motorcycle frame, front & rear strobes and many more!
To find out more about the VLA or any other Boniface product, give one of our friendly sales team a call on 01842 754232. Don't forget, you can follow us on Facebook, Twitter and Instagram to keep up with all our latest news and information.