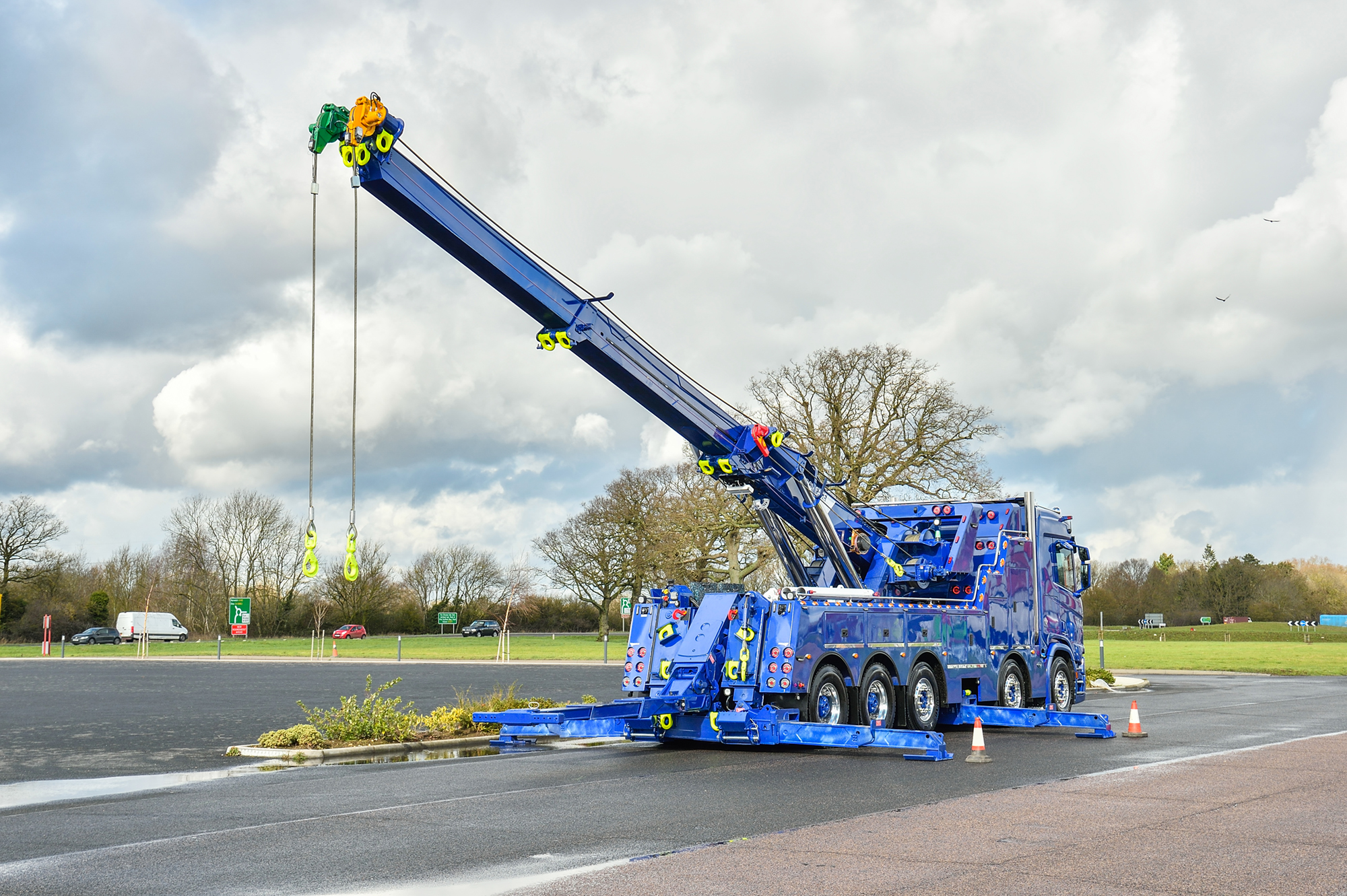 TJ Bergning from Denmark take delivery of a Century 1075
2022-03-18
Thomas Jorgensens the owner of TJ Bergning, a recovery company from Denmark based close to Copenhagen was recently in Thetford to collect a Century 1075 that Boniface had installed.
This is the second product sold by Boniface to TJ, the first a Recoverer Trident with Sidewinder installed on a Volvo 8 X 4 chassis supplied in 2020.
The Century 1075 is the second largest Rotator offered by Miller Industries, Boniface's parent company, the biggest being the M100 which has yet to be supplied to a customer in Europe. The 1075 is arguably nimbler than the M100, this one weighing in at 36000KG, which is where Boniface would expect the weight to be for a product with double three stage underslung stabilisers, five winches and a deluxe stainless-steel body which was comprehensively kitted out with all the accessories required for the Rotator to perform effectively.
The 1075 is rated at 150,000lbs lifting capacity with the boom retracted and raised - this is equivalent to 68 metric tonnes. When the boom is extended it is capable of 16.3 metric tonnes and this is with a boom capable of extending 12.7m high! The two main boom winches are rated at 27 tonnes each, these are complimented with two 10 tonne turret winches and a single 20 tonne drag winch.
The fairleads incorporated the Boniface powered fairlead option, a product that provides tight winch cable lay and reduced effort by the operator when paying out the rope. The under lift is the HHU version with the reach, profile and power Boniface's customers benefit from.
The chassis was a Scania V8 with the 770 engine a huge specification, loaded might be a better expression, an example of the level of equipment is that it has a coffee maker in the cab. The 8x4 had been converted to a 10 x 4 with the additional axle fitted in front of the drives this was also steered to improve manoeuvrability.
The control system for the Rotator incorporates level sensors to monitor stability, sensors that measure lift ram pressure, boom extension, elevation, leg and house lock deployment and uniquely sensors on the fairleads that detect if the boom is lifting or winching, altering the winch performance accordingly. The boom and under lift can be controlled by the proportional radio control system, both controllers display to the operator data that is relayed from the on board control ECU.
The stainless-steel lockers are heated with blower heaters that draw heat from the engines cooling system, the interior of all Boniface lockers is coated with Speedliner to provide protection from chipping. All accessories are stowed on purpose produced brackets and where possible ergonomically located for ease of access.
TJ's 1075 will be exhibited at the German Tow Show at Kassell in May this year, it will be located on the Brechtel stand - Boniface's distributor in Germany. Space and head room permitting Boniface would like to show the Century product truck lifting another vehicle.
For information on this or any other Boniface or Miller product give us a call on 01842 754232. Our sales team are a good bunch of people and would be delighted to hear from you