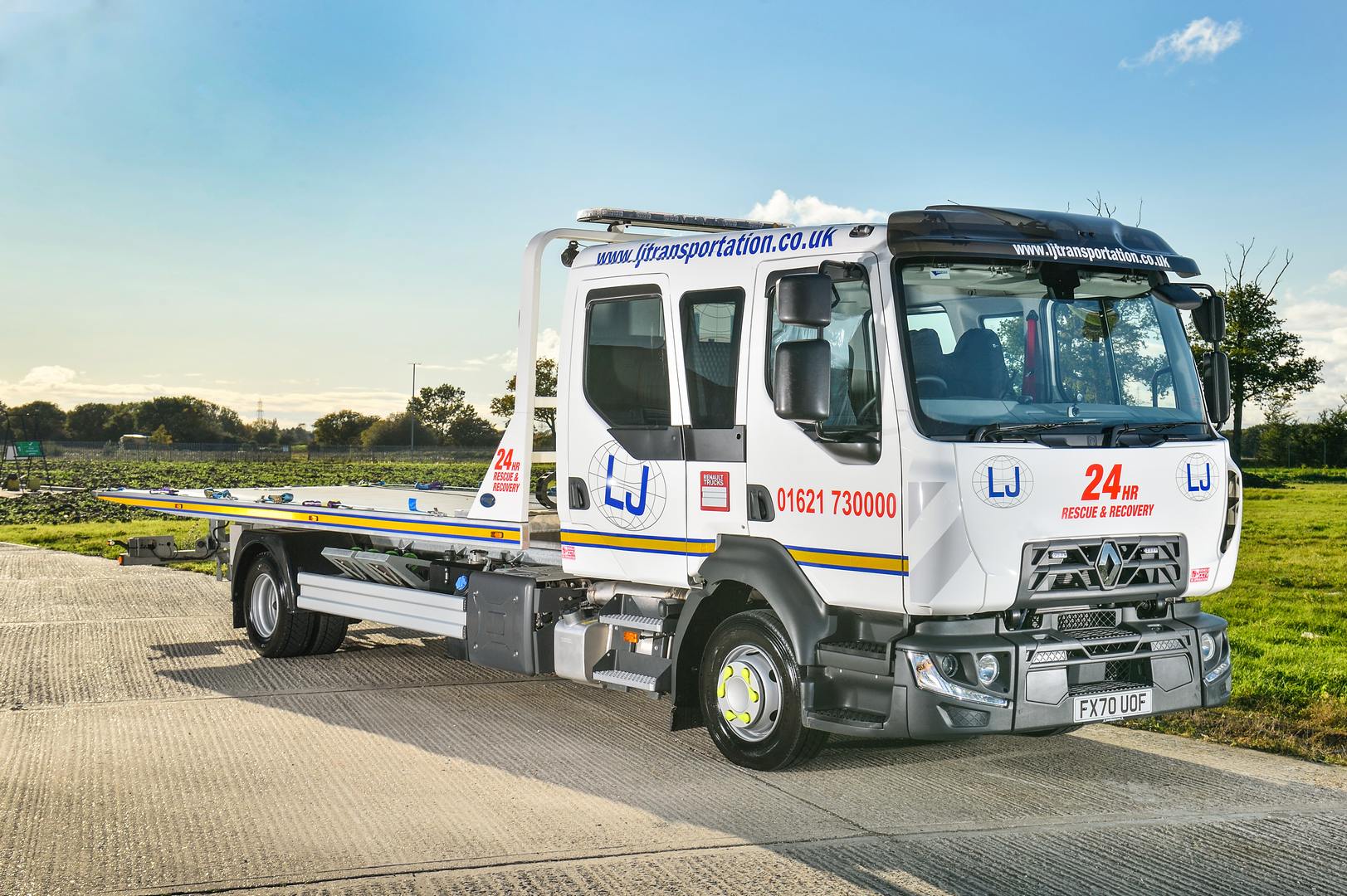 The last of a new batch of Boniface builds for LJ's
2021-01-15
Mick Jennings has recently taken delivery of the final vehicle in the latest batch of fleet upgrades for LJ's Transportation, this one being a Boniface 5T VLA on a 12T Renault Midlum Chassis. Whilst this completes the orders for 2020 Mick has already started looking forward to 2021, making plans to continue the fleet generation programme with a continual flow of new vehicle's, allowing LJ's to maintain their ever-growing footprint whilst continuing to offer support to their existing and new customers alike.
The Boniface VLA product remains a popular choice amongst operators throughout the UK, with its extremely low loading angle and simple operation the VLA is both quick and easy to use. In addition, the VLA provides a high payload, quiet operation and smooth deployment – all of which promote a positive professional image to the customer. The VLA easily handles everyday recoveries such as large vans or cars but is equally capable of moving high value low clearance prestige vehicles.
Standard features of the VLA include single button remote control with a changeover switch from winch to bed, manually sliding 8000lb hydraulic winch which can be positioned to maintain a straight pull when winching a vehicle onto the bed, fully galvanized sub-frame and tilt-frame, and an aluminum bed providing years of corrosion-free operation.
The specification of this VLA equipment was tailored to meet LJ's specific needs. This build included 1 pair of LED work lights, chassis stowage for the wrecker kit and wheel skates, 2 x lockable plastic lockers, LED beacon with stop tail repeaters, LED strobes in the front grill, wheel skate bed ramps and 4 side winching points and capstan. As an additional safety feature Mick has decided to have a pair of LED strobes mounted on the tilt frame of the equipment which means they remain visible when the bed is deployed, even when loading high vehicles. Mick also decided not to have a second car lift installed onto these builds which increases the payload whilst still providing a tow attachment option should a trailer or caravan need to be towed. All at Boniface Engineering would again like to thank Mick for his returning business and look forward to working together again in the new year and beyond.