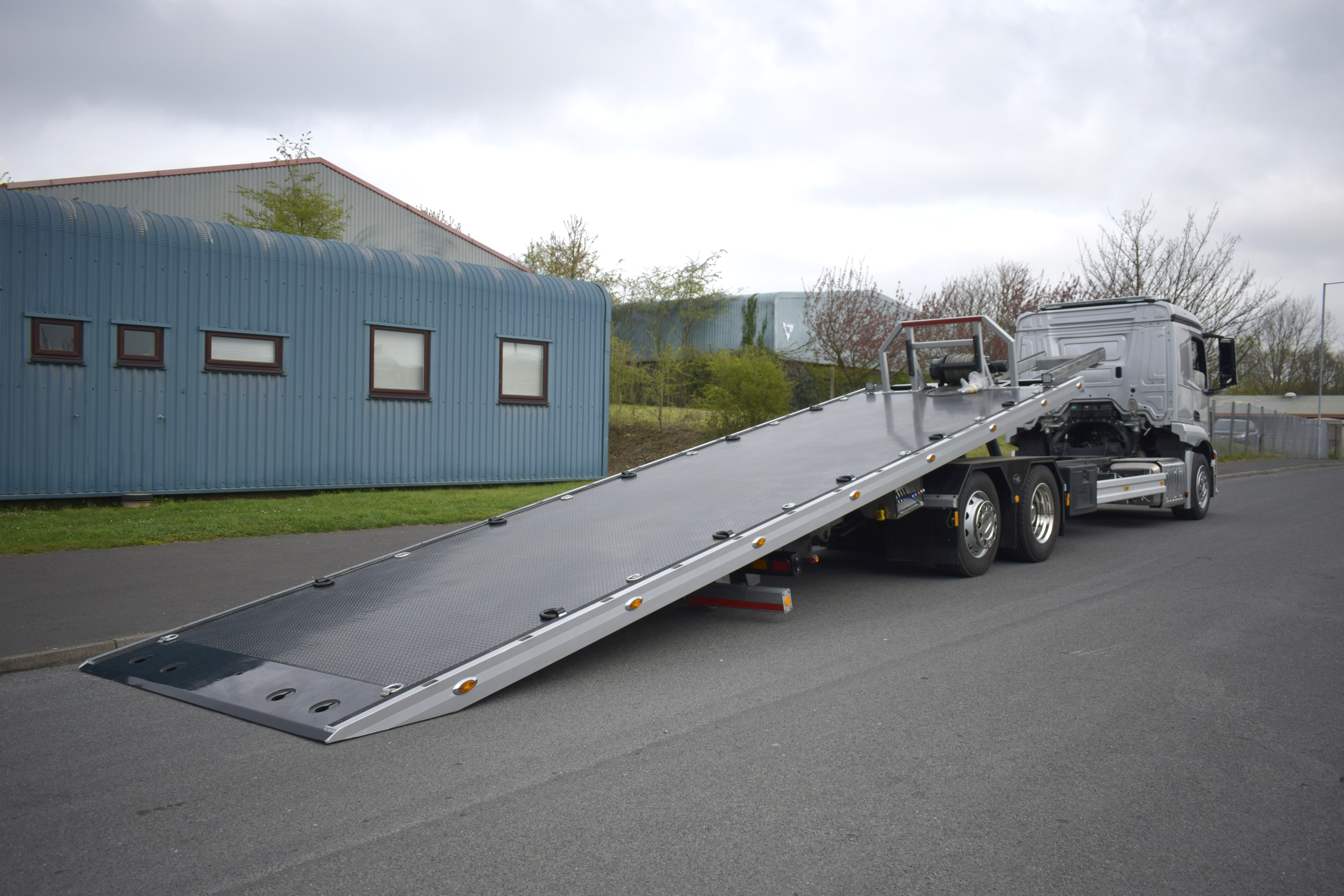 THE BONIFACE CHEVRON SERIES
2019-04-29
When it comes to transporters and transporter manufacturers there is a lot of choice however, one name stands as out as a supplier of durable heavy-duty products that is Boniface.
Boniface are one of the most established and trusted brands in the UK and Europe. At their Thetford facility they manufacture a range of slide bed products designed specifically for the UK market however through their association with Miller Industries, Boniface has access to one of the widest ranges of slide beds available in the world. Chevron are another brand within the Miller product offering, who are a very well known, well established company with thousands of heavy-duty products in use by professional operators all over the world. Both Boniface and Chevron products are renowned for their extreme strength, reliability, longevity and ruggedness out in the field with their products relied upon and used in some of the most extreme parts of the world by all kinds of operators from small one-man companies, large recovery operators and in the most extreme cases – by Military personnel whose lives may well depend on the speed and reliability of their equipment.
The heavy-duty construction of the Chevron range of slide beds means they can carry not only road going vehicles but also tracked machinery and equipment which may have high point loads such as fork lift trucks. Chevron slide beds come in a range of capacities from 10,000 Lbs to 40,000Lbs as well as deck lengths from 19' to 30' allowing the product to be fitted to most 2, 3 or 4 axles chassis.
A Chevron product has recently been installed by Boniface for one of their UK customers. The model is designated the 30 series which has a 30,000lb load capacity and a deck length which of 30 feet long x 96 inches wide providing the optimum loading area.
To meet the requirements of customers in the UK, Boniface customise the product by replacing the standard slide off ram with a longer one which optimises the loading angle of the platform. This type of customisation is typical of Boniface and in this instance provides a product that when mounted on a 26 tonne GVW chassis allows the user to load vehicles with long overhangs with reduced clearance, ambulances, fire engines and crew buses.
The large industrial strength lashing eyes mean that larger equipment can be easily chained down whilst the smaller galvanised lashing rings allow for transporter straps to be secured when transporting the likes of stretched limousines. There is a choice of winches that can be fitted up to 30,000lb which will provide easy loading of the heaviest and most challenging vehicles or equipment.
The Chevron product is also available with a range of heavy duty 2nd car lifts or a docking lift should it be required and also a hydraulically extending rear tow bar which allows the towing eye to be extended clear of the bed when towing to allow for full articulation when negotiating turns.