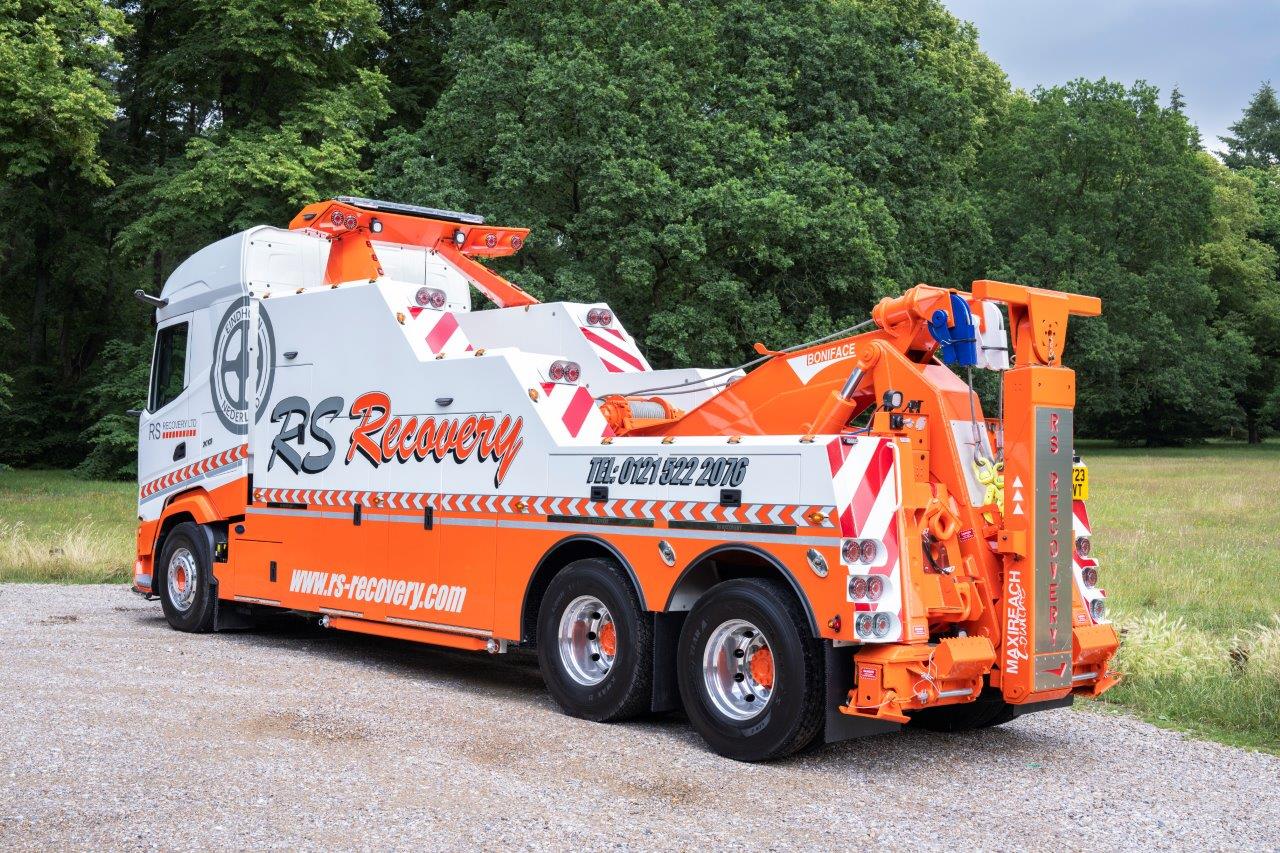 Stunning New Interstater For RS Recovery
2023-08-15
Established over 26 years ago, RS Recovery have consistently grown their business by investing in people, adding state of the art equipment to their fleet and providing an excellent service to their customers. Today, they are one of the most well-known and well-respected recovery companies in the UK so this latest Interstater supplied by Boniface is in good hands!
Now in its 6th generation, the Interstater is a very dependable and capable heavy-duty lift and tow machine – relied upon by professional operators all over the world. It is suitable for 2, 3 and 4 axle chassis and available with a choice of Maxireach Lowline underlift booms to suit your individual requirements. As with all Boniface heavy duty products, the Interstater is available with a huge range of optional extras enabling it to be customised to your exact needs. A range of leg styles are also available and the equipment may be specified with single, twin or even no winches at all. Its power tilt facility allows for both positive and negative tilt providing clearance when towing vehicles with low front spoilers.
RS Recovery's latest vehicle is based on the new generation DAF XG 530 6x2 which has become very popular within our industry. It features the latest Boniface Interstater Mk6 equipment, their most powerful Maxireach Lowline K underlift boom, twin 15 tonne winches and side extending rear stiff legs with flip over feet/spades which provide both stability and anchorage when winching. Deluxe stainless-steel bodywork and the iconic Stealth flyer perfectly compliment the new DAF XG chassis. The bodywork houses the latest Boniface modular stowage system which, unlike conventional welded stowage, allows items to be moved and re-positioned to suit different drivers and situations. This new stowage system also maximises storage space within the lockers and allows items to be easily added or removed at a later date. Docking lights and pathway lights ensure the work area around the vehicle is very well lit at nighttime and the addition of rear facing vehicle lights and strobes to the body ensure the vehicle is easily seen by approaching traffic, helping to keep the operator safe. Topping off the build is some extremely eye-catching livery – this vehicle definitely stands out from the crowd and is a credit to both Boniface and RS Recovery.
To find out more about the Interstater or any other Boniface product, give one of our friendly sales team a call on 01842 754232. Don't forget to follow us on Facebook and Instagram to keep up to date with all our latest news and information.