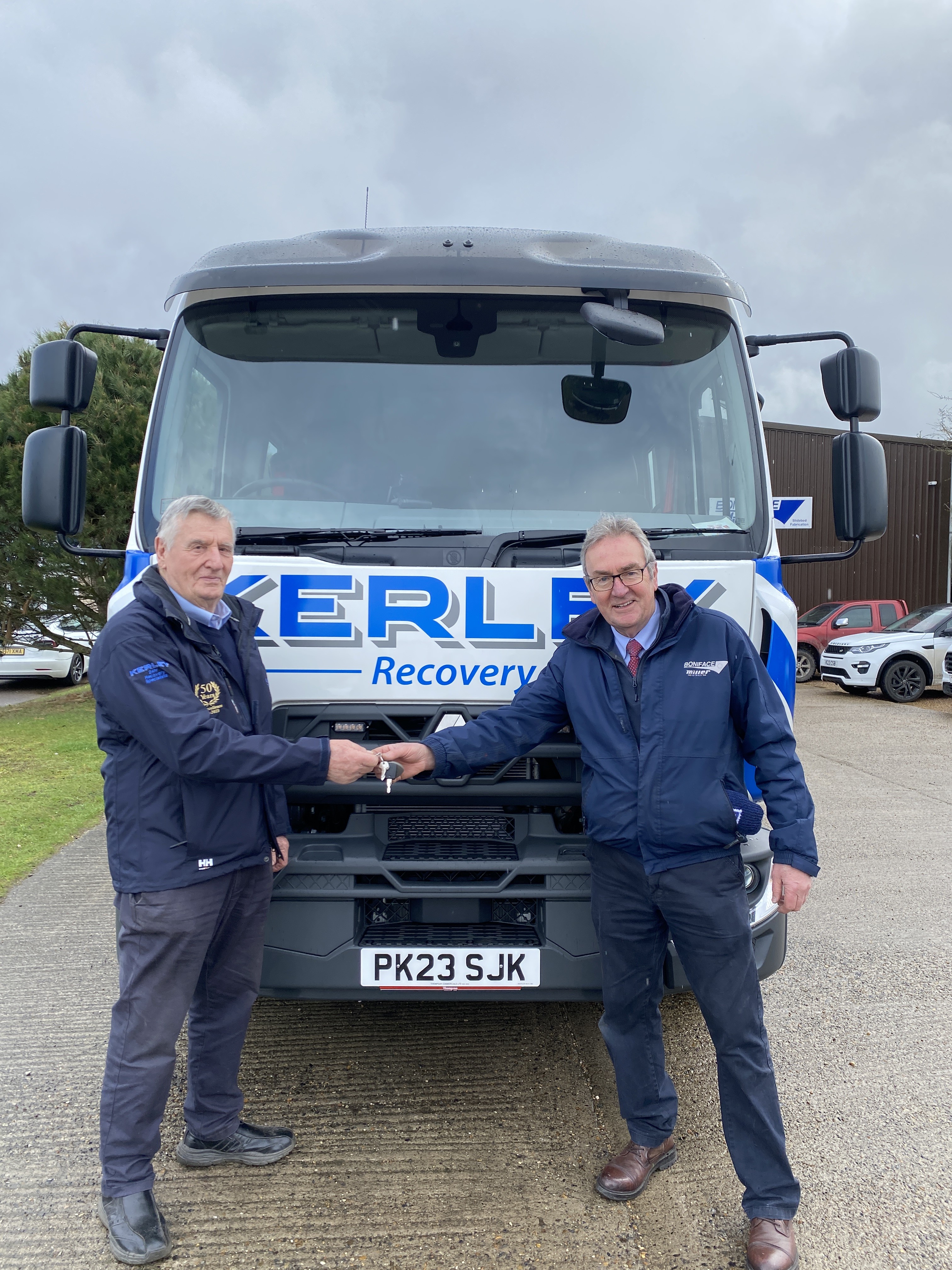 P J Kerley Return To Boniface for 50 Year Anniversary
2023-04-11
Norfolk based PJ Kerley are one of the largest operators in the area. With depots in Norwich, Great Yarmouth and East Harling they provide a quick response across the county and beyond. With this in mind, the team have consistently invested in their fleet adding at least 1 new vehicle every year into service.
2023 was a special year for PJ Kerley as they celebrated 50 years in business. To commemorate this , a special 50th anniversary logo has been incorporated into the graphics on their latest vehicle that was recently collected from Boniface. This latest vehicle was a Renault D14 chassis fitted with 6T VLA slidebed which was specified with numerous options including a 2t capacity 2nd car lift with Jige wheel grids, full radio remote operation of the body and winch, winching capabilities for direct pull, side winching and low pull onto the second car lift along with all of the tooling and safety lighting necessary to complete any roadside recovery.
Along with the Boniface Engineering and PJ Kerley collaboration, anniversary celebrations for both companies and continued business relationship, it would be remiss to overlook a third party in this process, Thompson Commercials who are the local Renault dealer to both Boniface Engineering and PJ Kerley. Both Boniface and PJ Kerley have a long-standing relationship with Thompson Commercials via their local representative Richard Laws-Chapman who has supplied many vehicles to both companies over the years. Thompson Commercials are also celebrating 100 years of business in 2023.
PJ Kerley have already placed their order for a 2024 build with Boniface Engineering and are looking to run with the same tried and tested 6T VLA slidebed. The low approach bed, versatile capabilities and ease of use that this product offers makes it a clear choice to add to their arsenal.
To find out more about the VLA or any other Boniface product give us a call on 01842 754232 where one of our friendly team will be happy to help. Dont forget to follow us on Facebook and Instagram to keep up to date with all the latest news and information.