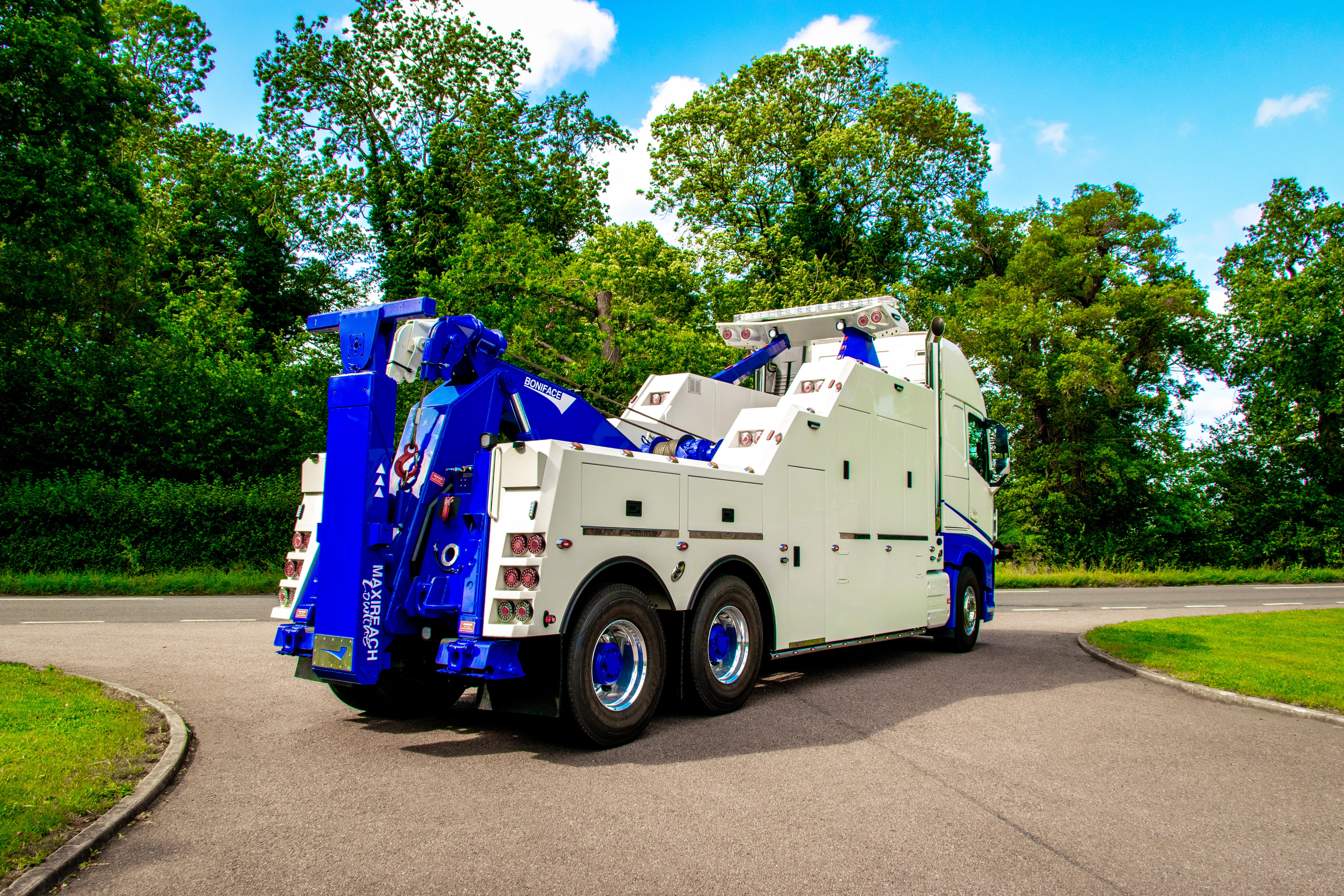 Only the best for PRBS, The Boniface Interstater
2020-01-09
Gavin Pierce, owner and operator at Pierce Recovery and Breakdown Services decided it was time to add another new truck to the fleet and once again chose Boniface and their INTERSTATER MK 6 with the newly devolved K Boom. This heavy duty equipment was mounted onto a new Volvo FH resulting in what is a truly stunning and highly capable recovery vehicle.
This INTERSTATER MK 6 is a twin winch 33t unit with rear hydraulic stabilisers and the new K boom which offers increased performance giving the operator the ability to power the boom in and out with the maximum load suspended in the air. The Deluxe stainless steel body with Stealth flyer gives the truck that bespoke Boniface finish whilst providing years of reliable service and operation. Gavin opted for the following additional extras to ensure the truck meets his every need whilst turning heads on a daily basis as it completes task after task. Additional millennium marker lights and red LED lights on the rear facing angles of the body drops, docking lights fitted either side providing illumination of the ground around the wheel areas assisting with night time manoeuvring. Scene lights fitted either side of the body providing the ability to light up working areas around the truck during tasks, rear repeater side and tail lights on the flyer and again on both of the body step downs ensuring maximum visibility of the vehicles lights for other road users when operating at night. Additional LED work lights and underlift work lights allowing maximum visibility for the operator when carrying out a lift or winch task at the rear of the vehicle.
The superb finish and look of the vehicle is the result of Gavin's continuous interaction throughout the build process. Bespoke bracketry was created by the Boniface team to hold all the standard equipment as well as numerous free issue items supplied by the customer ensuring that all items were stowed in the lockers in exactly the right place.