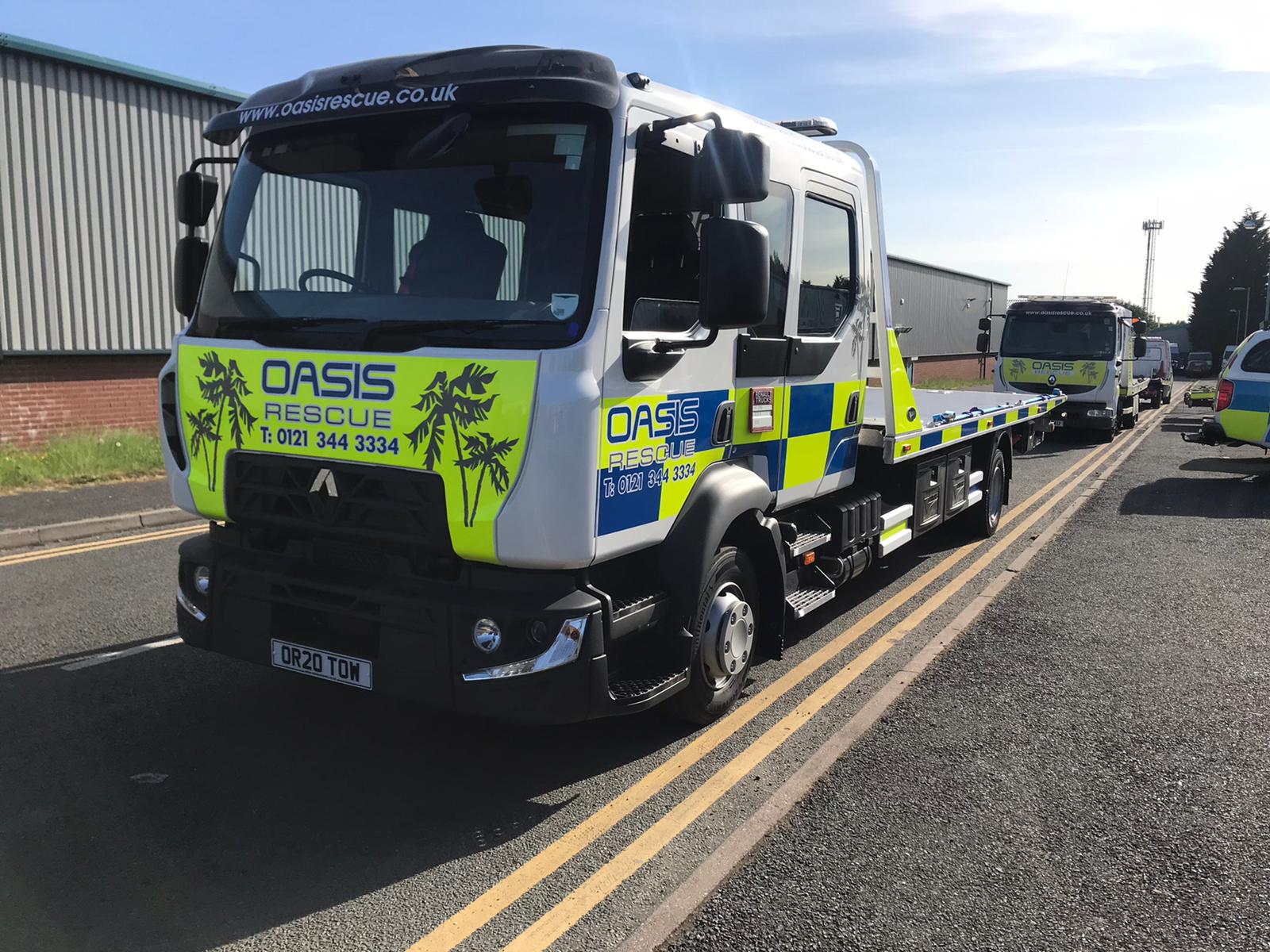 Oasis Rescue & Recovery continue to expand with new Boniface VLA
2020-06-23
The last time Rayan and Anya of Oasis Rescue and Recovery were at Boniface was just over 8 months ago. They were collecting a VLA slidebed on a new 12t MAN chassis which formed part of their ongoing expansion plans part of which included creating a clean, modern, reliable and fuel-efficient fleet for the business. Ever since then, the product has been working hard and Rayan & Anya have continued to invest in their business – adding a new depot and ordering yet more vehicles from Boniface.
This latest addition to the fleet is a Boniface 5t VLA slidebed with 2 tonne capacity 2nd car lift fitted to a new 12t Renault crew cab chassis. Their continued investment into the business during these difficult times reinforces their long-term commitment to the industry and shows they put their customers' needs at the heart of everything they do.
The rugged aluminum deck of the VLA provides resistance from rust and corrosion - keeping the vehicle looking great for much longer than a steel bed. It also provides both increased payload and fuel economy. One of the many standard features of the VLA is a manually sliding 8,000lb hydraulic winch that allows the operator to easily maintain a straight pull on the vehicle's towing eye. The 2t capacity 2nd car lift is adjustable for both width and tire size which means the operator can move anything from the smallest car to the largest van. Like most Boniface slide beds, the subframe and tipping frames are galvanized to help prolong equipment life and the body is fitted with LED beacon, work lights and marker lights - all of which will provide years of reliable service. As well as the remote control, the VLA also comes with manual lever controls housed in an illuminated control locker at the rear. Operation of the bed is very smooth, quiet and achieved with just a single push button on the remote or lever control at the rear making the product very user friendly and easy to use.
This latest build for Oasis was customized to their exact requirements and included some optional extras such as side winching points, low winch facility in the deck which allows casualties to be winched onto the 2nd car lift, wrecker kit, trailer board and much more.