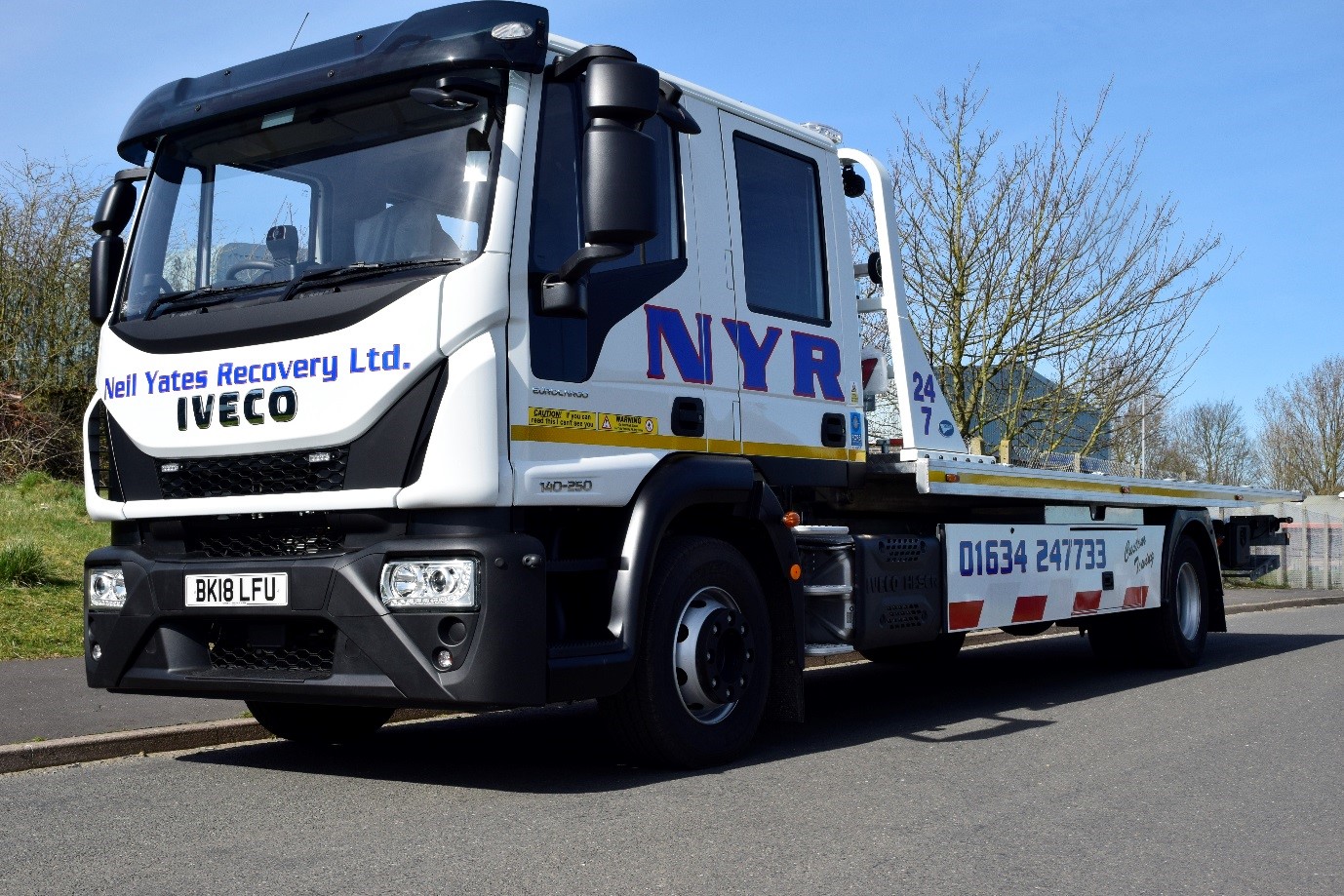 NYR chooses Iveco with Boniface VLA.
2018-07-05
Neil Yates of the Kent based recovery company NYR chose a Boniface 6T VLA installed onto an Iveco 14 tonne GVW chassis for the latest addition to his fleet. The wheel base of 5650mm permitted the installation of a 7 metre long bed and a second car lift, and the 14 tonne gross vehicle weight chassis provided the bed to be used to its full capacity.
Boniface has many years of using aluminium beds, constructed from purpose extruded sections once welded together they create a strong platform that can provide as much as 500KG payload increase over a steel equivalent. These beds also have the durability to withstand both regular recovery work and accident damaged vehicles equally well.
NYR have contracts that require the movement of ambulances, and it is these that particularly require the use of the VLA product, when deployed the low angle bed allows the loading of most vehicles that long and low rear overhangs. Boniface low angle products are engineered to operate in the road conditions that operators deal with daily, adverse cambers can present difficulties for products with float functions, typically one button operations, this VLA has tilt rams that are power assisted to get the bed down in its locks whatever the trucks angle.
The Iveco ML140E25D incorporated a 6 + 1 crew cab and had a 6 speed automatic gearbox, rear air suspension, central locking and air conditioning to mention just a few of the many options available. Interestingly the next Iveco chassis due in at Boniface is a 15 tonne GVW, the smaller 14 tonne has to have a chassis extension to provide the optimum wheelbase, the larger 15 tonne is available as standard with the required wheel base.