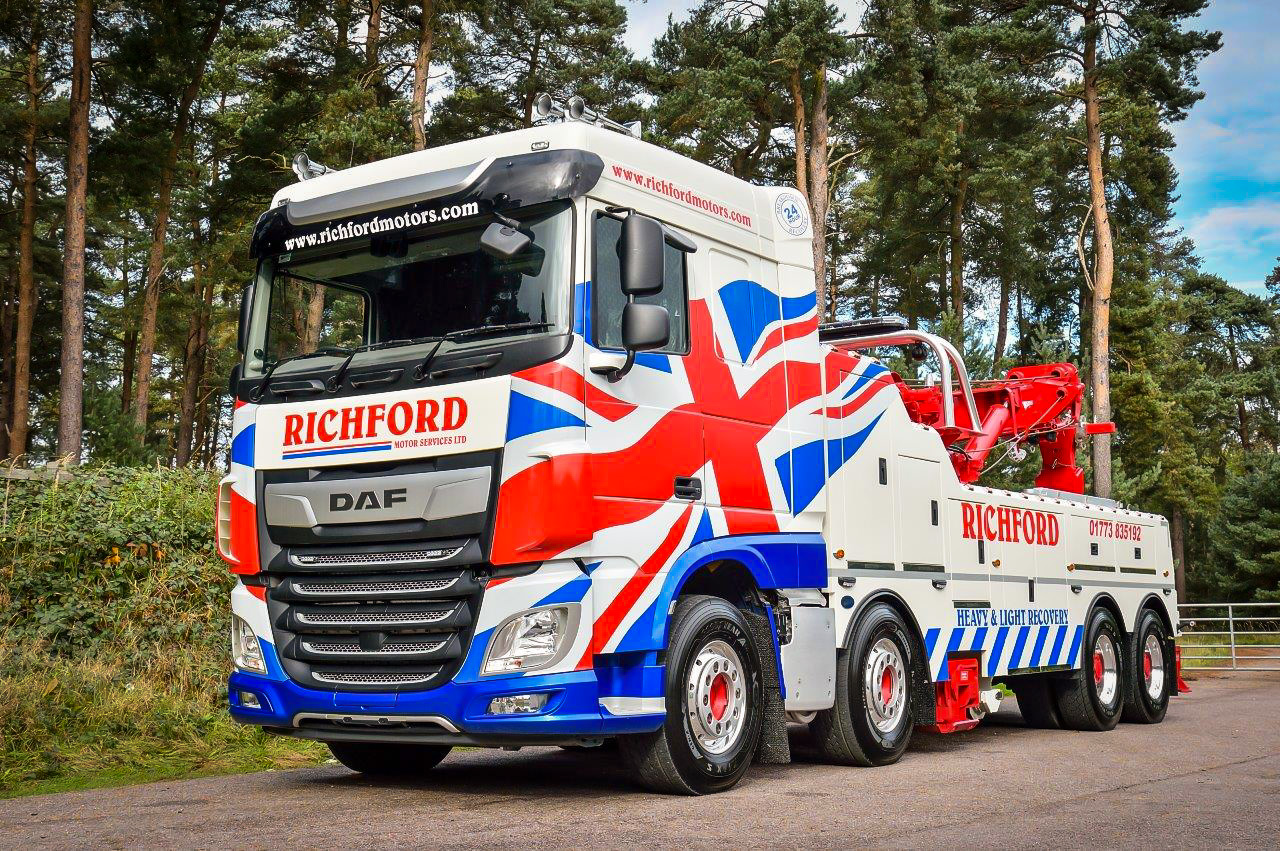 New Boniface Rotator For Richford Motor Services
2021-11-29
As one of the largest Recovery Operators in the UK, Richford Motors Services are constantly replacing, updating and adding vehicles to their fleet. Recent deliveries over the last few months have included two Recoverer Tridents on DAF XF 8x4 chassis, two new Accident units – one 4x2 and one 6x2 and both fitted with new FASSI cranes and Chevron slidebeds, a Century 5230 on a 4x2 DAF and over half a dozen slidebeds to name just a few. With years of knowledge and operational experience using the Boniface product range, Richford decided to add a new Century Rotator to the fleet. After careful consideration and discussions with Boniface about all the various models and options, they concluded that the Century 1140 would provide the most versatility – its SDU4 underlift with Maxireach Lowline H underlift boom enabling them to use the vehicle for everyday lift and tow jobs, whilst the rotator with its 5 winches would provide extensive heavy recovery capability to the fleet as and when required.
This Century 1140 has been completely built to Richford's specifications. Rather than the standard Century aluminium bodywork, Richford opted for custom stainless-steel bodywork which was skilfully designed and built at Boniface to maximise storage space. The vehicle is packed with tools and ancillary equipment allowing Richford's operatives to easily deal with any task they are required to perform, and it even features heated lockers helping to dry off wet strops and equipment after the job is complete. Every piece of equipment within the bodywork has been meticulously stowed to Richford's exact requirements providing easy and efficient access when needed. A 360-degree camera system has also been installed ensuring the driver has a clear view of what is happening all around the vehicle at any given moment. Complimenting the aesthetics of the chassis and custom bodywork is Richford's striking new livery which promotes a very positive and professional company image whilst getting the vehicle noticed out on the road.
Century rotators are available in a range of capacities from 35t to 100t and are engineered to be as light as possible whilst offering maximum strength, performance and reliability. The Century 1140 comes as standard with dual 35,000 lb planetary winches, a fabricated 3-stage recovery boom and a choice of underlifts including SDU4, Knee boom or Interstater – each of which may be used with Miller or Boniface underlift booms and lifting attachments. Leg choices include Sidewinder, H beam or standard, all of which offer exceptional stability and anchorage.
Richford included two additional 15,000lb boom winches and a 35,000lb drag winch to their build making it extremely versatile in recovery situations. They also opted for the widest dual H beam legs to provide maximum stability and the SDU underlift in combination with the Boniface Maxireach Lowline H underlift boom making it an excellent lift and tow machine.
To find out more about the 1140 or any other Boniface product give one of our friendly sales team a call on 01842 754232. Don't forget to follow us on Facebook, Twitter and Instagram for all our latest news and developments.