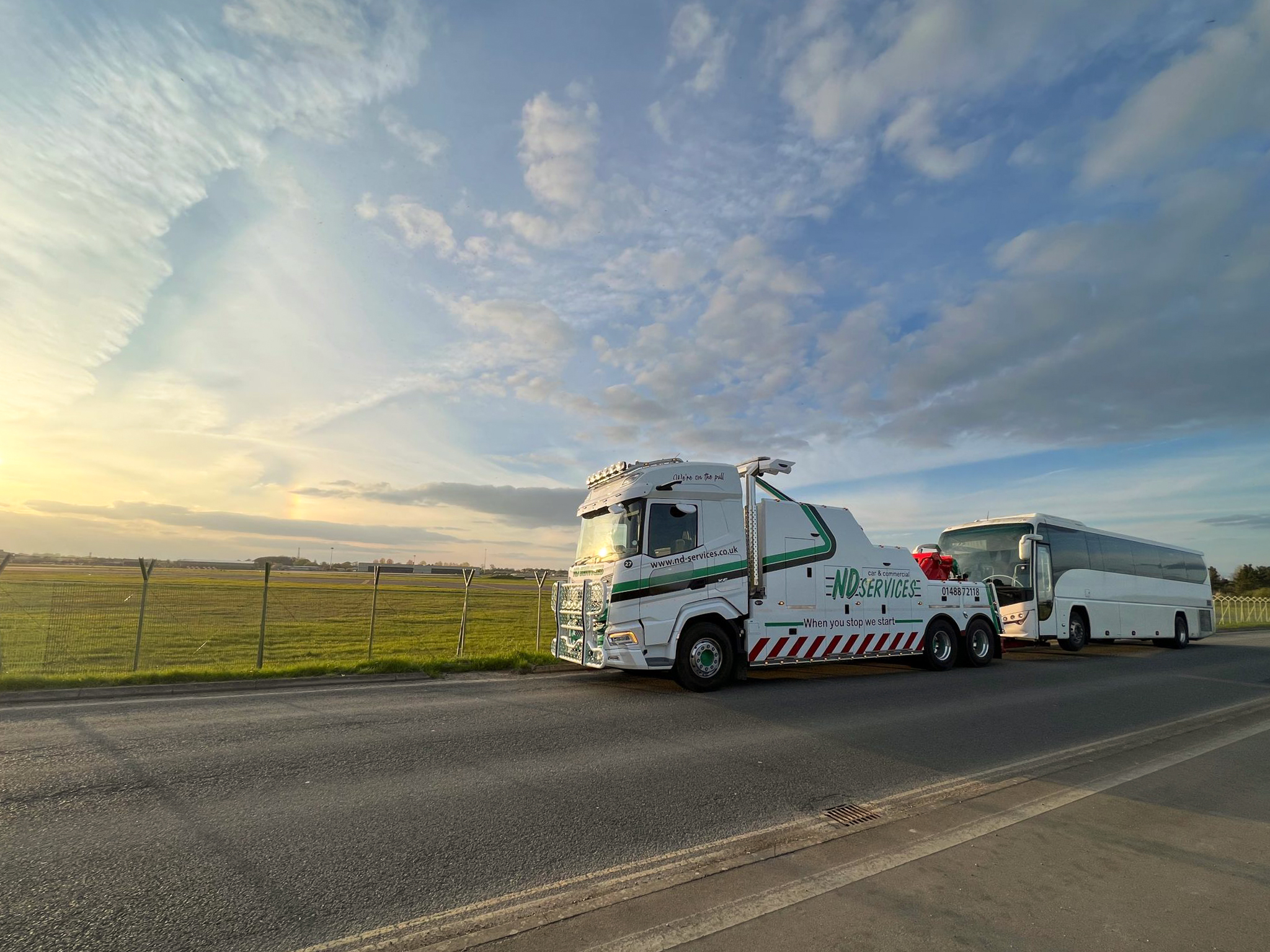 ND Services span 4 decades
2023-08-15
ND Services is a family run business established in 1994 by husband and wife duo, Neil & Debbie O'Riordan. Moving into their 4th decade this business has grown in scale and has now become a powerhouse in the area servicing surrounding counties of Wiltshire, Berkshire, Hampshire, Oxfordshire and further afield when the call comes in.
ND Services have put their trust in Boniface Engineering to supply recovery vehicles since 1999 and have continued to have multiple vehicles from the Norfolk based bodybuilder on their fleet at any one time. The latest addition to hit the road in 2023 is the New Generation DAF XF heavy recovery vehicle installed with Boniface Recoverer Trident equipment. The Trident top boom is paired with a Maxireach Lowline K boom underlift for unrivalled reach and performance, an invaluable asset when operating in the rural area spanning the M4 corridor while still being able to carry enough power and tooling for anybody using the main trunk road. Add to this the twin 50,000lb winches coming from the 216" of reach offered by the top boom, side extending stabilising rear legs and additional winching points to the rear of the vehicle, this DAF XF is capable of single handedly recovering almost any vehicle at the hands of their skilled operating team. Finley who operates the truck commented "Having moved up from Miller 1624 recovery equipment, the new XF with Boniface Recoverer Trident equipment has allowed me to further my skills and abilities, the truck operates faultlessly and is a genuine joy to operate."
Neil and Debbie have built the reputation of the business with a specialisation in recovering and repairing horseboxes, a legacy that the rest of the team strive to uphold. One key factor to being able to maintain this service is the equipment they arrive with, stowed on the stainless steel, hand crafted super deluxe body made and fitted and painted in house by Boniface Engineering with their new stowage system, allowing the end user to customize their vehicle layout to suit individual needs, expand in the future and adjust for various changes in business direction. This vehicle rolled out of the factory with every locker full to the brim with accessories and extras to suit the teams needs along with a body customized with additional lighting packs from front to back. The cab was fitted with an imposing bull bar, painted in ND Services green and white colours, a roof bar and refinished sun visor, all fitted with additional spot lights and marker lights. The body itself incorporated the Boniface Engineering side bars, again with ND Services green marker lights, additional reverse spot lights and amber lighting for visibility, mirroring the lighting at the top of the body to frame the silhouette of the vehicle. The final touches of this vehicle included a custom twin stack exhaust system from TruckMax in Wisbech. Neil, Debbie, Finley, Connor and Nick from ND Services all had an input in this vehicle, it's design and layout and are incredibly happy with the end result which will serve them for many years to come.
To find out more about the Recoverer Trident or any other Boniface product, give one of our friendly sales team a call on 01842 754232. Don't forget to follow us on Facebook and Instagram to keep up to date with all our latest news and information.