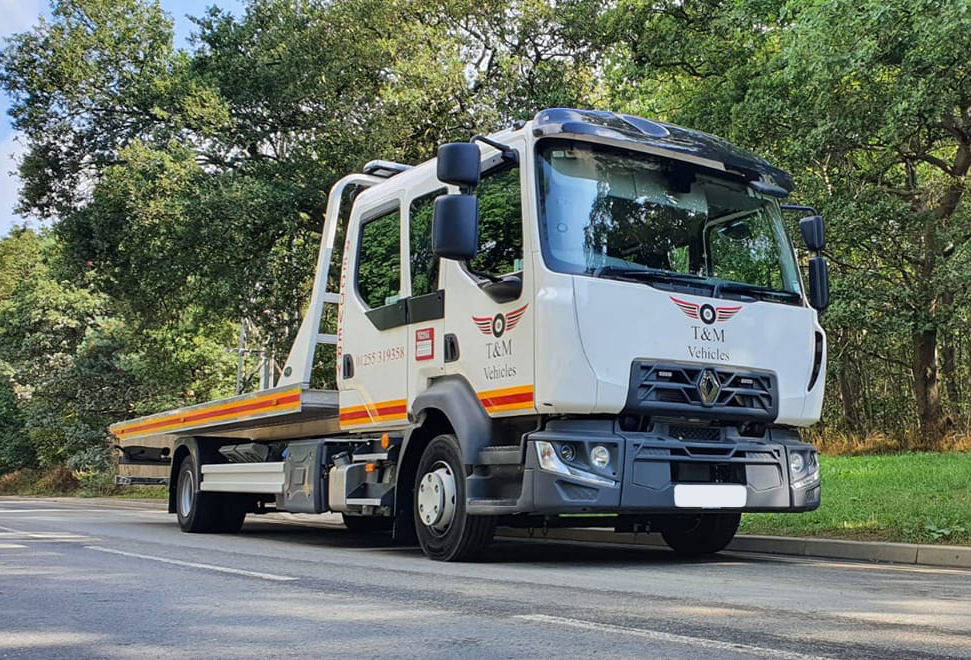 It's Boniface Again for T&M
2020-10-16
T&M Vehicles continue to go from strength to strength and Boniface Engineering are thrilled to be joining them on that journey by continuing to provide them with their new fleet of vehicles. Following their T35 and 5T VLA products, the latest vehicle is a Boniface 5T Champion slidebed mounted onto a Renault Midlum 12t chassis.
The Champion slidebed's aluminium deck along with its galvanised sub-frame and tilt-frame provides years of corrosion free and reliable service. Standard features include an 8000lb hydraulic winch with hydraulic sliding mechanism, manual control levers, 8 lashing rings and a shovel tail design which helps reduce the load angle.
In addition to the long list of standard features offered by the Champion slidebed, T&M also specified a number of optional extras including a 6 function radio remote control for the bed and winch, front and rear LED strobes, LED work lights and a 1.6m LED beacon with rear stop and tail repeater lights helping the vehicle to stand out at night and increase safety for the operator. They also specified Ferrari ramps which reduce the loading angle even further and wheel skates - both of which were stowed under the bed keeping them safe and secure as they cannot be accessed without physically deploying the bed. Two plastic lockers with internal illumination, a Dynacycler motorcycle frame and four side winching points with detachable winch capstan ensure this vehicle is kitted out ready for any eventuality.
Finally, the vehicle was fitted with a 2T second car lift and Jige wheel grids enhancing the vehicle's capabilities even further. The Jige wheel grids have low profile removable wheel bars and are fully adjustable for both vehicle width and tyre size. When used in combination with the Boniface low pull attachment casualty vehicles can be winched onto the second car lift even if there is already a vehicle loaded onto the bed.