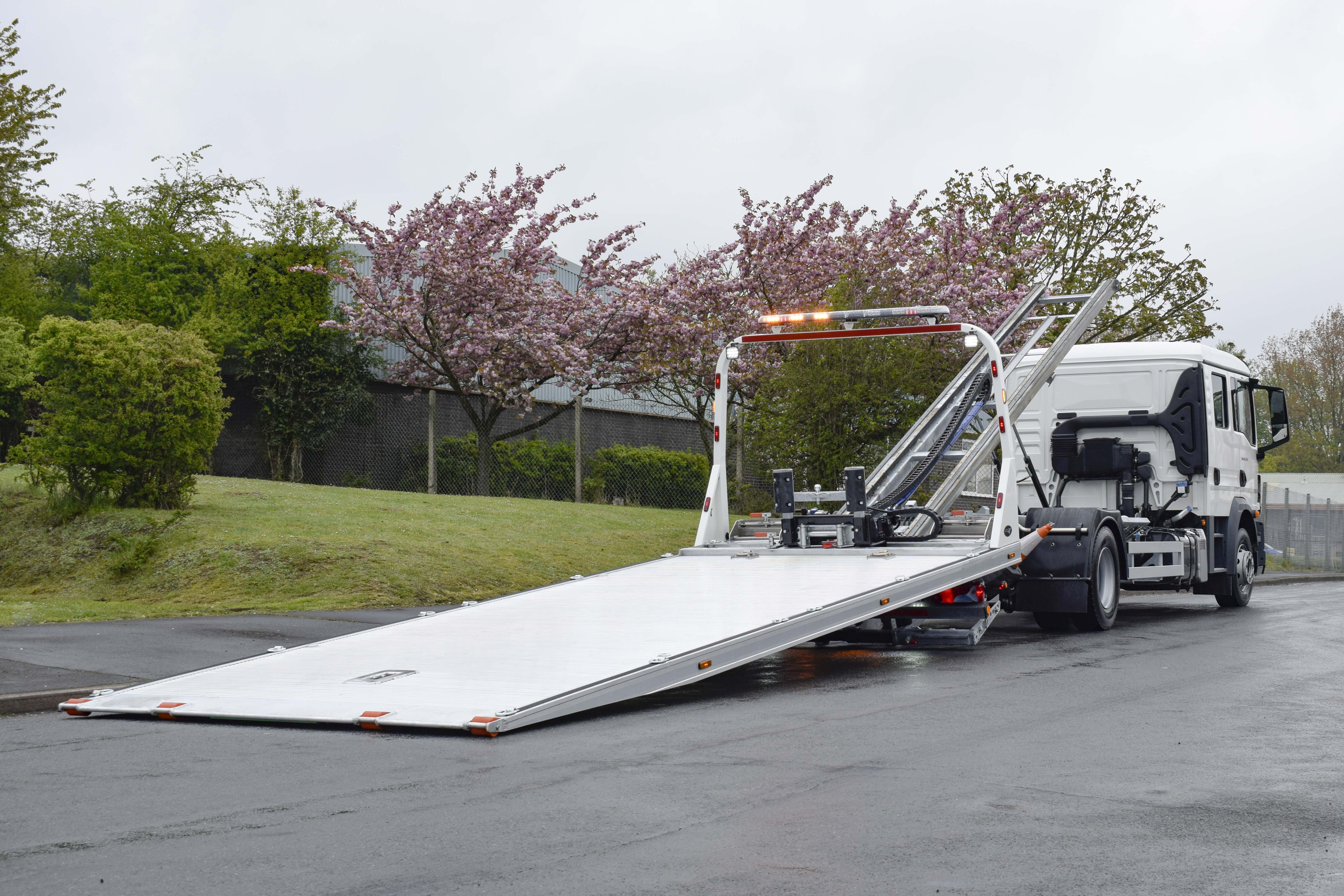 Its Boniface Again for T&M
2023-05-30
T&M Vehicle's based in Clacton, Essex have again chosen Boniface Engineering to supply the latest addition to their fleet - this 15t Man TGM chassis with a 6T aluminum VLA bed fully kitted out ready to tackle any task.
The renowned strength, durability and light weight of the aluminum bed provides years of hassle-free operation without the worry of rust and corrosion whilst providing a great payload. The full width of the 2.49M bed can be fully utilized with lashing rings being mounted on the side raves which helps to ease the loading of those larger, wider vehicles. The VLA comes as standard with an 8000lb hydraulic winch with a manual sliding function allowing the operator to lock the winch into the required position and maintain a straight-line pull. The winch low pull option means vehicles can also be winched onto the 2t second car lift via a pulley system enabling the winch rope to be routed down through the bed onto the second car lift, even when a car is already loaded onto the bed.
As standard the VLA product features a fully galvanized subframe, tilt frame and radio remote control allowing the bed to be deployed with the push of a single button. In addition to the standard specification the following options were added to this build, chassis mounted heavy duty wheel skates, 1.6m slimline LED beacon with rear repeater lights, 2 pairs of LED strobes, 2 pairs of LED work lights, chassis mounted wrecker kit, LED locker lighting, wheel skate bed ramps and greedy ramps. The greedy ramps mount to the sliding winch frame on the bed and allow for vehicles to be raised up above the winch utilising the full length of the bed when required.
If you would like to know more about what makes the Boniface VLA different to other low approach slidebeds, give us a call on 01842 754232 and one of our friendly knowledgeable staff will be happy to talk you through the product range. Don't forget to follow us on Facebook and Instagram to keep up to date with our latest news and developments.