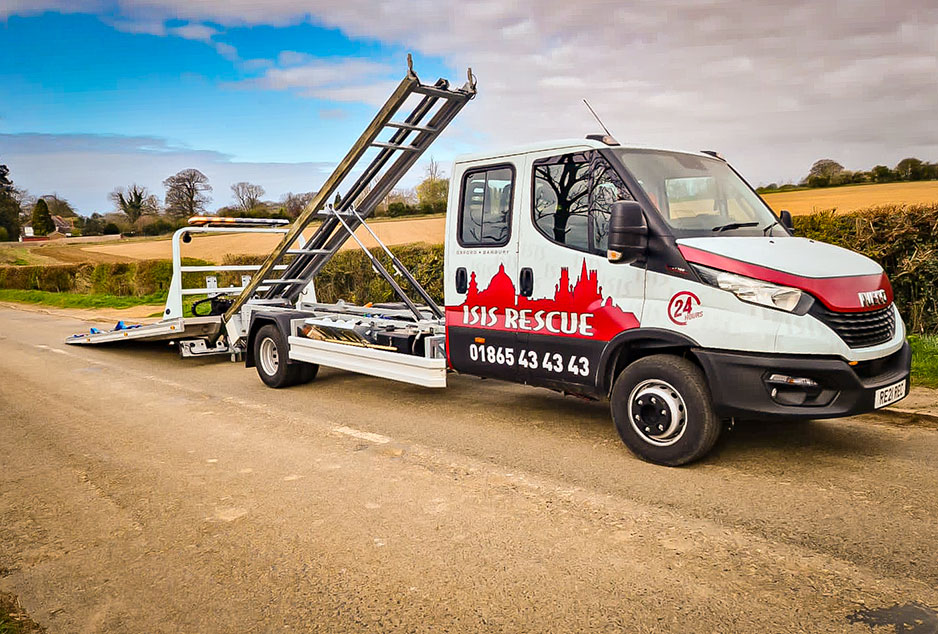 It's Boniface again for Isis Rescue
2021-06-11
After recently taking delivery of their new Boniface 5T VLA Isis Rescue were so pleased with the finished product and build quality that they went ahead and ordered its little sister the 3T VLA. This time mounted onto an Iveco Daily 70C Crew Cab the 3T VLA has all the same working attributes as its big brother but adapted to fit the smaller Iveco chassis in order to maximise the payload whilst offering great fuel economy and retaining the ability to carry multiple passengers. The chassis has a suspended driver's seat, air conditioning, heated electric mirrors, Bluetooth DAB stereo and alarm all of which are standard specification for Boniface's stock vehicles.
The 3T VLA has an extremely low loading angle and the bed deployment is via single button operation on the radio remote providing ease of use and reliability day in day out. The changeover switch on the remote control allows the operator to switch from bed to winch operation without having to return to the vehicle - minimizing the time on the side of the road for the operator.
The VLA equipment was tailored to meet Isis's requests with LED work lights, 1.6 metre LED beacon with stop tail repeaters, front strobes, 4 side winching points, chassis mounted wrecker kit, illuminated stainless steel lockers and heavy duty wheel skates which were stowed on the chassis. The vehicle also has front strobes mounted in the grill with the rear strobes being mounted on the tilt frame ensuring they are visible when the bed is deployed and the rear lights are covered - a new feature to help keep the operator safe on the side of the road. All of these items were in addition to the standard rugged aluminum bed, 8000lb hydraulic winch and a fully galvanized subframe and tipping frame which provides years of rust-free operation. The hydraulic winch can be manually adjusted via the sliding winch carriage, allowing the operator to keep a straight line pull and maintain good winch rope management when side winching or loading vehicles onto the bed.
Boniface Engineering would again like to thank James Weedon and the team at Isis for their returning business and look forward to working with them again in the future. If you are interested in acquiring the Boniface VLA or any other of the Boniface product, give them a call on 01842 754232 and one of their friendly knowledgeable staff will be happy to help. Alternatively, visit their web site at www.boniface-eng.com.