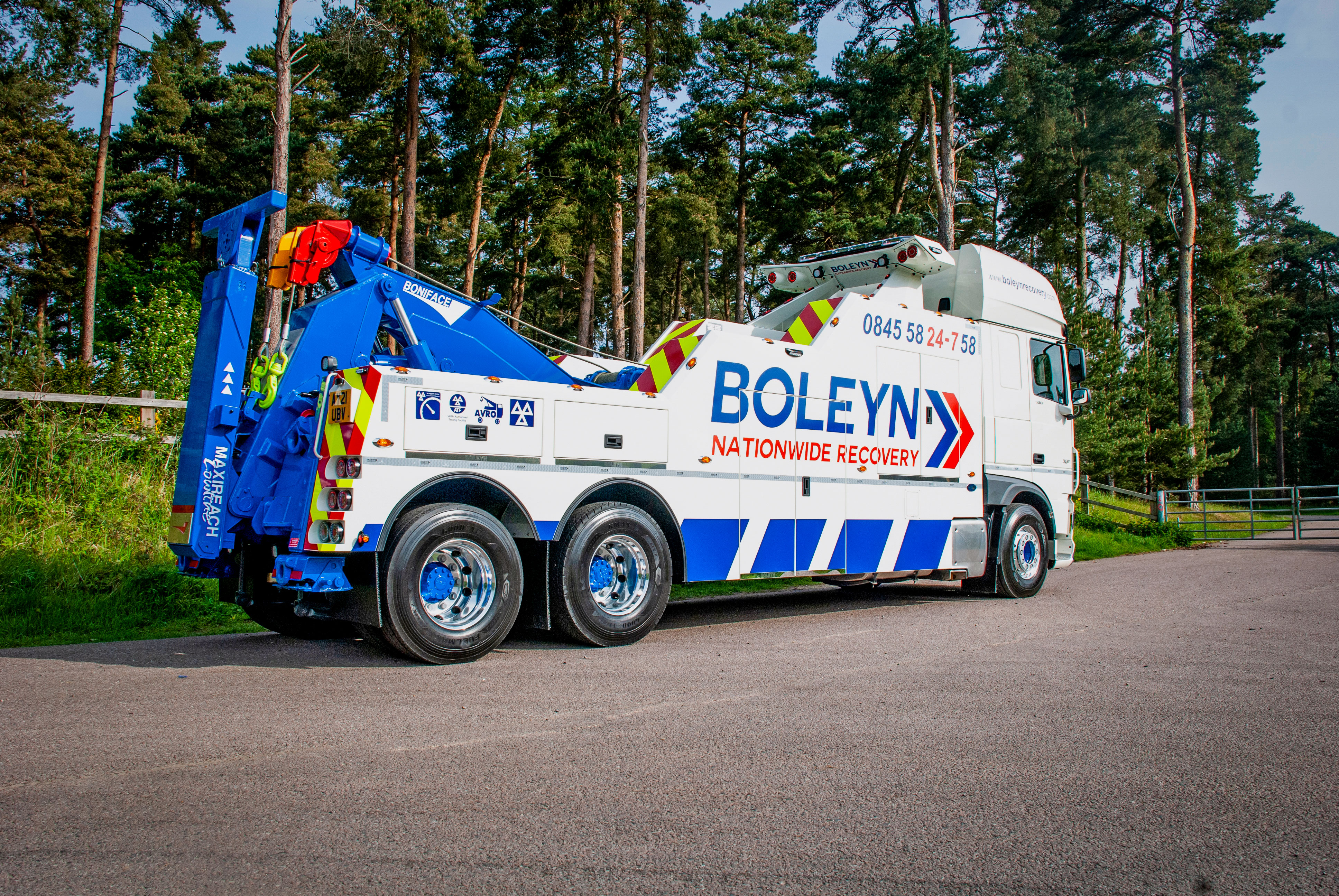 Its Boniface again for Boleyn Recovery
2021-08-11
Since it's inception back in 1959, Boleyn Recovery has traded with the vehicle recovery and maintenance industries – steadily growing to become the successful business it is today. Supporting London's blue light services since the 1970's through to today Boleyn have continually ensured their fleet of vehicles is up to date and suited to meet the needs of all of its customers, including the blue light communities. When it was time for another new vehicle Boleyn Recovery again approached Boniface Engineering and this time the equipment of choice was the Boniface Interstater MK6 with the Maxi-Reach Lowline K Boom mounted onto a DAF XF chassis.
The INTERSTATER MK6 with Maxi-Reach Lowline K Boom has a maximum lift capacity of 33t when retracted at 2.04 meters and an impressive maximum lift capacity of 9T when fully extended at 4.34 metres. The rear hydraulic stabiliser legs provide a solid footprint when operating the equipment and with the flip over spades deployed, provide excellent anchorage for the twin 15,000kg winches during heavy winching operations. The newly designed ram height allows for the underlift to have an even higher range of movement resulting in it being perfectly horizontal when using the Safe Bar equipment to tow casualty vehicles. In addition to the standard forks and pedestals Boleyn Recovery decided to have this latest vehicle fitted with the Safe Bar lifting set allowing them to maximise the equipment's capabilities as required.
The 12 function remote handset mounted in the cab provides the driver the ability when using the rear camera to lower the underlift from within the cab reducing the time he needs to spend on the roadside. Other options included by Boleyn were a 6 drawer toolbox mounted in the locker, LED Beacon, LED strobes, LED worklights, LED underlift worklights and LED scene lights mounted on the flyer and the body to provide an illuminated work area for the operator. The body of the truck was painted white to match the cab and whilst this is a change from the recognisable blue when fitted with the new Boleyn reflective livery it really looks the part and will most definitely will stand out from the crowd.
If you would like to know more about the Interstater or any of the Boniface product range, give them a call on 01842 754232 and one of their friendly knowledgeable staff will be happy to discuss your requirements. Alternatively, visit their web site at www.boniface-eng.com and don't forget to follow them on Instagram and Facebook!