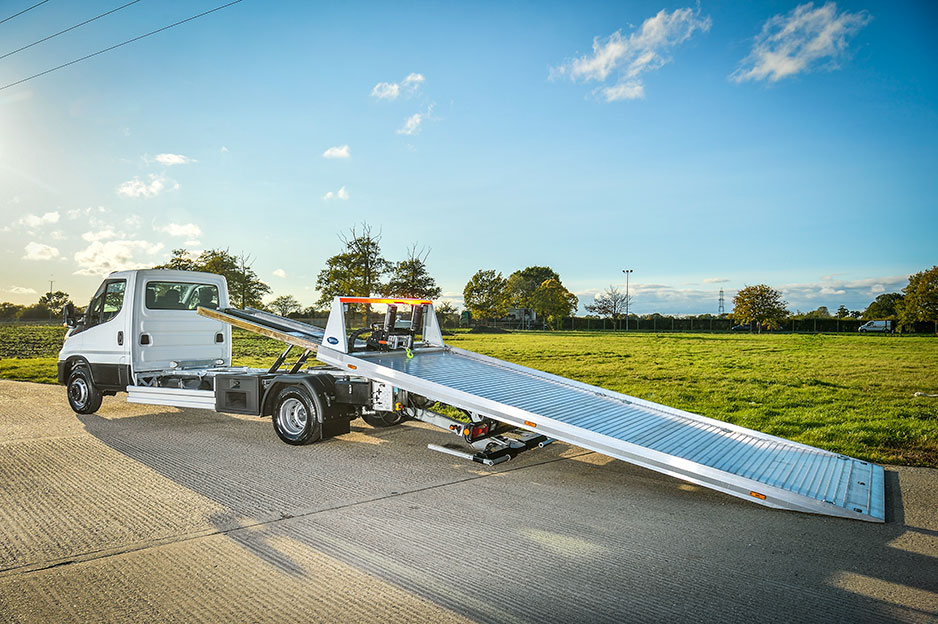 It's another pair of Boniface Champion's for IAA
2021-09-17
Working in conjunction with a large variety of businesses nationwide IAA move a huge number of vehicles around the country on a daily basis and it was in support of this process that last year they decided they needed some smaller and more agile vehicles. However, the emphasis still needed to be on payload and versatility and with that in mind they approached the team at Boniface to come up with a solution. Without the need to carry passengers IAA's vehicle of choice became the 72c Iveco Daily as the day cab variant offers a greater GVW without the additional weight of the crew cab, this coupled with the Boniface aluminium 3.5t Champion Slidebed would prove to be a very successful solution. After some further calculations it became apparent that a great payload could still be achieved even when fitting the 1.2t second car lift and from then the decision was made to proceed with the build. All of this planning resulted in a very small and agile vehicle, which provides good fuel economy and a very impressive 2.8T payload
The Champion Slidebed is a very well-established product renowned for being strong, reliable and extremely dependable. The shovel tail design incorporated into the side raves allows the Champion bed to provide a good loading angle making the loading of cars easier and quicker. The galvanised sub frame and tilt frame provide prolonged life expectancy of the equipment whilst the knife edge bed rollers help to protect the bed and the road surface when loading and unloading vehicles.
As with all Boniface builds there are a huge amount of options that can be chosen and this build had the following: a low level crash bar flyer, 2 plastic stowage lockers, 1.2t second car lift, 3.6t hydraulic sliding winch, 2 function remote for winch operation, rear towing electrics, light board and 2 pairs of LED work lights. These builds were also to have the Airbar safety system fitted which for those of you that don't know is a flexible membrane bar with integrated LED lights which is deployed by air providing a safety zone around the vehicle for the operator.
IAA were so happy with the last 2 vehicles they placed an order for another 2 builds, again fitted with the Airbar system and one of them will be at this year's Tow Show in Telford as part of the Boniface demonstration so why not come along and see it and the Boniface team in action.
Alternatively, if you can't make the show or would like to know more about this or any other of the Boniface products then give us a call on 01842 754232 or visit our web site at www.boniface-eng.com.