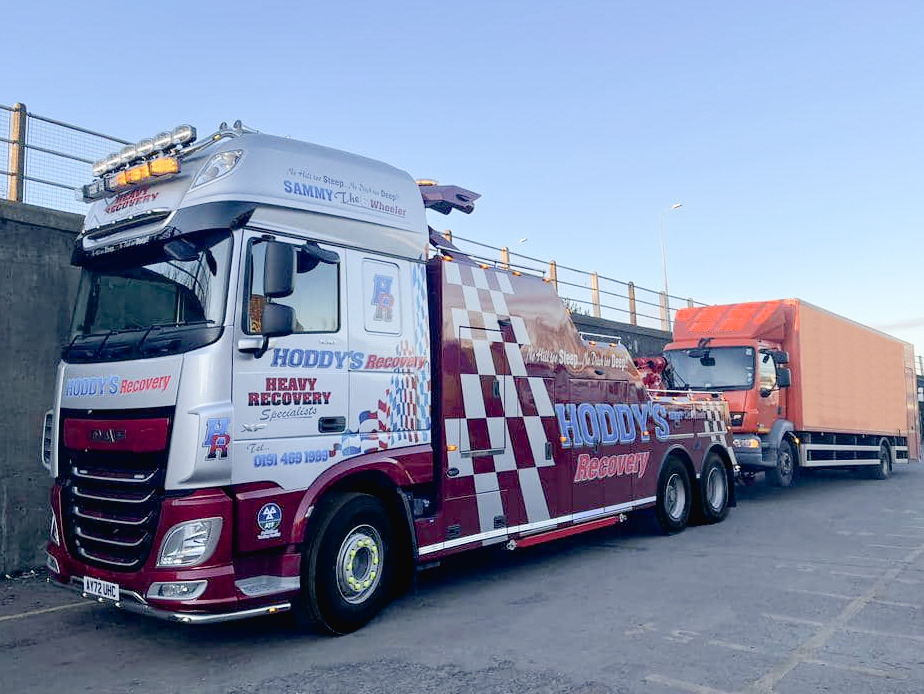 Hoddys Take Delivery Of A New Interstater
2022-12-14
Established in 1995 Hoddy's Recovery started as a small business operating from a small two car garage in Gateshead. Through their hard work, determination and excellent customer service, Hoddy's has grown to become a well-established, well-respected business operating from much larger purpose-built premises. They are an authorised MOT station for Cars, Vans, Commercials, Trailers, HGVs and Buses, have a two-lane ATF Vosa test station which is open six days a week, and are able to carry out repairs and maintenance on all types of vehicles. Commercial brake testing is also available on site for vehicles and trailers up to 100 tonnes.
As well as the garage business, Hoddy's run a very successful breakdown and recovery service catering for all types of vehicles. They run a mixed fleet of light and heavy recovery vehicles which easily cope with everyday breakdown and recovery situations occurring on the roads. They also operate a range of specialist vehicles which are well suited to off-road winching and heavy recovery operations.
Adding to their existing fleet, Hoddy's have recently taken delivery of an impressive new DAF XF 530 6x2 fitted with Boniface Interstater and Maxireach Lowline underlift boom. The vehicle features deluxe stainless-steel bodywork, the iconic Boniface Stealth flyer and additional lighting all of which compliments the new DAF to create a stunning heavy recovery vehicle. Within the bodywork, Boniface has installed their latest modular stowage system which, unlike conventional welded stowage allows items to be moved and re-positioned to suit different drivers and situations. This new system also maximises storage space and allows items to be easily added or removed at a later date.
For over 40 years the Interstater product has evolved, being tried and tested in countries all over the world and offering more reach and greater lifting performance with each new version. The latest Mk6 version features single or twin BS EN 14492 compliant heavy-duty hydraulic winches and optional rear stiff legs with spades/feet that ensure the vehicle is well anchored and stable during heavy winching or lifting operations. Boniface currently offer two Maxireach lowline booms, both of which are compatible with the Interstater and each offering unique benefits. Like all Boniface heavy duty products, the Interstater can be specified with numerous optional extras to create your ideal heavy duty recovery vehicle.
To find out more about the Interstater or any other Boniface product, give one of our friendly sales team a call on 01842 754232. Don't forget to subscribe to our Facebook, Instagram and Twitter feeds to keep up to date with all the latest news and information.