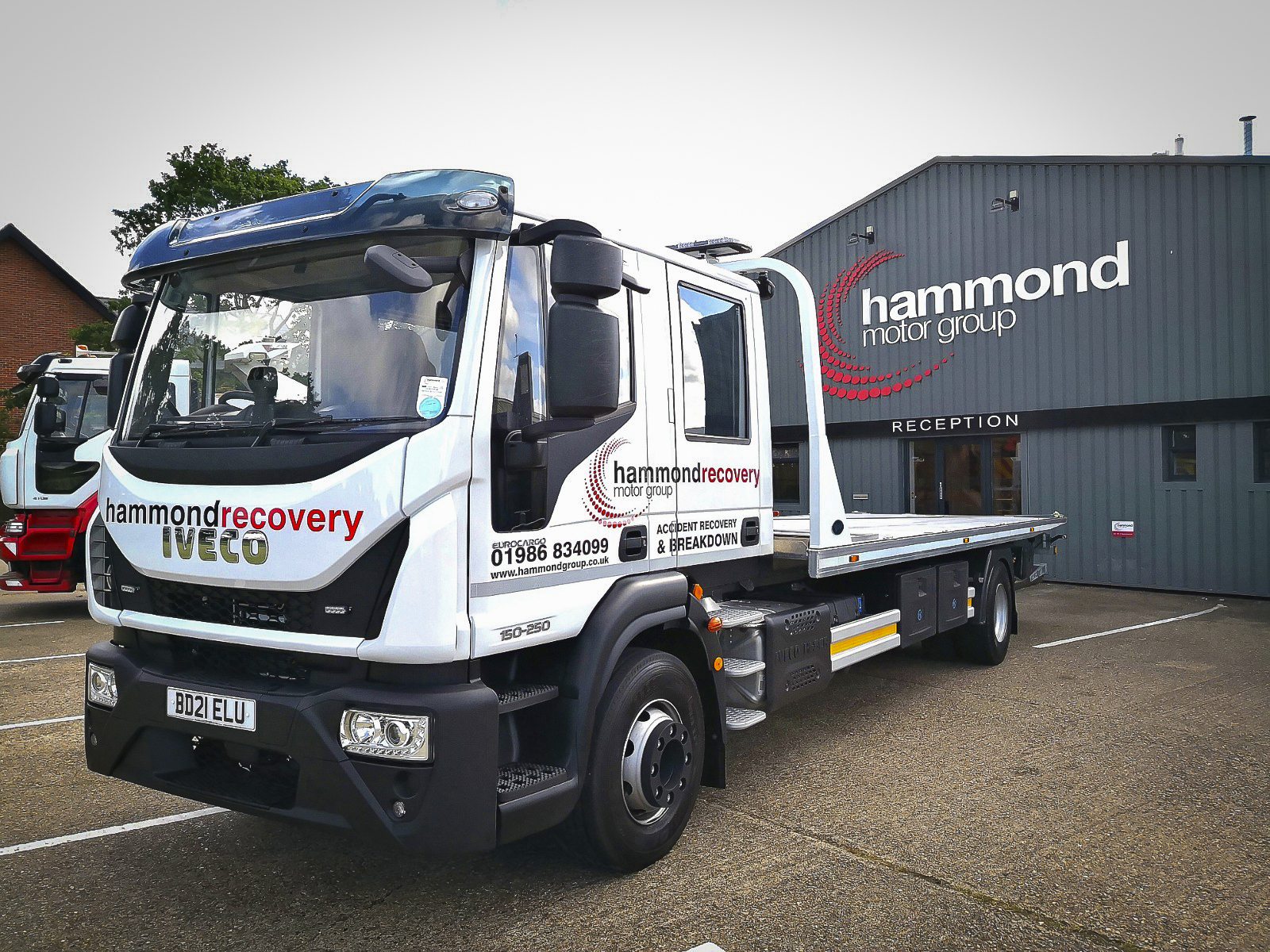 Hammonds Choose Boniface
2021-07-28
Back in in 1962, Roy Hammond and his wife Daisy established A W & D Hammond, who have, over the years gone from strength to strength becoming a very well-known and well-respected dealership and recovery operator. Based in Halesworth, Suffolk the Hammonds management team now includes a third generation of family members and Tim Warne, Recovery Manager, who has been with the business for the last 37 years ensuring the business will continue long into the future and continue to provide the exceptional customer service they are known for. Being a local business, Hammonds have had a long relationship with Boniface becoming good customers over the years, owning and operating numerous light and heavy recovery vehicles all which have served them well and many continuing to do so today. For their latest vehicle, Hammonds provided a 15t Iveco chassis via their Iveco dealership and Boniface fitted one of their 6t capacity aluminium VLA slidebeds with 2000Kg capacity 2nd car lift, resulting in a great looking vehicle which provides a high payload and a very low loading angle making this a useful addition to their fleet.
The Boniface VLA gives outstanding performance and load angle required for today's low ground clearance cars and vans with long overhangs. The deck is fitted with side winching capstans which allow the operator to side winch with the bed locked into position whilst lashing rings mounted onto the outer edge of the deck provide the widest possible loading area. An 8000lb capacity sliding winch is standard on this product and it allows the operator to achieve a straight pull onto the causality vehicle. Both winch and bed are operated by radio remote control and the bed features powered tilt cylinders which ensure the deck can always be loaded even on hills or with weight towards the end of the bed. Like all Boniface equipment, the VLA complies with the machinery directive and its hydraulic system has been designed in such a way as to instantly stop in the event that the emergency stop function is activated or a button is released ensuring the bed will not descend under gravity. The cab is fitted with the Boniface control station which gives the operator an on-scene button which activates beacons and work lights on arrival - saving the driver time looking for multiple buttons to press as they arrive on scene.
To find out more about the Boniface VLA or any other Boniface product give them a call on 01842 754232 or visit their web site at www.boniface-eng.com. For all their latest news and information follow them on Facebook and Instagram.