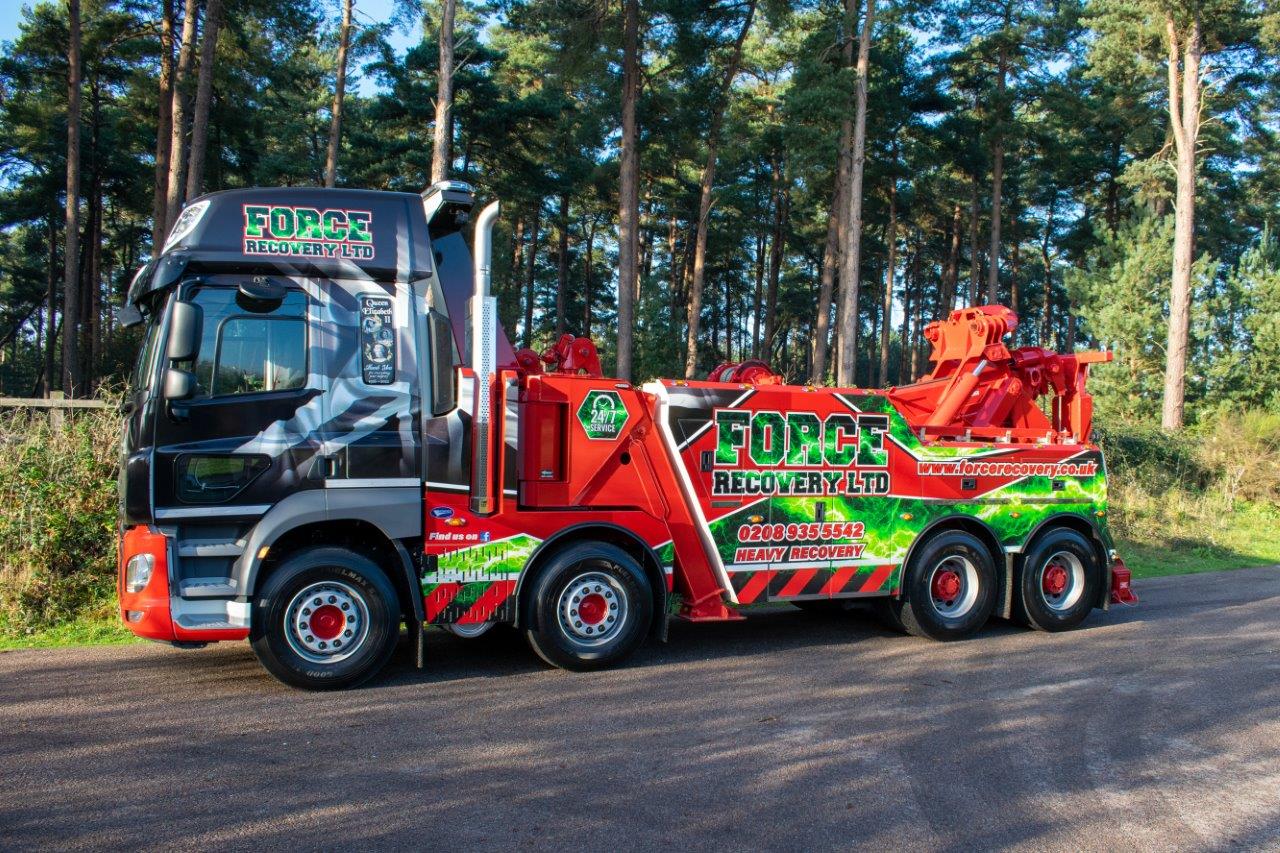 Force Recovery return to Boniface Engineering for an all in one solution
2022-12-14
Force Recovery based in Waltham Abbey, London have recently taken delivery of their Century 9055 fitted onto an 8x4 DAF CF from Boniface Engineering. Force Recovery have worked hard and continued to expand in recent years and this 9055 is just the latest additional to the fleet.
This vehicle is a one of a kind special build curated by owner/operator John Stoneham who had some out of the box thoughts when putting this vehicle together. The team down at Force recovery wanted one truck to do everything and as a result the 9055 included RXP side legs with twin winches, additional fairleads on the top recovery boom and one feature that hasn't been done before. The RXP legs allow the vehicle to not only increase stability through a wider footprint but also incorporate twin winches to pull from either side of the vehicle, the winches can also be deployed through the additional fairleads on the recovery boom and for this vehicle there are additional roller guides on the rear stabilising legs to allow for a lower pull. This gives the vehicle an overall capability of 8 winching angles from 4 winch ropes for unrivalled diversity on a vehicle of this size.
This Century 9055 also comes with a number of signature Boniface features such as the Maxireach Lowline K Boom, the stainless steel body incorporating their latest modular approach to stowages and lockers filled with tools and accessories for every job. The build has been completed with a full wrap which stands out day or night, fitted by Fleet Livery Services. This wrap not only includes the striking colours and design that Force Recovery are known for but also incorporates a touching tribute to the late Queen Elizabeth II. John, Alison and the team are confident turning up to any job with this vehicle knowing that their latest recovery vehicle is equipped to complete the task at hand.
To find out more about the Interstater or any other Boniface product, give one of our friendly sales team a call on 01842 754232. Don't forget to subscribe to our Facebook, Instagram and Twitter feeds to keep up to date with all the latest news and information.