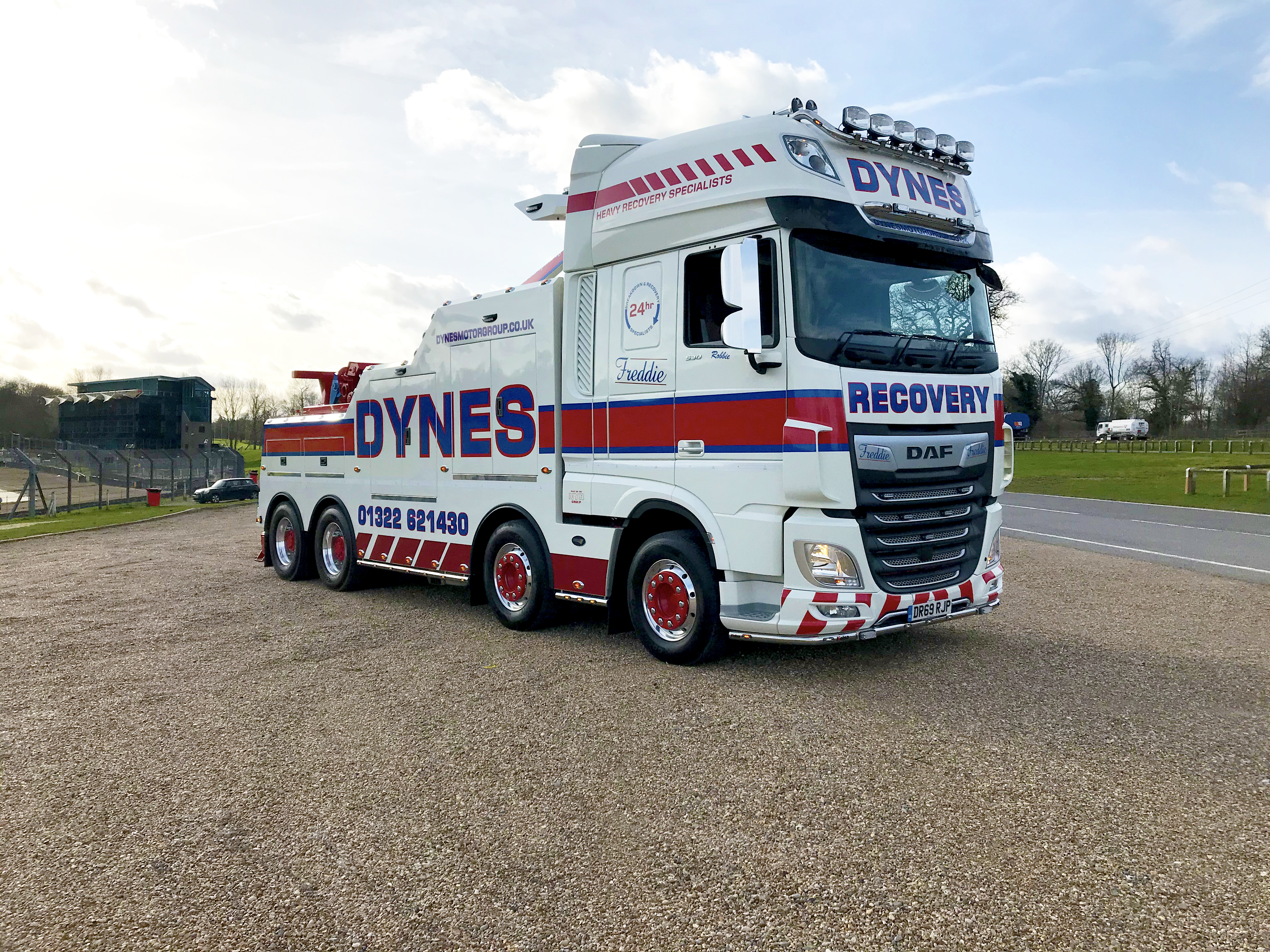 Dynes Further Expansion with Boniface Recoverer Trident
2020-02-28
Being a forward thinking and proactive company, Dynes constantly re-invest into their business with the latest, most advanced recovery equipment available. This investment has led to an increased fleet of LEZ compliant vehicles enabling them to increase their customer base and workload without compromising their exemplary reputation for outstanding customer service.
This latest vehicle is the 2nd of several heavy duty units planned for delivery this year. The DAF XF 530 8x4 chassis fitted is fitted with Boniface Recoverer Trident XL equipment, side extending rear legs, stainless-steel bodywork and the iconic Stealth flyer. As with all Dynes builds, the vehicle has been built to a very high specification and is packed with ancillary equipment allowing them to easily deal with any task they are required to perform – quickly, efficiently and safely. Every piece of equipment within the bodywork has been meticulously stowed to provide easy and efficient access when required. A 360-degree camera system has also been installed providing the driver with a clear view of what is happening all around the vehicle at any given moment. The rear facing camera from this system can also be used in conjunction with dash switches to operate the underlift when trying to negotiate a casualty vehicle into a difficult yard. The striking Dynes livery ensures the vehicle gets noticed and helps promote a very positive, professional company image.
The Recoverer Trident XL is the largest of Boniface's integrated units. It has been carefully engineered to provide exceptional recovery capability using its heavy-duty top boom whilst being light enough to be installed onto a 3-axle vehicle and used for everyday lift and tow work via the integrated underlift. The equipment features two BS EN 14492 compliant heavy-duty hydraulic winches and side extending rear stiff legs with spades/feet that ensure the vehicle is well anchored and stable during heavy winching or lifting operations. Boniface currently have three Maxireach lowline booms available all of which are compatible with the Recoverer Trident and each offering unique benefits . The Dynes vehicle pictured is fitted with the latest Lowline 'K' variant which is long, low and extremely powerful.