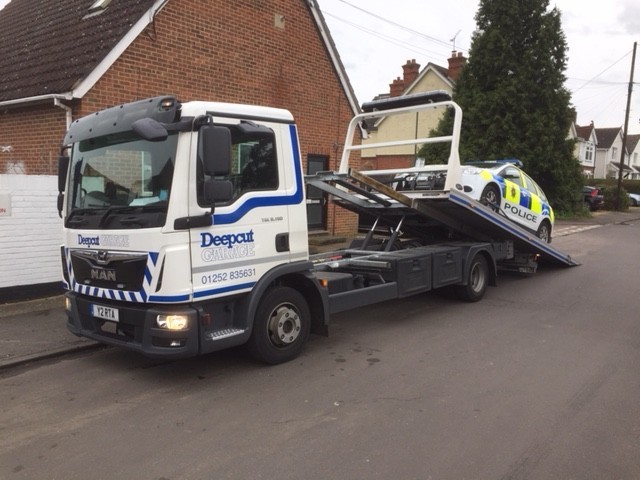 DEEPCUT GARAGE GO FOR BONIFACE EQUIPMENT
2018-07-05
STEVE KNIGHT OF DEEPCUT GARAGE CONTACTED BONIFACE TO OREDER HIS NEW UNIT AS HIS COMPANY ARE A LONG-STANDING CUSTOMER AND HAVE HAD GOOD SERVICE FROM THERE PREVIOUS UNITS SO IT WAS AN EASY DECISION TO GO AGAIN WITH A TRUSTED SUPPLIER.
DEEPCUT HAVE HAD BONIFACE EQUIPMENT FOR THE LAST 20 YEARS AND HAVE HAD GOOD SERVICE AND ROBUST AND RELIABLE PRODUCTS.
THE NEW UNIT IS A MAN DAY CAB FITTED WITH A CHAMPION 3.5T ALUMINIUM SLIDE BED BODY, SLIDING WINCH, ALL LED LIGHTS, TOOL LOCKERS, RADIO REMOTE CONTROL FOR WINCH.
THE STRONG DECK PLANKS ALLOW RIGOROUS USE OF THE BED IN ALL RECOVERY SITUATIONS AS DEEPCUT ARE AN ACCIDENT REPAIER SO NEED TO BE SURE ON THE STRENGTH AND RELIABILITY OF THE BED.
THE SUB FRAME AND BASE FRAME ARE GALANISED SO NO PAINTING IS REQUIRED AND WITH THE BED ALUMINIUM THE ONLY PART TO BE PAINTED IS THE BEACON FLYER.