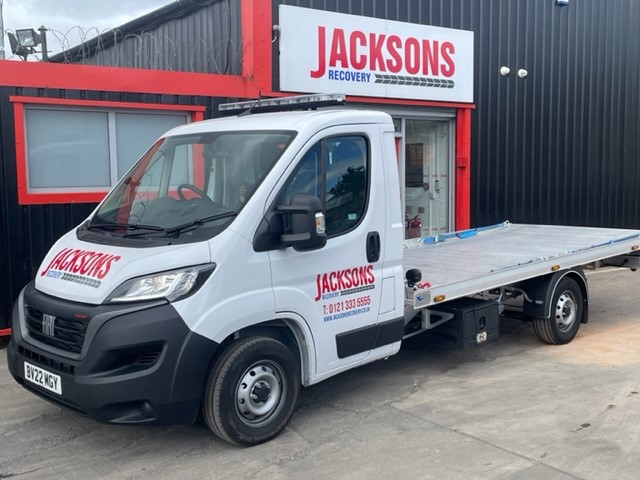 Boniface T35 For Jacksons Recovery
2022-06-14
Like many operators throughout the UK, Jacksons have owned and operated several Boniface T35 transporters. Pictured is the latest addition to their fleet – another T35 based on the new and extremely fuel efficient 3.5t Fiat Ducato chassis.
Unlike larger slidebeds, the T35 can be driven and operated by anyone with a car driving licence. At just 3500kgs, it is exempt from tachograph, does not require a speed limiter and can be used to move any type of vehicle or goods without the need for an Operator's Licence.
Despite its compact size and small GVW, the T35 is a very capable piece of equipment allowing the operator to not only transport road-worthy vehicles but also to recover accident damaged vehicles which may be difficult or even impossible to move on a conventional beavertail body.
The T35 deck, manufactured in the same manner as the larger Champion aluminium beds, provides inherent strength and durability whilst maximising payload. The unique subframe minimises running height and enables the bed to be fully deployed even on hills, ensuring the best possible loading angle is always achieved. The custom-built galvanised chassis & subframe also benefits from air bag assistors fitted between the existing springs and the chassis ensuring a smooth ride, whilst the optional in-cab compressor makes it easy to inflate or deflate them to the desired level. Unlike many other conversions, the T35 retains the OEM axles and running gear ensuring that future parts are readily available via your local Fiat dealership. The T35 also includes full radio remote control for operation of the body and winch, backup controls in case of loss/damage to the remote, ground contact rollers which protect road surface and slidebed from damage during use, LED beacon, LED work lights and a heavy-duty electric winch as standard.
To find out more about the T35 or any other Boniface product, call one of our friendly sales team on 01842 754232. Don't forget to follow us on Facebook, Instagram and Twitter to keep up to date with all our latest developments.