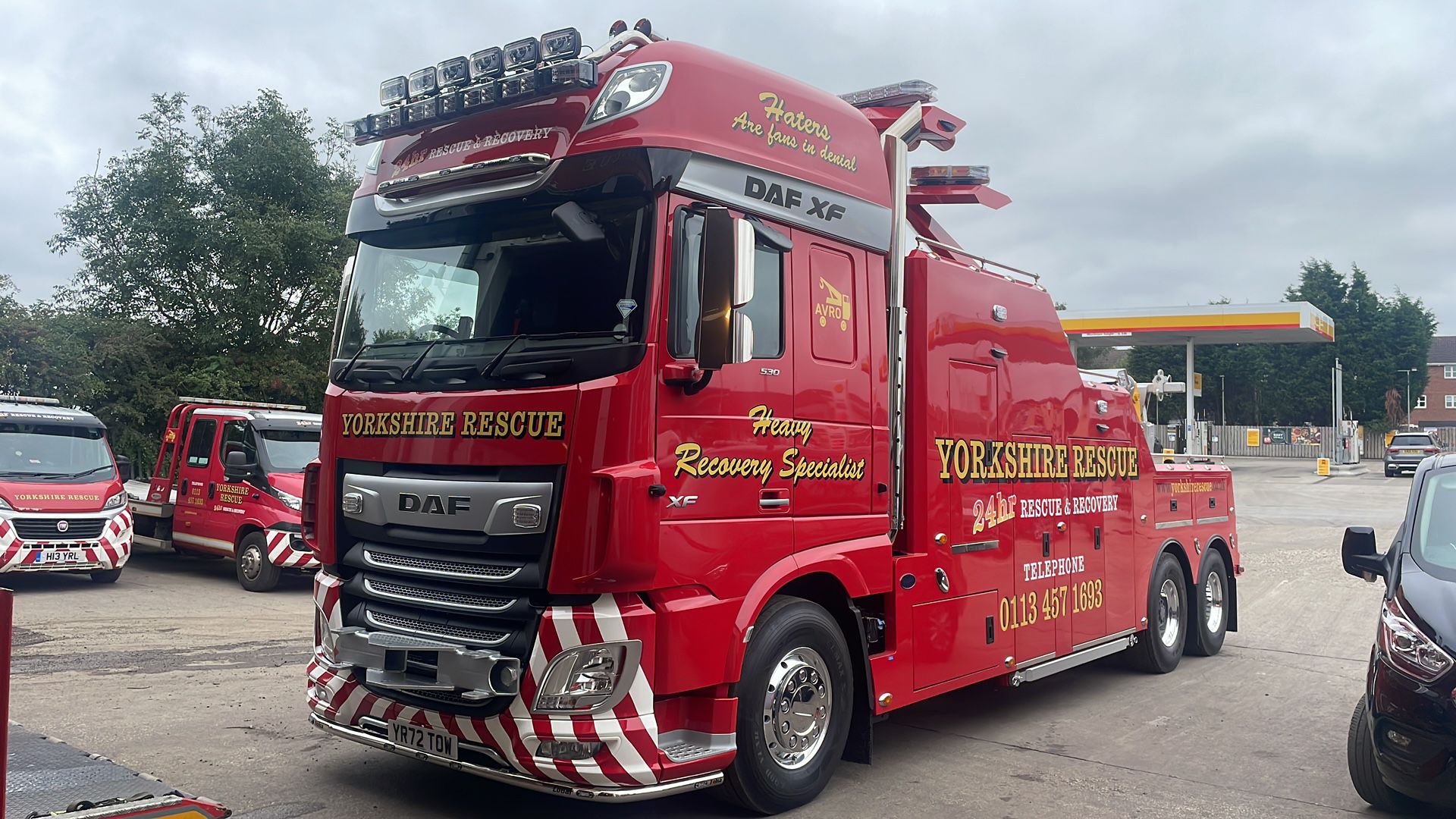 Boniface Supply 1st New Heavy For Yorkshire Rescue
2022-09-22
Based in Leeds, Yorkshire Rescue are a well-known recovery operator providing 24hr assistance for both car and commercial vehicles. Over the years they have continued to re-invest into the business, replacing older slide beds and spec lifts with new euro 6 compliant vehicles to create what is today a very modern recovery fleet.
Although Yorkshire Rescue already own and operate several heavy recovery vehicles, they made the decision to purchase their first brand new heavy recovery vehicle and owner Andrew Alderson contacted Boniface who worked closely with him to create the perfect vehicle to suit his needs.
The result is this stunning DAF XF Superspace cab with 530 engine, automatic gearbox and Alcoa Dura-Bright wheels. This impressive chassis is complimented by the Boniface Recoverer Trident equipment, Maxireach Lowline K underlift boom and a Deluxe Stainless Steel body with additional rear vehicle lights and the iconic Boniface Stealth flyer. A vast array of ancillary equipment and accessories have also been fitted including a Truckmax twin stack exhaust system, Kelsa Bars, chrome handrails, high output Whelan beacons, docking lights to provide perimeter lighting, air and electric reels, a chain package, front tow attachment and much much more! It also features Boniface's new modular stowage system allowing items inside the bodies to be re-positioned to suit different drivers and applications. The modular stowage system also makes stowing additional items much easier once the vehicle has left the Boniface factory as the new items can be supplied with stowage brackets that simply slot into place.
Rated at 100,000lbs the Recoverer Trident is our largest integrated recovery unit. It features dual 50,000lb capacity winches, power tilt and is available with a range of underlift booms from Miller Industries or our longest, lowest Maxireach Lowline range. It is available with a choice of standard legs with flip over feet/spade combination or with side extending rear legs which provide additional stability.
For further information about the Recoverer Trident or any other Boniface product, give us a call on 01842 754232 where one of our friendly staff will be happy to help. Don't forget to follow us on Facebook, Instagram and Twitter to keep up to date with all our latest news and information.