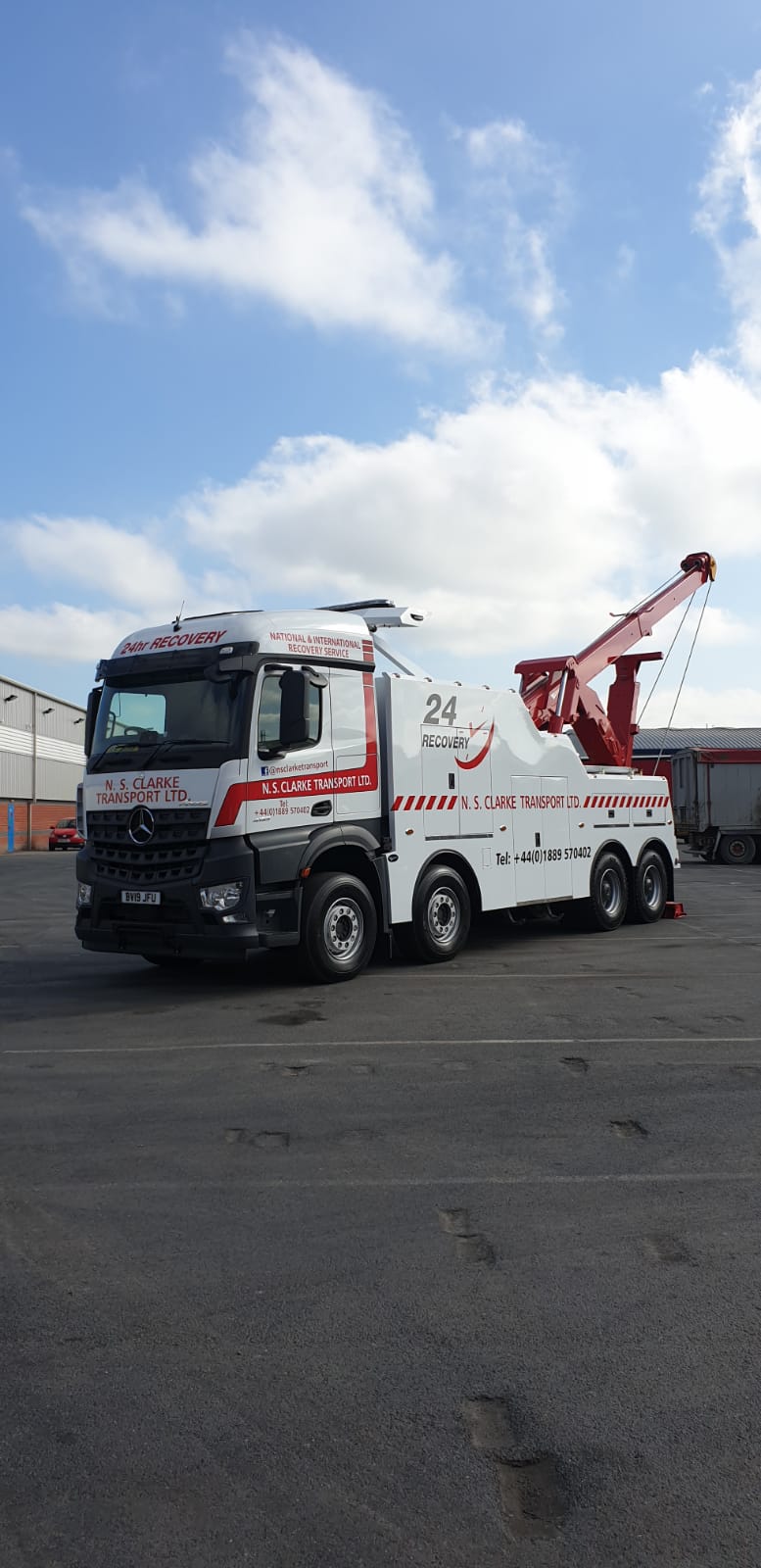 Boniface Recoverer Trident For NS Clarke
2019-06-06
It's just over a year since Staffordshire based NS Clarke Recovery took delivery of their 2nd Boniface built Recoverer Trident. Since that time, the business has continued to expand and get progressively busier with each new contract and work provider added to their customer base. This increased workload has necessitated another new heavy recovery vehicle and NS Clarke have once again taken delivery of a new Mercedes Actross 4153 8x4 chassis fitted the very latest Boniface Recoverer Trident and Maxireach Lowline underlift boom.
The Recoverer Trident features two BS EN 14492 compliant heavy-duty hydraulic winches, a heavy duty extending top boom, diagonally opposed rear stiff legs with flip over feet and spade attachments which keep the vehicle anchored and stable during heavy winching or lifting scenarios.
Due to the success of their last vehicle (also a Mercedes 4153 with Recoverer Trident equipment) this latest vehicle is also fitted with Boniface's Deluxe hand-crafted stainless-steel bodywork which has been meticulously built to a meet NS Clarke's exceptionally high standards. Boniface encourage their customers to visit regularly during the build process to ensure their exact requirements are met. NS Clarke worked closely with the Boniface engineers and sales team to create a comprehensive stowage plan for the vehicle ensuring all ancillary equipment was in the correct position within the bodies and each item had its own custom stowage. These visits combined with the exceptional craftsmanship of the Boniface Engineers have resulted in a truly unique vehicle that will provide years of reliable service.