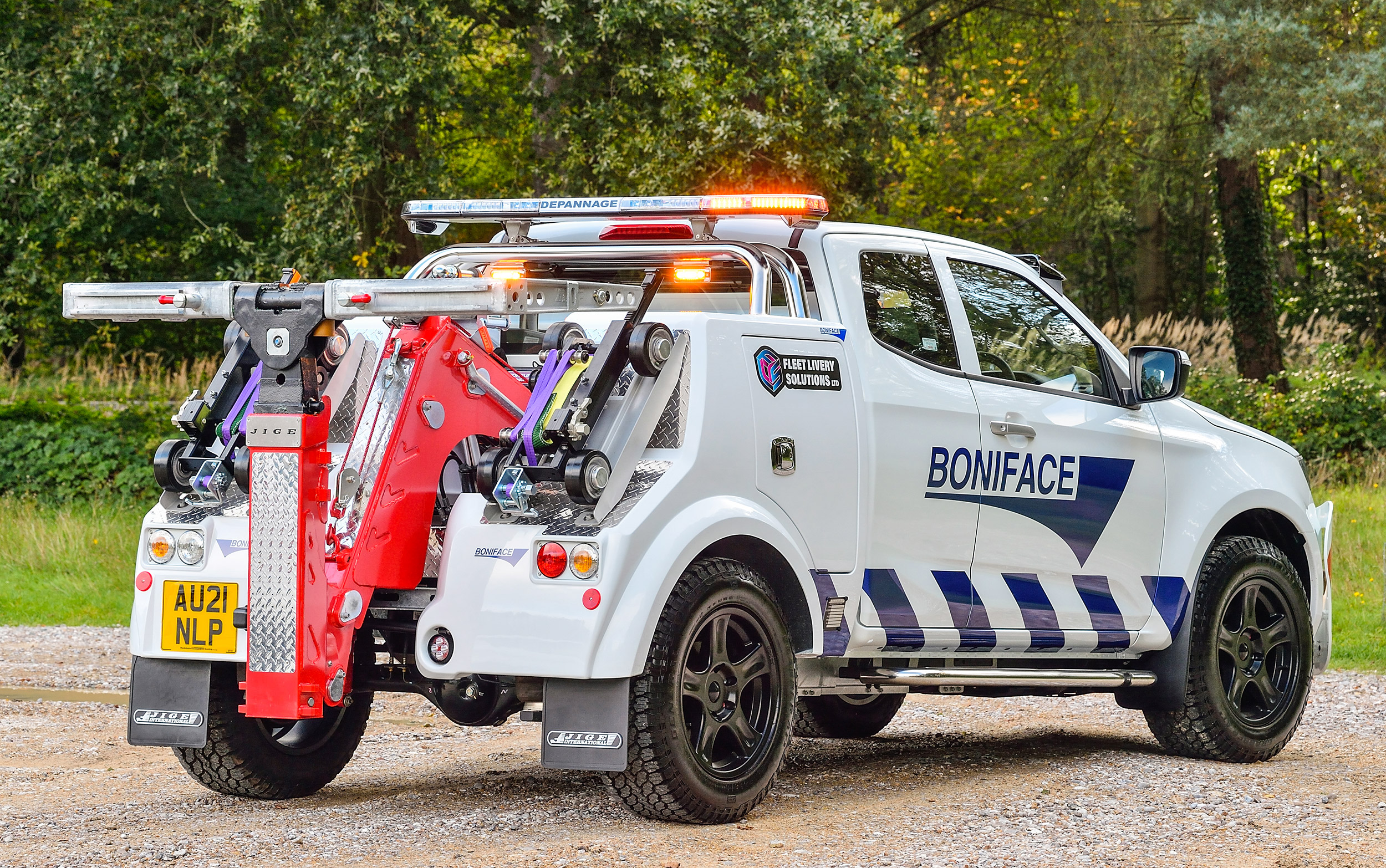 Boniface Light City for the Tonkin Group
2021-10-27
After speaking to other operators that have their own Light City Simon Tonkin, Tonkin Group decided during his trip from Cornwall to the Tow Show at Telford to come and have a look at one for himself, he was that impressed he bought it. The small and compact design makes the Light City the perfect vehicle to operate in multi storey car parks and areas with restricted access or manoeuvrability. Jige are a company within the Miller Industries group who produce a wide range of equipment including the Light City product which is ideal for installation onto Isuzu D Max or Ford Ranger chassis.
The Jige Light City has a maximum lifting capacity of 1700KG retracted and 1200kg at the full hydraulic extension of 500mm. The boom is fitted with a Superwinch 3.6 tonne winch with 20m of cable with all winch and boom functions being operated either by the wireless remote control or lever controls mounted at the nearside rear corner. As well as an uprated rear suspension system the Isuzu has the standard alloys removed and are replaced with 18" reinforced alloys. The front bumper is replaced with a wrap around steel version which acts as ballast as well as a durable push bumper as required. The polyester body work is styled to suit the chassis and is light, maximising the vehicles payload whilst providing as much storage as possible.
The Jige product has the option of many useful features such as the adjustable light bar mounting which allows the light bar to be dropped down to increase headroom in restricted areas, levelling rear air suspension, an on board camera system for ease of operation, jump sockets, front and rear strobes, air compressor and the road rollers which are conveniently located at the rear for quick access.
Should you wish to find out more about the Light City or any other Boniface product visit their web site at www.boniface-eng.com or give them a call on 01842 754232 where one of their friendly sales team will be happy to help.