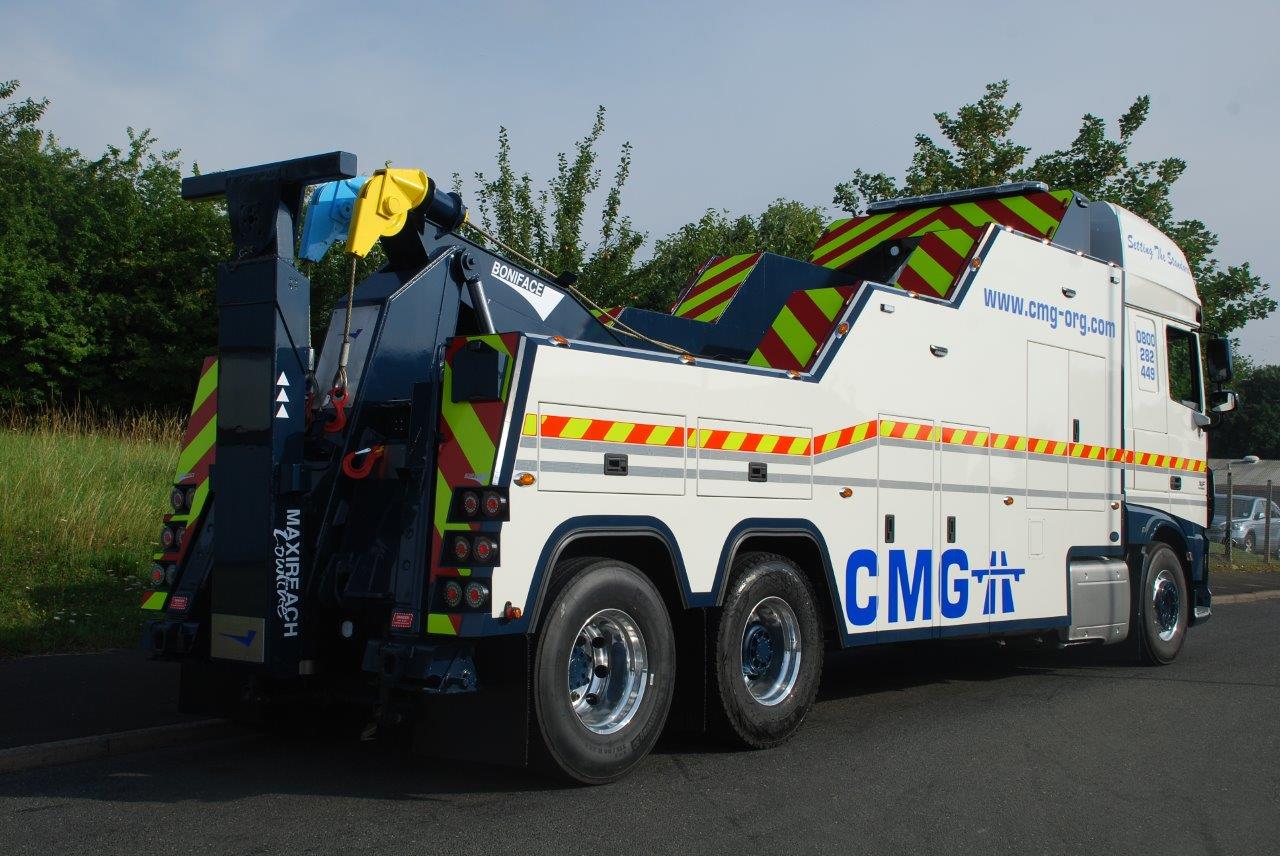 Boniface Interstater Mk6 for CMG
2017-09-06
When you think of heavy recovery in the UK, Boniface have been at the forefront of design and innovation for over 30 years. Regular interaction between Boniface and the UK's leading operators, ensures the Interstater product is continually refined, maximizing its performance and reliability whilst maintaining its position in the market place as the industry's No.1 heavy duty underlift.
Pictured here is the first of three Interstaters that are being built for CMG Rescue and Recovery.
As one of the UK's largest and premier operators, CMG have relied on Boniface products for years. This latest CMG vehicle is fitted with Boniface's flagship Interstater model, the Mk6H which has an industry leading 33t lifting capacity, 4.3m reach, power tilt facility which works even under load and the lowest underlift boom in the industry. For more than 30 years the Interstater has proven itself to be a durable, reliable and exceptionally capable piece of equipment. It is relied upon by professional recovery operators all over the world which is why, when it came to upgrading their fleet, there was only one clear choice for CMG.
From the conception of their new builds, every detail was carefully considered with countless hours spent analyzing and scrutinizing every aspect of the equipment and bodywork to create the ultimate lift and tow vehicle. As you would expect from a premier operator, CMG carry a comprehensive range of equipment to ensure they can easily cope with every eventuality. As part of the design process, copious stowage was carefully designed taking advantage of all the available space within the cavernous stainless steel bodies. With everything stowed in its place, this latest edition to the CMG fleet is a stunning example of Boniface's engineering excellence.
For those of you who would like to get a closer look at the latest CMG Interstater and experience Boniface's exceptional products, the second vehicle will be on display at this year's Tow Show on the Boniface stand in hall one at the Telford International Centre on September 27th and 28th.