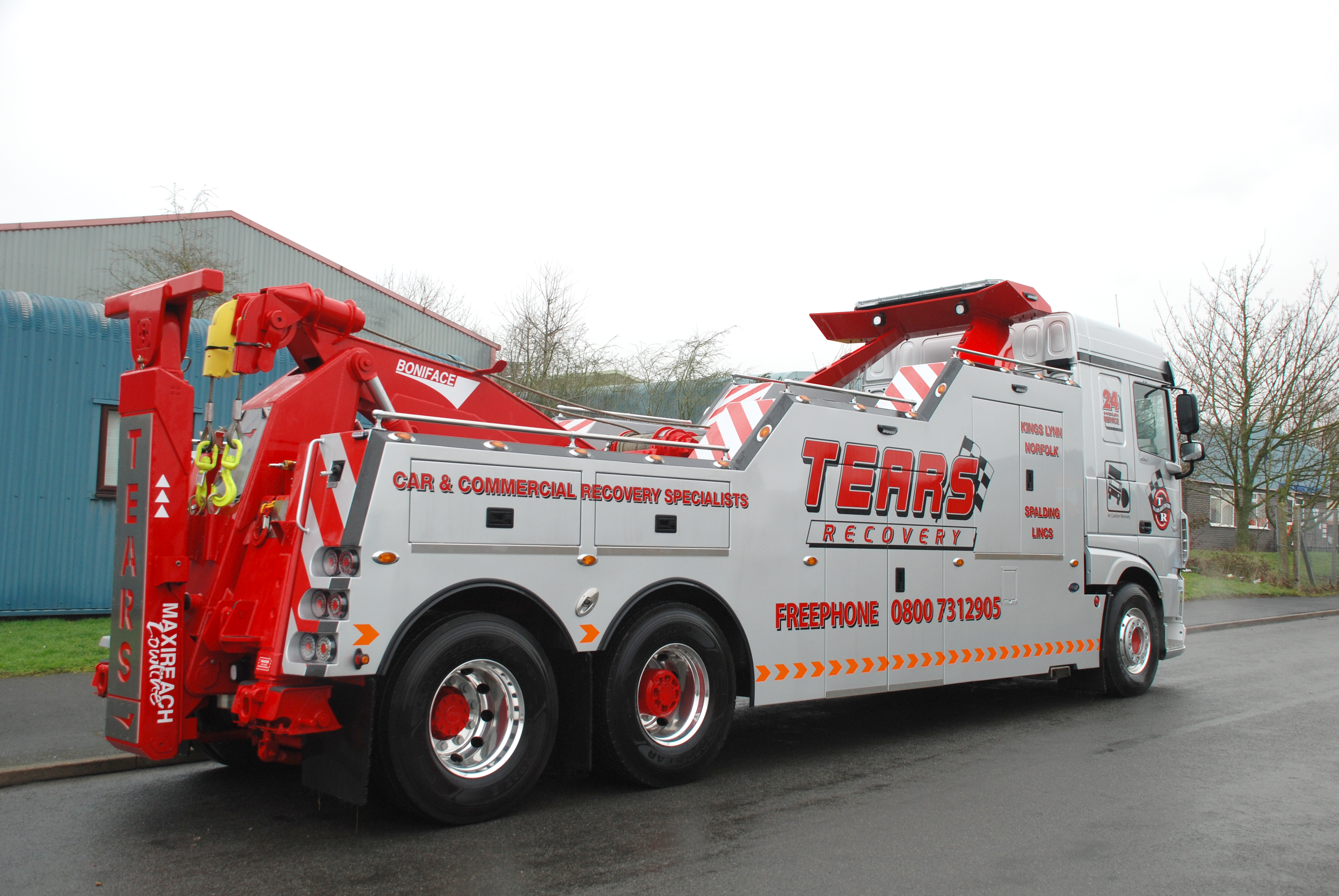 Boniface Interstater for Tears Recovery
2020-02-13
For almost 25 years Tears Recovery have been providing breakdown and recovery assistance for all types of vehicles throughout East Anglia. They are a very well-known and well-respected operator working for most of the major motoring organisations as well as the Police and private customers. Operating from depots in King's Lynn, Spalding, Sutton Bridge and Fakenham, Tears have a very extensive fleet of vehicles capable of recovering anything from a small motorcycle to an articulated unit and trailer. With some of their depots located in more rural settings they are also well accustomed to recovering heavy agricultural equipment and machinery from some very difficult situations.
As a long-established friend and customer of Boniface, Tears already own and operate several light and heavy-duty Boniface products – all of which have served them well over the years and continue to do so today. This latest addition to their heavy fleet is an Interstater Mk6 with Maxireach Lowline H boom fitted to a new DAF XF 530. The Interstater has an industry leading low height under-lift boom which helps make the recovery of vehicles with limited ground clearance easier. It is durable and incredibly strong - capable of lifting an amazing 9 tonnes at its maximum extension of 4.2m. The Interstater is also equipped with power tilt enabling the operator to create a little more clearance between the top of the boom and the underside of the casualty vehicle before towing.
Although the Interstater is an ideal lift and tow machine its versatility has been further enhanced by twin 33,000lb winches and rear stiff legs with flip over feet / spades providing some additional anchorage and recovery capability. Complementing the Interstater is bespoke stainless-steel bodywork topped with the iconic Stealth flyer. Boniface moved away from mild steel bodies back in 2003 and now produce their bodies exclusively from stainless steel which extends the product life span. Like most operators, Tears carry an extensive set of recovery equipment and ancillary items enabling them to handle any given situation. They worked with the Boniface team to create bespoke stowage solutions and ensure that everything was to hand whilst at the roadside.
Stainless steel hand rails, LED lighting, metallic paint and striking sign writing finish off this impressive vehicle and are sure to make it a real head turner around the roads of East Anglia.