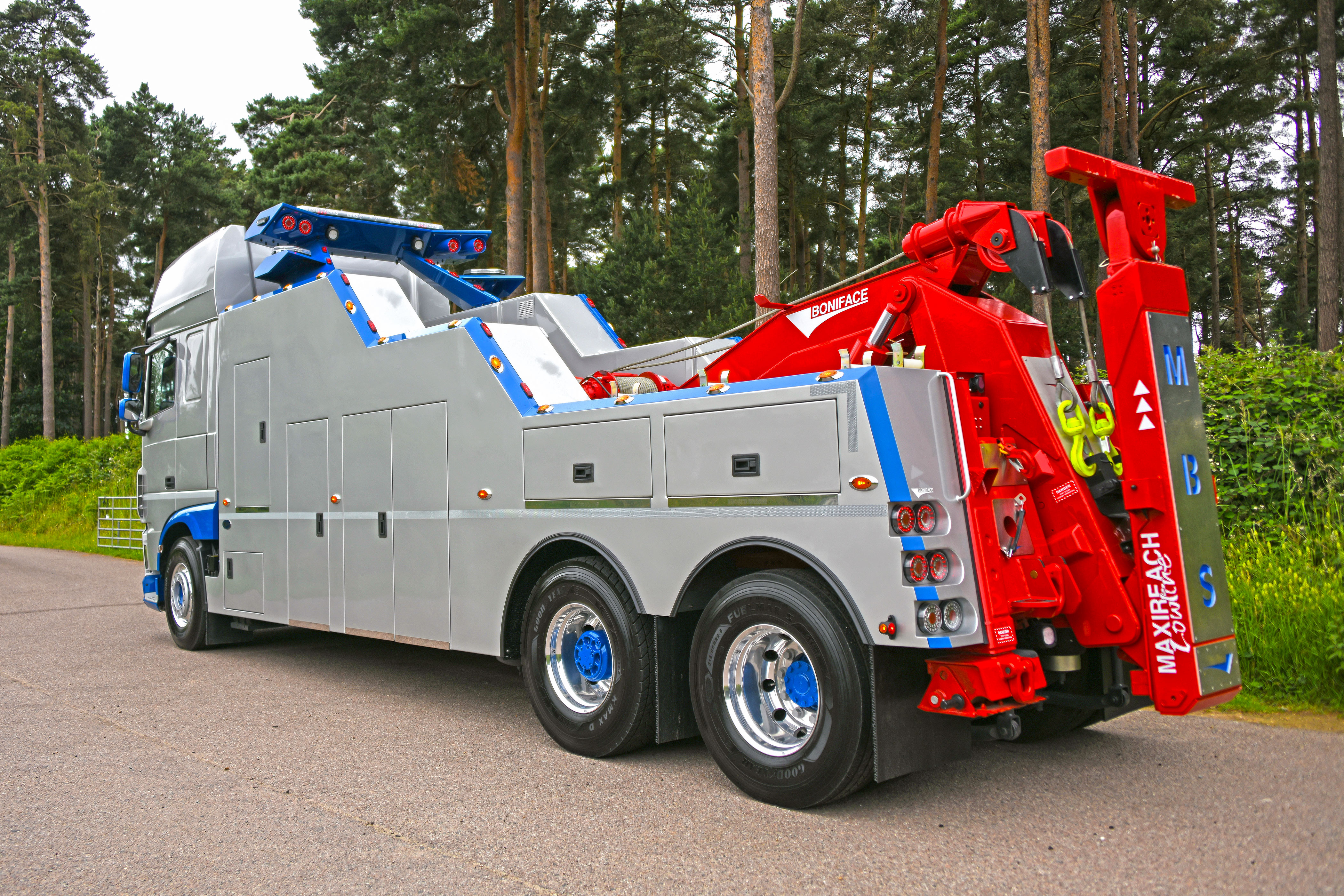 Boniface Interstater for Manchester Breakdown
2021-08-11
For over 30 years Manchester Breakdown Services have been providing breakdown and recovery assistance for both car and commercial vehicles. Due to their expertise and outstanding customer care, Gerard along with his General Manager Scott Evans and the rest of their team have continued to expand the business – adding new state of the art equipment along the way which has in turn enabled them to take on more work and provide additional services to both new existing customers. Back in November 2018 Manchester Breakdown added a new DAF XF 8x4 to their fleet which was fitted with Boniface's first Recoverer Trident XL, Maxireach Lowline K underlift boom and Deluxe stainless-steel bodywork. Due to the success and performance of this vehicle, they have once again chosen Boniface to supply their latest piece of heavy-duty recovery equipment – this time an Interstater Mk6H underlift to cope with their everyday lift and tow work.
As you can see, the world-renowned heavy-duty Interstater equipment is once again complimented by Boniface's Deluxe hand crafted stainless steel bodywork which has been meticulously built to a very high standard. As with all heavy recovery operators, Manchester Breakdown are required to carry an extensive range of tools and equipment enabling them to quickly deal with any situation which may arise during the recovery process. They consulted with both Sales and engineering teams at Boniface to create a custom stowage plan for the vehicle ensuring that all tools and accessories are to hand and easily accessible during a recovery. This collaboration along with the exceptional craftsmanship of the Boniface Engineers has resulted in this impressive looking and truly unique vehicle built to the customer's exact requirements.
Now in its 6th Generation – the Interstater heavy duty underlift has been well tried and tested over the years by operators all over the world. It has been extensively used in severe and arduous conditions and through many years of customer feedback has been refined and enhanced to become the successful product it is today. With 33 tonnes of lift capacity and an impressive clear reach of up to 4.34m on the Maxi-Reach Lowline underlift boom, the Interstater is more than capable of moving any heavy commercial vehicle, bus, coach or anything else that is asked of it. Although primarily used for towing, Interstater is much more than a lift and tow machine. When combined with the optional twin 15000Kg winches and rear stiff legs it becomes a very stable and capable heavy winching and recovery platform. As with all Boniface products, the Interstater is configurable and is available with a choice of underlift boom, winch, leg and accessory options to suit your particular needs. The Deluxe bodywork is built to compliment the host chassis and can be tailored to your exact requirements as is evident in this latest Manchester Breakdown vehicle with its upgraded flyer, lighting and stainless-steel sill trims.
Boniface would like to thank Gerard and Scott from Manchester Breakdown for their business and look forward to working with them again in the very near future.
To find out more about the Interstater and how it can enhance your fleet, visit the Boniface web site at www.boniface-eng.com or give them a call on 01842 754232 where one of their friendly staff will be happy to help.