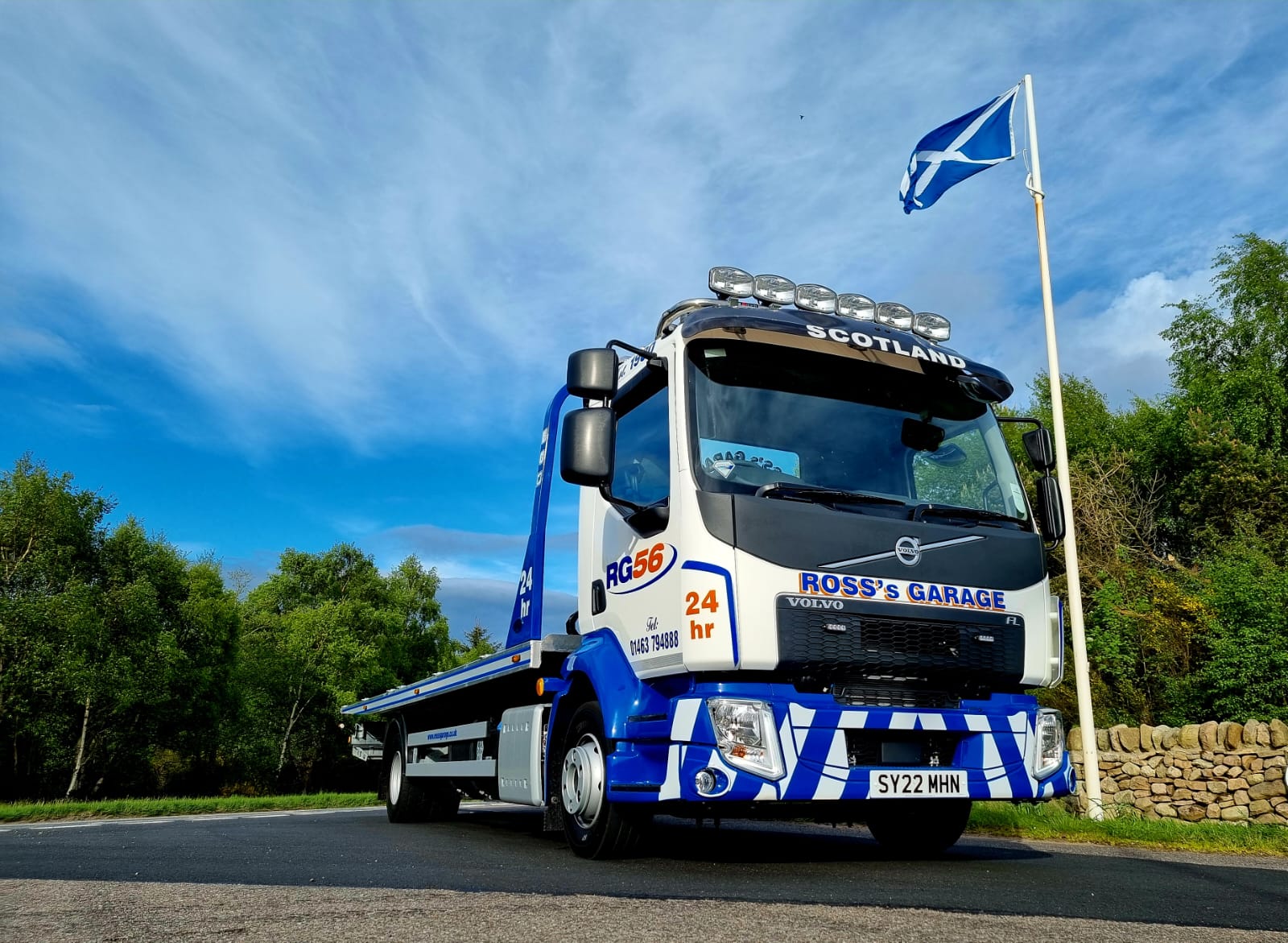 Boniface Head to the Highlands
2022-06-07
Michael Anderson from Ross's Garage recently made the long trip down to Boniface from the Highlands to collect his new and first VLA from Boniface engineering and as you can tell from the photo it was a well worthwhile trip. The 5T VLA was mounted onto Michaels free issue 12T Volvo FL Day cab and when finished with his standout livery and paint scheme it is most definitely a truck that will be well noticed. Ross's Garage were established in 1980 and have grown since then to have an extensive fleet of tailor-made vehicles and fully equipped workshops meaning that no job is to big or small. This new Boniface build will compliment that fleet even further and help Michael to continue to offer the excellent service he already provides his customers.
The Boniface VLA product is always a popular choice amongst operators throughout the UK as It's simple operation via a single push button or lever makes it quick and easy to use. In addition, the VLA provides a good payload, quiet operation and smooth deployment – all of which promote a positive professional image when loading vehicles. The VLA easily handles everyday recoveries such as large vans or cars but with its low load angle is equally capable of moving high value low clearance prestige vehicles. The VLA's aluminium deck is durable, light weight and incredibly strong whilst offering years of hassle free operation.
Standard features of the VLA include fully galvanised sub-frame and tilt-frame, 8000lb capacity sliding winch, nylon ground contact rollers which help provide smooth quiet operation, radio remote operation for the body and winch, lever controls (providing a backup in case of loss or damage to the remote), LED beacon, LED work lights and LED marker lights. Michael also opted for the additional LED strobes on the tilt frame providing high level illumination when the bed is deployed, helping to keep his operators as safe as possible on those more isolated Highland roads. As with all Boniface products there is an extensive list of optional extras available which can be used to customise the VLA to your exact requirements.
We would again like to thank Michael and everyone at Ross's Garage for the order and look forward to working together with him again in the future.
To find out more about the VLA or any other Boniface product, give one of our friendly sales team a call on 01842 754232. Don't forget to follow us on Facebook, Twitter and Instagram to keep up with all the latest news and information.