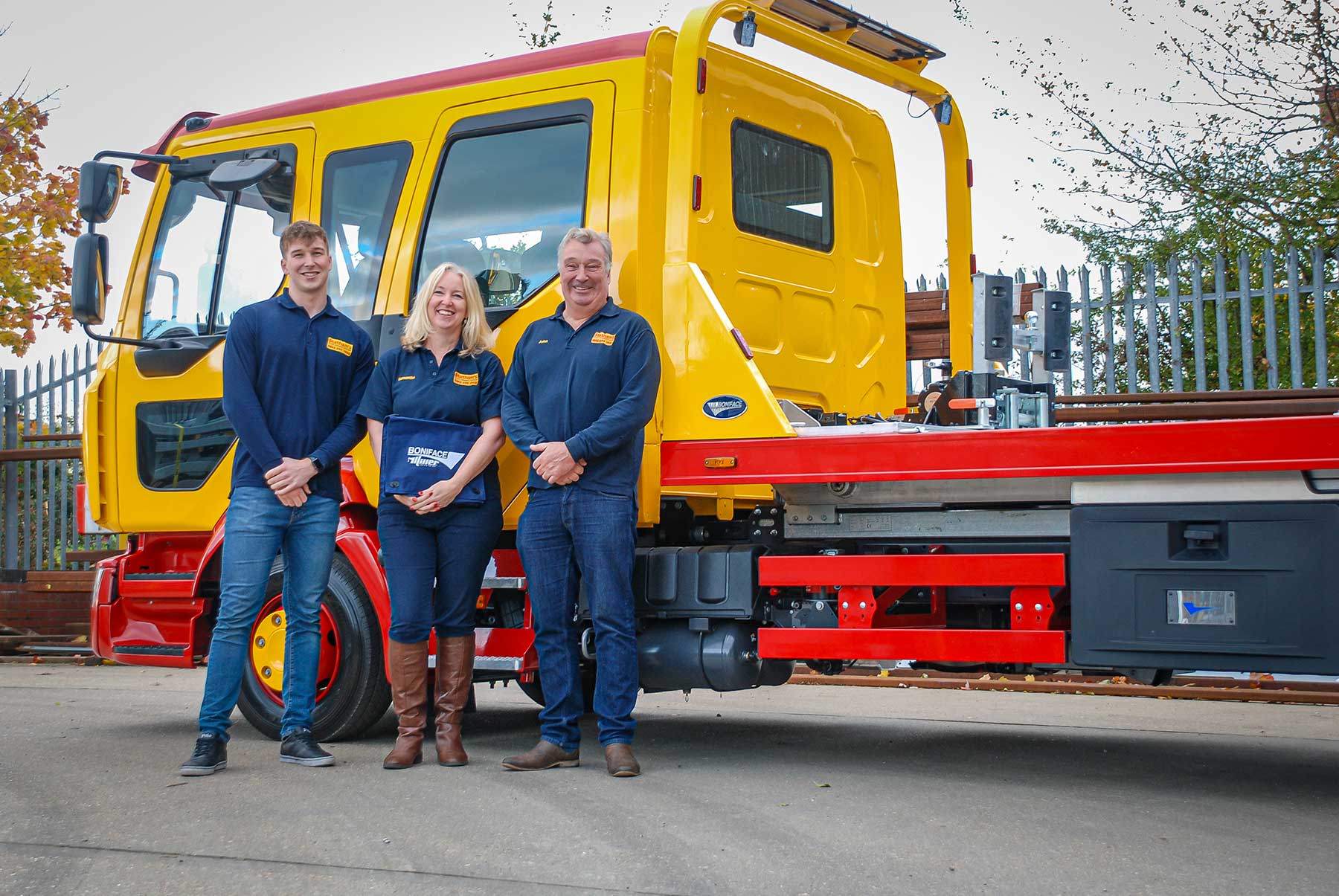 Boniface and Statham's, it's a generational thing.
2021-12-15
The Statham's family have been involved in the vehicle recovery and repair business since 1948 when the company was started by Sidney Statham in Redbourn, Herts and the company proudly remains to be a very successful family ran business today. Following in his grandad and dad's footsteps the third generation of the Statham family to deal with Boniface, Ben Statham came to the Boniface factory to collect their new 5T VLA vehicle with his Mum and Dad, Samantha and John Statham. As Boniface Engineering approaches its 40th Year Anniversary the relationships that have been built with customers over time remains paramount and the continued business of companies such as Stathams is testament to that.
The first of many new builds on order for the Statham's was this Aluminium 5T VLA mounted onto a 12t Renault crew cab all finished in those unmistakable Statham's colours. The low load angle of the VLA remains to be a popular favourite with the industry, providing the ability to load cars with low ground clearance as well as large vans with a longer rear overhang. The Aluminium bed with galvanised tilt and sub frame provides years of hassle-free use whilst still providing the strength and durability to complete the task in hand. The ease of use is a big benefit of the VLA and with the single button operation to deploy and load the bed via the remote control and with the integrated change over switch on the remote to operate the winch without having to return to the truck it couldn't be easier.
This build for Statham's was fully loaded with an 8000lb sliding winch, 2T second car lift, LED beacon, LED strobes front and rear, 2 pairs of LED work lights, heavy duty wheel skates and ramps, 4 side winching posts, winch low pull onto the second car lift capacity, wrecker kit and a trailer board. Just in case that wasn't enough they also opted to have the Boniface Greedy Ramps fitted to the build which allows for vehicles to be winched up above the winch providing that little bit more bed loading area for those longer vehicles. Boniface would like to thank the Statham family for their long-standing business and look forward to providing them with their next new vehicles for many more years to come.
To find out more about the VLA or any other Boniface product give us a call on 01842 754232 or visit our web site at www.boniface-eng.com. Don't forget to follow Boniface on Facebook and Instagram and Twitter for all the latest news and information.