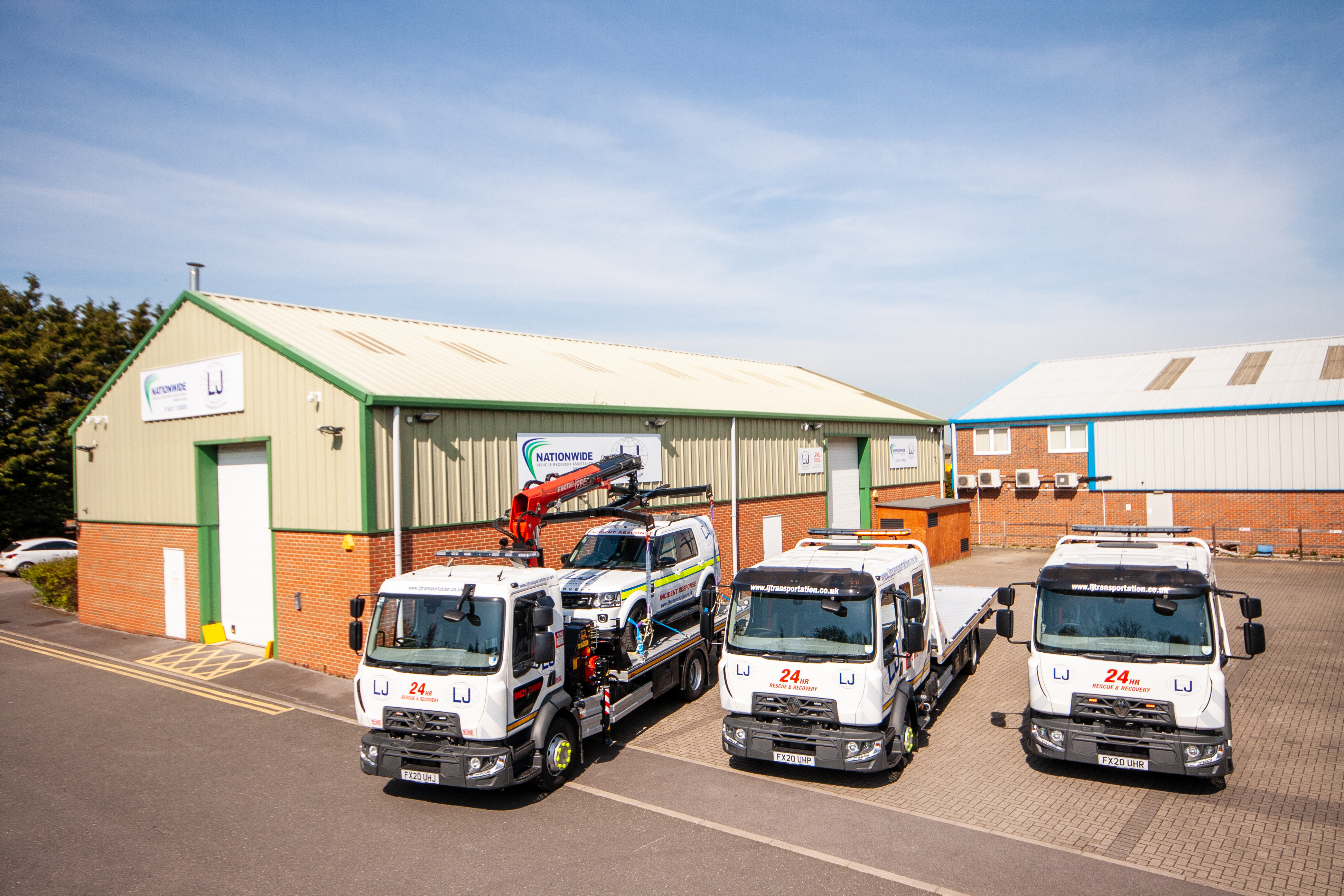 Boniface and LJ's continue to support the industries needs
2020-05-05
Mick Jennings and his team at LJ's Transportation continue to work hard to maintain the support they offer to their customer base and all at Boniface Engineering are following the same methodology. Whilst strictly adhering to the recent guidelines in these turbulent times we have been able to maintain a level of production and also maintain our excellent customer support through the parts and warranty department and as a result of this we have still managed to supply Mick with these 3 new vehicle's with more to follow close behind. This time Mick has added to his extensive fleet with one of the new Boniface Street lifter's and another pair of 5T VLA's, all mounted on Renault chassis'.
The Street Lifter is fitted with a Fassi F190ATXP14 T crane with Hydraulically operated super extra outriggers and supplementary outriggers with LED marker lights. The crane is also fitted with 2 extra functions piped to the end of the jib to allow for the hydraulic levelling and rotation operation of the lightweight 3500kg capacity damage free lifting frame. With a touch screen control panel system mounted within the cab for all electrically operated functions on the vehicle inclusive of lights and beacons and a height warning the system the vehicle provides is simple yet effective operation for the user. The additional equipment supplied in conjunction with the crane was 4 x 300mm, 500mm, 1000mm extension straps, 4 x rubber wheel protectors, 30mm wide wheel clamps and 1 pair of Citroen bars with straps ensuring the vehicle is ready to tackle any task required.
The bed of the Street Lifter is constructed from the same aluminium planking as the VLA providing the renowned strength and maintenance free longevity whilst reducing the weight and increasing the payload. As with any Boniface product the range of extras to choose from is extensive to meet our customers' needs and on this build Mick decided to fit an LED Beacon, strobes front and rear, 10 pairs of LED work lights, 1000mm storage locker, 6 cones chassis mounted, trailer board and a 2000kg L Arm second car lift. The combination of the bed, crane and extras means this vehicle is ready to tackle any task given with ease and provides years of reliable operation.
Mick also boosted his fleet with another two 5T VLA's, of which he has many on order and remains to be a favourite of Mick and the industry, with its extremely low loading angle and single button operation, the equipment provides ease of use and reliability. In addition, the excellent payload, quiet operation and smooth deployment of the equipment meets Mick's needs from everyday recovery of large vans or cars right through to the movement of prestige vehicles.
This build has the options of 2 x plastic stowage lockers, 4 position side winching posts with capstan, LED beacon with stop tail repeaters, LED work lights, front strobes and chassis mounted wheel skates and wrecker kit. All of these were in addition to the standard rugged aluminum bed, single button remote control, 8000lb hydraulic winch, which can be manually adjusted allowing the operator to maintain a straight pull when winching or loading onto the bed, fully galvanized subframe and tipping frame all which provide years of rust-free operation.