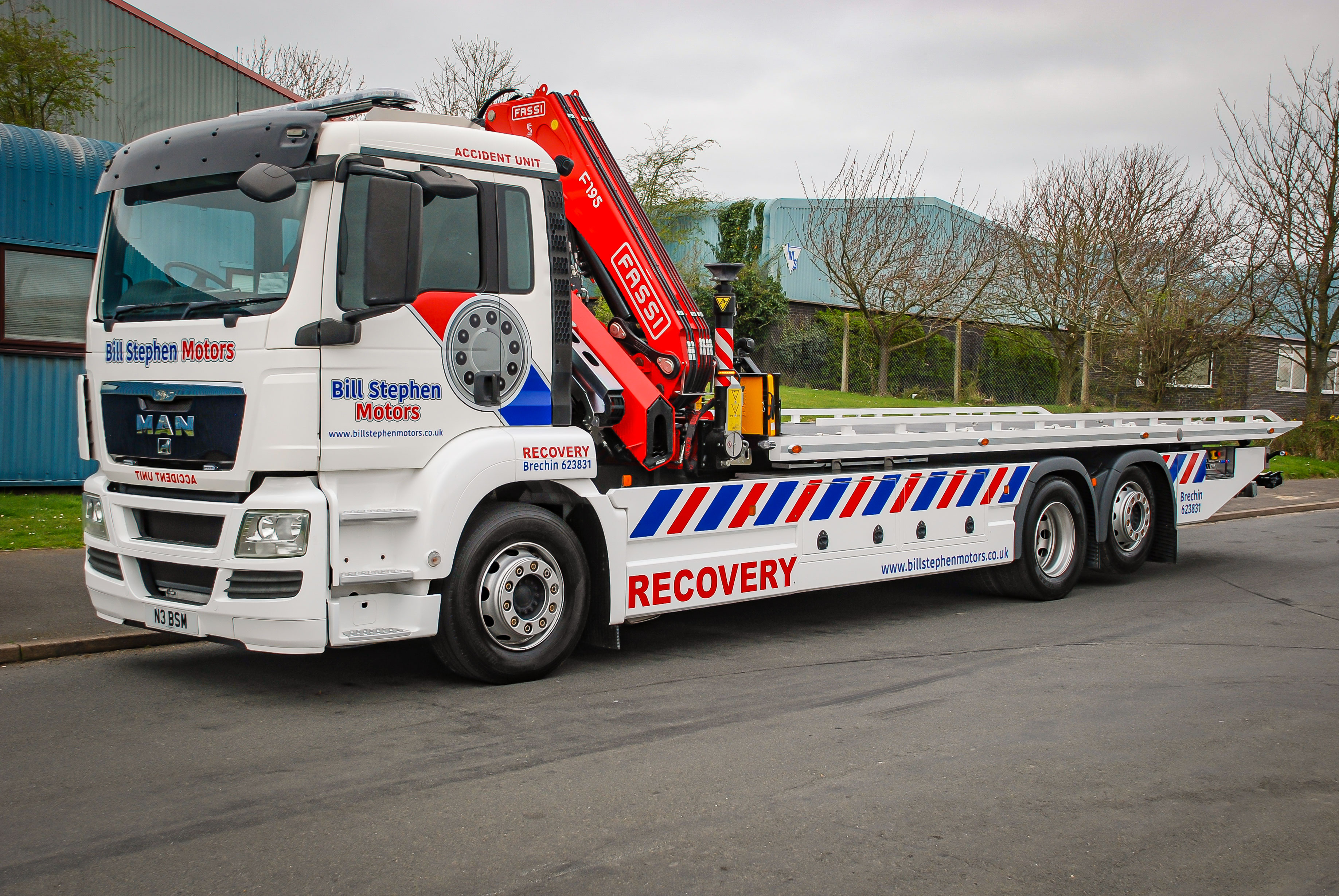 Boniface Accident Unit For Bill Stephen Motors
2021-07-23
Bill and Gareth Stephen from Bill Stephen Motors approached Boniface with the aspiration of working together to build them a new accident unit on their MAN chassis. Visibility of the vehicle at night, a high-performance crane and a good payload were all essential for the vehicle which would be operating around Brechin in Scotland. The Chevron 20 series bed in combination with a FASSI 195 crane and lots of lights quickly became the solution.
The vehicle was fitted with a 20,000lb capacity Chevron slidebed with a heavy duty ¼ inch steel deck, 12,000lb hydraulic winch and a 6000lb capacity second car lift. Also fitted was a FASSI 195 2.24 crane which provides a maximum lift capacity of 560kg at 19.25m - a very capable machine allowing operators to be able to easily load a full range of vehicles in all circumstances. Bill and Gareth also decided to enhance their vehicle with aluminium side skirts fitted either side of the chassis that incorporated locker boxes and doors which provide access to the granule bin and tow attachment. Each of the LED illuminated lockers had bespoke stowage for all of the accessories that they wanted to carry including chains, lifting straps, strops, slings, rubber wheel protectors, shackles, transporter straps, wrecker kit, 9kg fire extinguisher and a snatch block. The skirts were then painted to match the cab and the inside of the lockers coated in Speedliner - a tough, rubberised paint which provides further protection when taking equipment in and out of the lockers.
The vehicle was also fitted with a pair of strobes mounted in the front grill, a pair at the rear and a pair on the bed, hula blitz lights mounted on the side raves of the bed, 1.6m slimline LED beacon with rear repeater lights, 3 pairs of LED work lights and a laser lamp mounted on the winch guard. If that wasn't enough to make the vehicle stand out at night Bill and Gareth also opted for reflective livery on the cab which truly highlights their new branding and makes for a very impressive looking vehicle.
Boniface would like to thank Bill and Gareth for their business and look forward to working with them again in the future.
If you would like to know more about the Chevron slidebed range or any other Boniface product, give them a call on 01842 754232 and one of their friendly knowledgeable staff will be happy to help. Alternatively, visit their web site at www.boniface-eng.com. Don't forget to follow them on Facebook and Instagram to keep up to date with their latest news and developments.