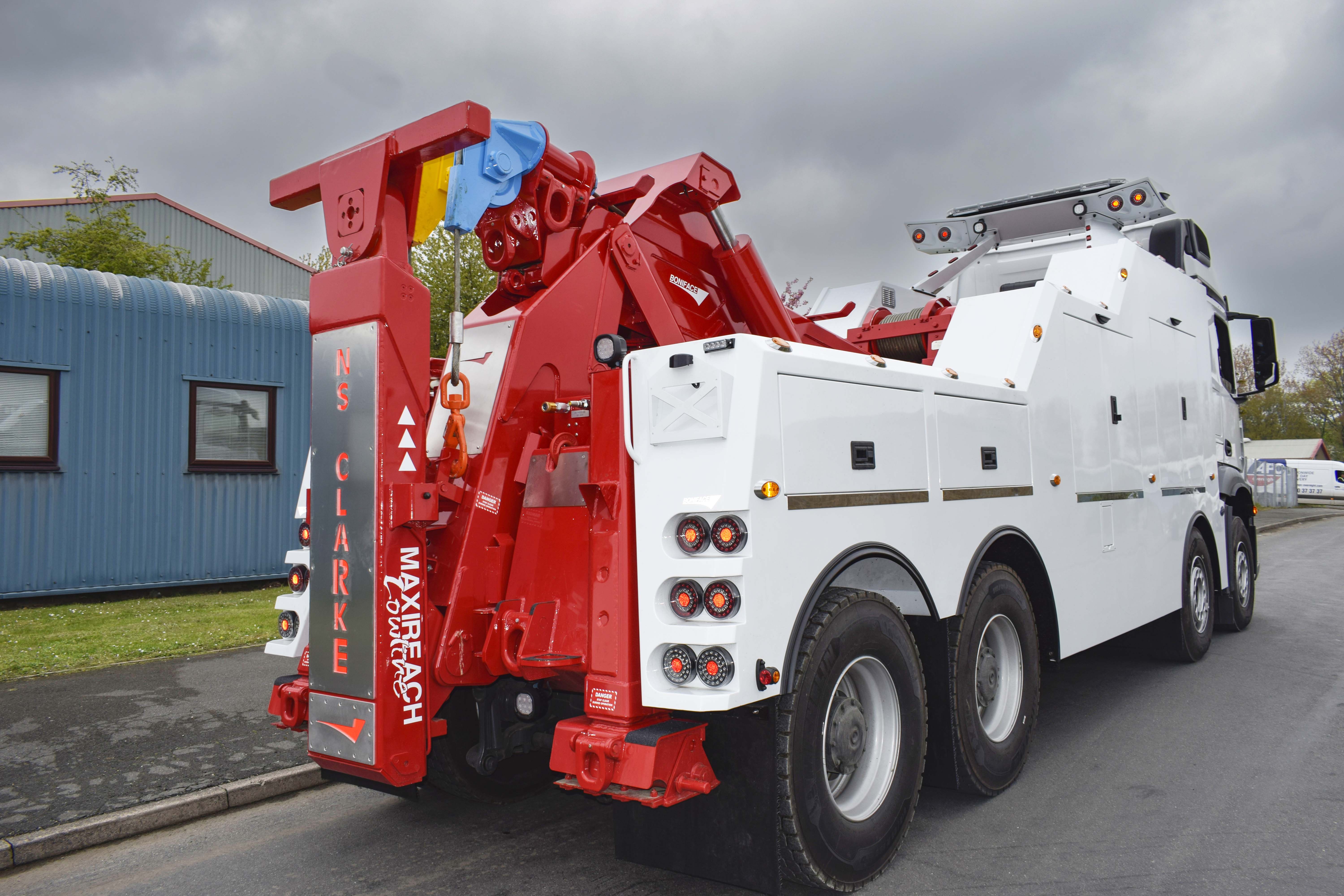 Another Recoverer Trident For NS Clarke
2023-05-30
It's just about 3 years since Staffordshire based NS Clarke Recovery took delivery of their last Boniface Recoverer Trident. Over this time, the business has gone from strength to strength continuing to expand and getting progressively busier with each new contract and work provider added to their customer base. NS Clarke are renowned for having a very modern, clean, state-of-the art fleet and this latest vehicle will be a welcome addition. Based on a new Mercedes Actros 4153 8x4 chassis, this latest Recoverer Trident has been fitted with Boniface Deluxe stainless-steel bodywork and Stealth flyer. As with all Recoverer Tridents, the equipment features two BS EN 14492 compliant heavy-duty hydraulic winches, a heavy duty extending top boom and rear stiff legs with flip over feet and spade attachments which keep the vehicle anchored and stable during heavy winching or lifting scenarios.
Within the bodywork, NS Clarke opted for the latest clip in stowage system which allows the operator to move items around to suit their needs. The system also allows for additional items to be purchased from Boniface along with the relevant bracketry, negating the need for additional welding to be carried out after the vehicle has left the factory.
All NS Clarke vehicles carry a huge range of ancillary items and lifting equipment which ensures that their operatives can easily complete any job they are asked to do. This vehicle was no exception and was fully kitted by Boniface meaning it can go straight to work as soon as the sign writing has been applied.
To find out more about the Boniface Recoverer Trident or any other Boniface product, give us a call on 01842 754232 and one of our friendly team will be pleased to help. Don't forget to follow us on Facebook and Instagram to keep up to date with all our latest news and information.