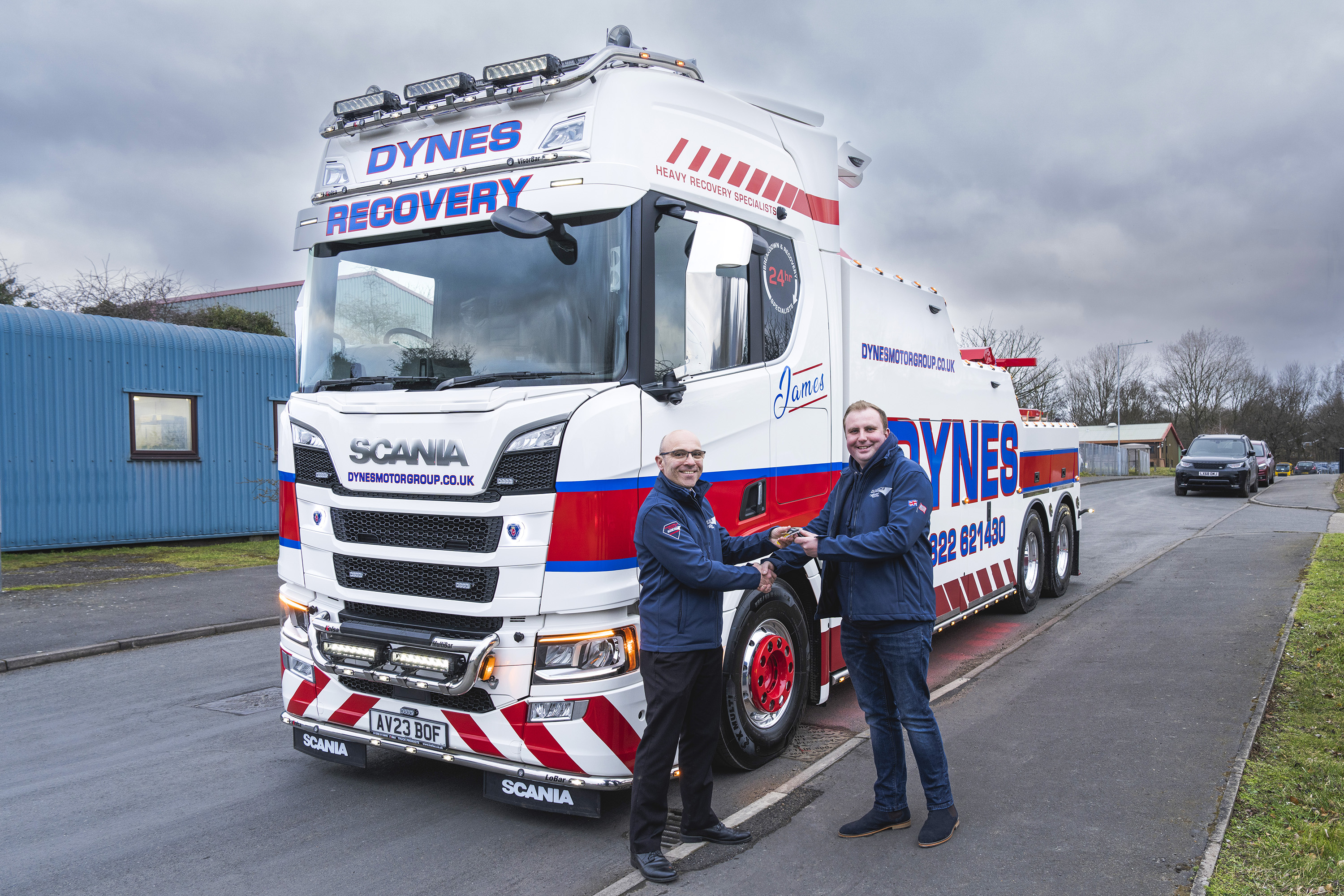 Another Recoverer Trident For Dynes
2023-03-15
For many years, Dynes have invested in state-of-the-art heavy recovery equipment from Boniface, building an excellent reputation within the industry and promoting a professional image to their growing client base. This latest Scania fitted with Boniface Recoverer Trident is the first of several new heavy-duty vehicles scheduled for delivery throughout 2023 which again forms part of their continuous re-investment into the business, allowing them to further increase their workload without compromising their exemplary reputation for outstanding customer service.
This very impressive looking Scania R660 was the first vehicle to be painted in Boniface's state of the art paint shop which has recently been commissioned at their Thetford factory. As you would expect, the paint finish, build quality and attention to detail is exemplary. As with all Dynes builds the vehicle has been built to a very high specification and is packed with ancillary equipment allowing them to easily deal with any task they are required to perform – quickly, efficiently and safely. Dynes worked closely with Boniface throughout the build process and every piece of equipment within the bodywork has been meticulously stowed providing easy and efficient access when required. A 360-degree camera system has also been installed providing the driver with a clear view of what is happening all around the vehicle at any given moment. The rear facing camera from this system can also be used in conjunction with dash mounted switches to operate the underlift when trying to negotiate a casualty into a difficult yard. As always, the striking Dynes livery compliments the Boniface bodywork making this exceptional vehicle stand out from the crowd.
Rated at 100,000lbs the Recoverer Trident is the largest integrated recovery unit sold by Boniface. It features dual 50,000lb capacity winches, power tilt and is available with a range of underlift booms from Miller Industries or as seen on this vehicle, the longest - lowest Boniface Maxireach Lowline K boom. It is available with a choice of standard legs with flip over feet/spade combination or with side extending rear legs as fitted to this vehicle which provide additional stability and anchorage during heavy winching and lifting operations.
To find out more about the Recoverer Trident or any other Boniface product, give one of our friendly sales team a call on 01842 754232. Don't forget to follow us on Facebook and Instagram to keep up to date with all the latest news and information.