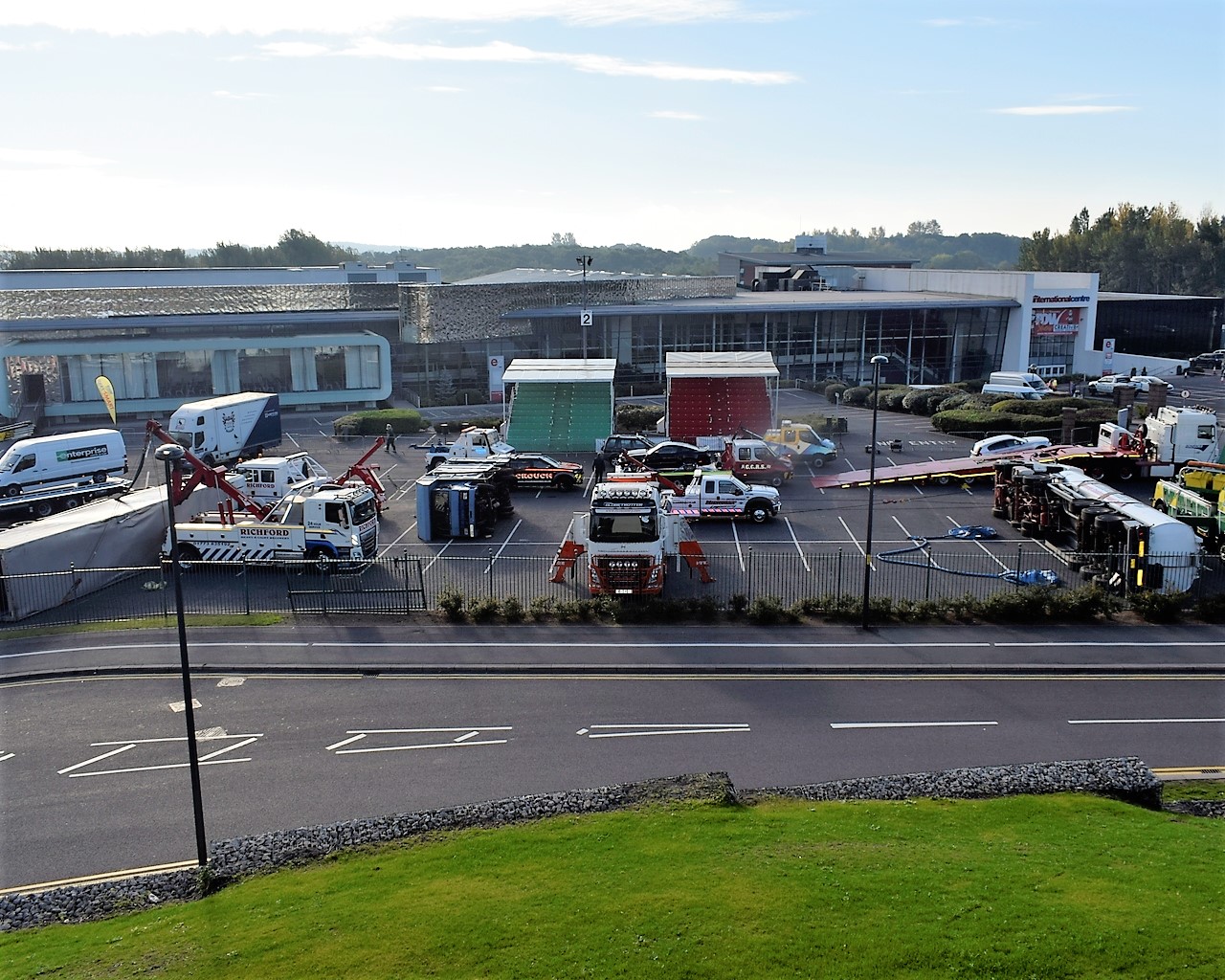 Another great Tow Show for Boniface Engineering
2018-10-10
With their dominance in the Heavy Recovery market, it was no surprise that Boniface had once again brought another new development to the market place – this time in the form of the new Recoverer Trident XL. Based on Boniface's bestselling Recoverer Trident which is already a global success, the new Recoverer Trident XL has been re-engineered with a deeper top boom, higher capacity power tilt ram and provides an additional 1500mm of extended reach compared to the standard model. This latest Recoverer Trident is also fitted with twin 20,000kg hydraulic winches which are BS EN14492 compliant and as demonstrated on the Boniface stand may be fitted with the optional rotator style rear legs providing greater stability whilst using the top recovery boom. As with all Boniface heavy duty equipment, the new Recoverer Trident may be fitted with a choice of Maxireach Lowline underlift booms from the shortest Lowline I boom to the one on show which was their top of the range Lowline K boom.
Boniface provide a range rotators from 35 tons to 75 tons capacity and offer full customisation to meet their customers exact requirements making each build unique. As well as the afore mentioned Recoverer Trident XL, the Boniface stand also featured several other heavy duty vehicles such as the striking and very imposing Century 1075 Hough Green rotator with its 5 winches, custom bodywork and walk in workshop. This particular 75 ton rotator featured two sets of the widest H beam legs providing maximum stability when using the heavy duty rotator whilst the latest HHU underlift was combined with a Lowline boom making this one of the most versatile heavy duty recovery units available.
Boniface have been producing the Interstater since 1982 and over the past 36 years have gained a wealth of experience and knowledge in producing the very best heavy duty underlift. The Interstater has always been at the forefront of innovation and design and is renowned for its extensive reach, low profile, strength and durability making it the number one choice of the professional operator. On display were a couple of the latest Mk6 Interstaters – one on a 4 wheeler which was fitted with a Maxireach Lowline I boom to produce a quick lift and tow vehicle which also had recovery capability, the other on a DAF 6x2 chassis maximising carrying capacity with its Lowline H boom whilst again having recovery capability through its twin winches and rear stiff legs. Both units had been installed with Boniface's deluxe stainless steel bodywork, Stealth flyer and customised stowage solutions inside the bodies to the customers specifications.
As well as heavy recovery units, Boniface are well known for their lightweight yet durable range of slidebed products which have been tried and tested over the years by countless operators all over the world. On display this year were both 3t & 5t Very Low Approach slidebeds as well as their well established 5t Champion and T35 products all of which generated great interest from the stands visitors. In recent months Boniface have found there has been a steady increase in the number of enquiries for spectacle lifts. Due to this increased interest displayed in the exhibition centres foyer was an Isuzu owned by Thomas Ash & Sons. This stunning, compact and essentially low height vehicle was supplied by Boniface to enable the customer to recover cars from car parks as well as carrying out everyday breakdown work.
Outside in the arena Boniface once again worked with the All Industry Display Team who under the watchful eye of Nick Ovenden demonstrated the use of numerous Boniface products. Boniface have been facilitating these demonstrations for the past three years and each year the crowds that gather have been steadily increasing. This year's demonstrations showcased the side winching capability of Boniface's heavy-duty products including their Sidewinder product which not only aids in stability of a vehicle when using a top boom but also allows the operator to winch to the side of the vehicle at anywhere between 0 and 90 degrees. Those that attended the demonstrations would have seen a very unusual vehicle - a Unimog which had been modified to Chris Burrows' specifications to accept the Century 412 equipment with four winches in total, rear stiff legs, top recovery boom and a bespoke stainless steel body. This specially created machine showed off the versatility and skill of the Boniface Engineering team to create a very specialist off road recovery vehicle. There were numerous other demonstrations showing different scenarios and ways to carry out the jobs as well as demonstrations which highlighted the usefulness of smaller 4 wheelers and their recovery capability. The Richford 2465 was one such vehicle which is an intermediate sized spectacle lift fitted to a 12t MAN crew cab chassis and being used to move a horse box, but also has a very capable and useful top recovery boom, twin winches and rear stiff legs making it a good all round recovery vehicle.
As you all know working at the roadside can be a hazardous place to be and Boniface have been working on ways to make their products as safer and quicker to use. Visitors to the demo area will have seen the latest Rapid Clearance Vehicle created by Boniface to work on Smart Motorways. Based on the Century 301 spectacle lift and fitted with a lightweight plastic body, the vehicle was designed to minimise time spent at the roadside by allowing the casualty to be quickly picked up and moved to a place of safety without the need for the operator to get out of the cab. It also featured an innovative sign board which allowed the operator to display messages to oncoming traffic to warn of the potential dangers. In an industry where safety is of paramount importance, this vehicle was well received by all who attended the demonstrations and has resulted in numerous enquiries for similar vehicles which the Boniface sales team are now following up.
Boniface would like to thank everyone who visited their stand and the demonstrations at this years Tow Show. They would also like to thank all the operators who took part in the demonstrations and thank them for their continued support in making the demonstrations a huge success.