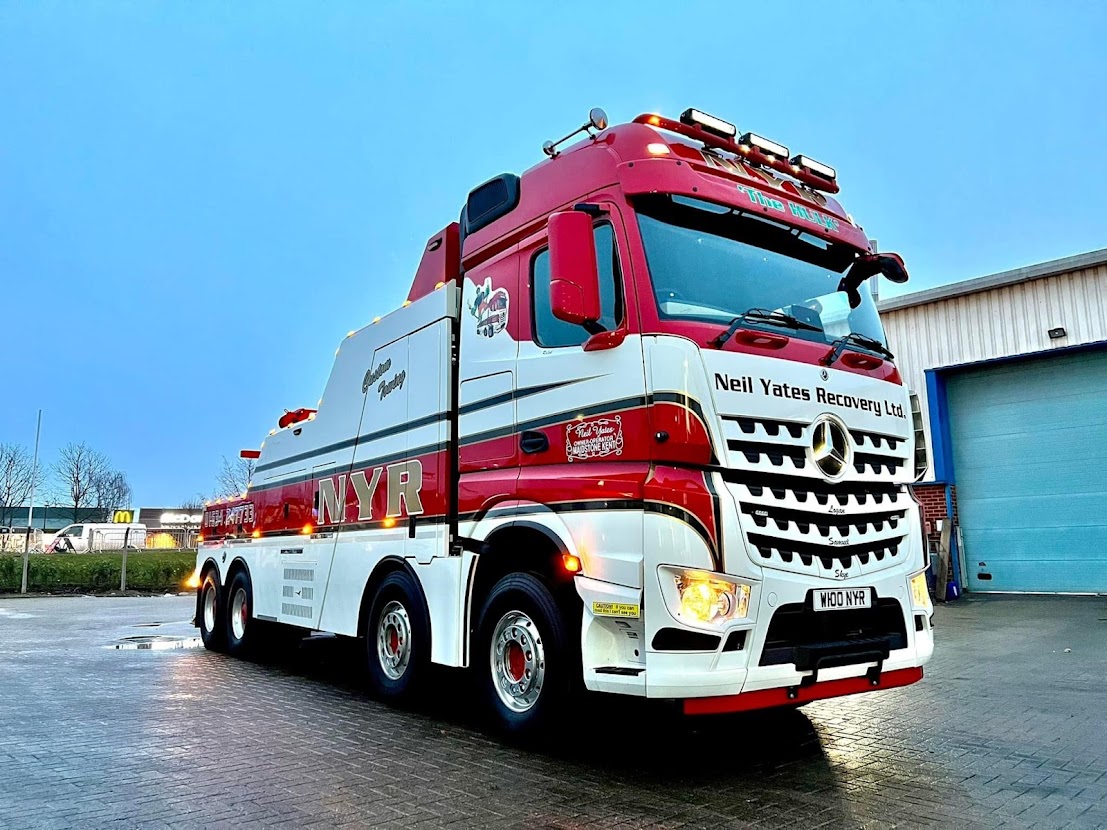 Another Boniface Recoverer Trident XL For Neil Yates Recovery
2022-04-06
Over the past 34 years, Neil Yates has become a very well known and well respected operator within the recovery industry. His "can do" attitude and his investment in state of the art equipment has resulted in an enviable fleet of heavy recovery vehicles. NYR's distinctive sign writing is designed to be bold and professional - creating a positive image and awareness of the NYR brand both here in the UK and throughout Europe. It is Neil's desire for the very best state of the art equipment that led him back to Boniface for this latest purchase – a Recoverer Trident XL with Sidewinder legs and side extending rear legs fitted to this impressive Mercedes Arocs 4163 8x4 chassis.
There are a few variations of the Recoverer Trident including the XL model featured here which provides an additional 1,524mm of top boom reach over the standard 3 stage unit. The Recoverer Trident features dual 50,000lb capacity two speed winches and is suitable for both 6 & 8 wheeled chassis. It has been engineered to be exceptionally strong whilst keeping equipment weight to a minimum, meaning it is extremely capable when performing complicated recoveries as well as being suitable for everyday lift and tow operations using the Boniface Maxireach Lowline K underlift boom which has also been installed. NYR's latest vehicle also features Sidewinder legs providing additional stability and anchorage during heavy recovery operations. The Sidewinders may be deployed in any position from 0 to 90 degrees and are ideal when working in tight spaces. This particular Sidewinder has two additional 35,000lb winches that can be used in conjunction with the legs or have their cables re-routed through additional fairleads located on the main recovery boom.
Complimenting the exceptional equipment and giving the vehicle its unique aesthetic appeal is the Boniface Deluxe stainless steel bodywork which has been skilfully crafted not only to look good but also be very user friendly. Frequently used tools and equipment are conveniently located and stowed within easy reach on the near side of the vehicle keeping the operator as safe as possible during lift and tow operations, whilst the off side lockers house the majority of the heavy lifting and specialist equipment.
To find out more about the Recoverer Trident or any other Boniface product give one of our friendly sales staff a call on 01842 754232. Don't forget to follow us on Facebook, Instagram and Twitter to stay up to date with all our latest news and developments.