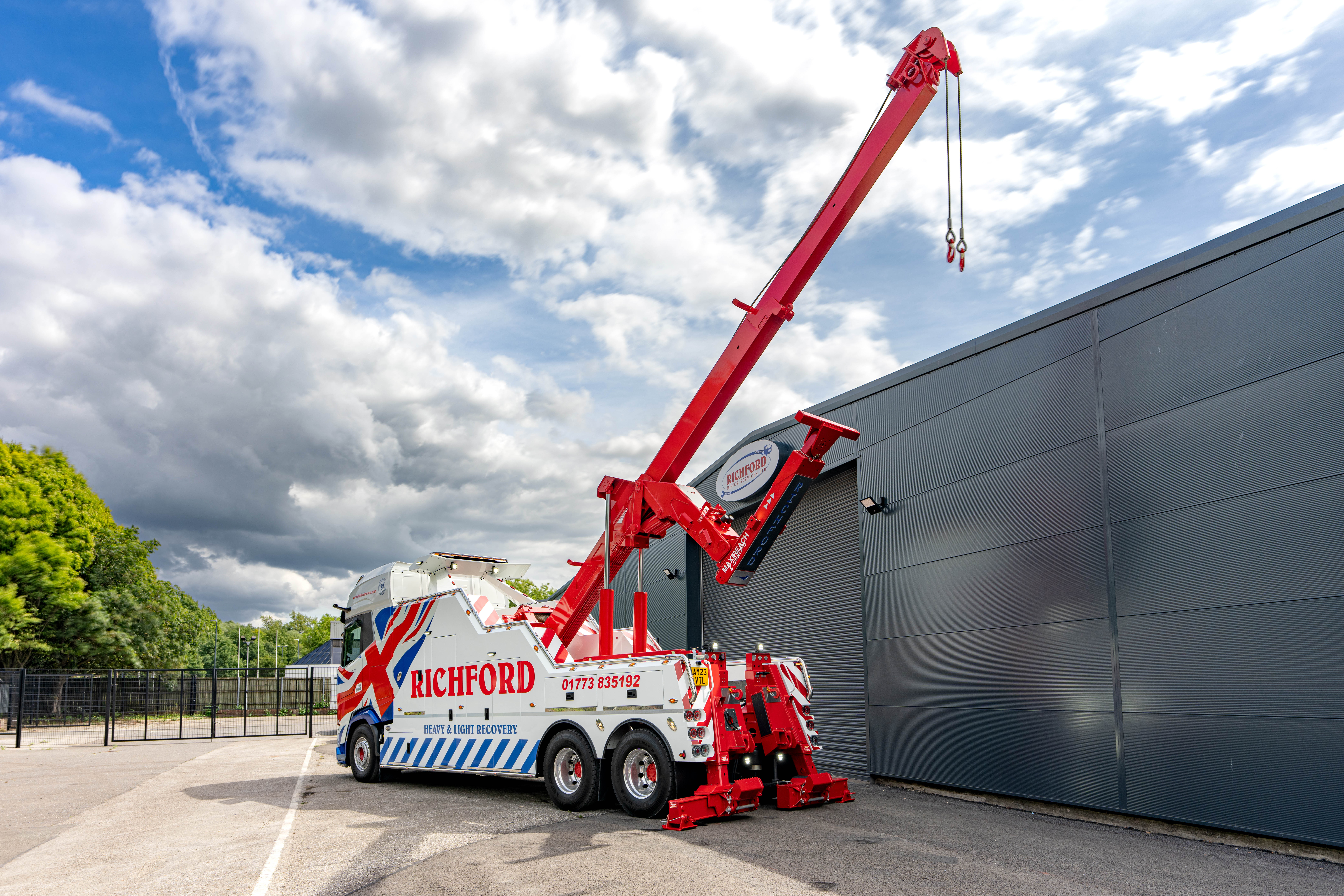 Another Boniface Recoverer Trident for Richford Motors
2023-09-04
Richford Motor Services Ltd are one of the largest and most well-known recovery operators in the UK. Their fleet is very clean, modern, well maintained and extremely well equipped – meaning they can easily cope with any situation they are faced with. Richford pride themselves on exceptional customer service and have a reputation for getting the job done, both quickly and efficiently. Constant re-investment into the business has enabled their fleet to grow enabling them to take on new customers and contracts whilst maintaining their exemplary standards.
This latest addition to the fleet is a new DAF XG+ chassis which features Boniface Recoverer Trident equipment and is just one of many vehicles Richford currently have in build. It includes numerous optional extras offered by Boniface including side extending rear legs with integrated feet and spades which provide great stability when using the Trident's top recovery boom or performing heavy winching operations. As with all Boniface builds, the bodywork has been manufactured from stainless steel ensuring it will perform well and look great for years to come. The vehicle is packed with ancillary equipment allowing Richford's operatives to easily deal with any task they are required to perform. Every piece of equipment within the bodywork has been meticulously stowed to Richford's exact requirements using the latest Boniface Modular stowage system - allowing items to be easily added or moved within the bodies to suit a drivers individual needs. A 360-degree camera system has also been installed ensuring the driver has a clear view of what is happening all around the vehicle at any given moment. The striking Richford livery ensures the vehicle gets noticed out on the road and helps promote a very positive, professional company image.
The Recoverer Trident is one of the largest Boniface's integrated units. It has been carefully engineered to provide exceptional recovery capability using its heavy-duty top boom whilst being light enough to be installed onto a 3-axle vehicle and used for everyday lift and tow work via the integrated underlift. The equipment features two BS EN 14492 compliant heavy-duty hydraulic winches and a choice of standard or side extending rear stiff legs with spades/feet – both of which ensure that the vehicle is well anchored and stable during heavy winching or lifting operations. Boniface currently have three Maxireach lowline booms available all of which are compatible with the Recoverer Trident and each offering unique benefits . The Richford vehicle pictured is fitted with the 'K' variant which is the longest, lowest and most powerful boom produced by Boniface.
To find out more about the Boniface Recoverer Trident or any other Boniface product, give one of our friendly sales team a call on 01842 754232. Don't forget to follow us on Facebook and Instagram for all our latest news and developments.