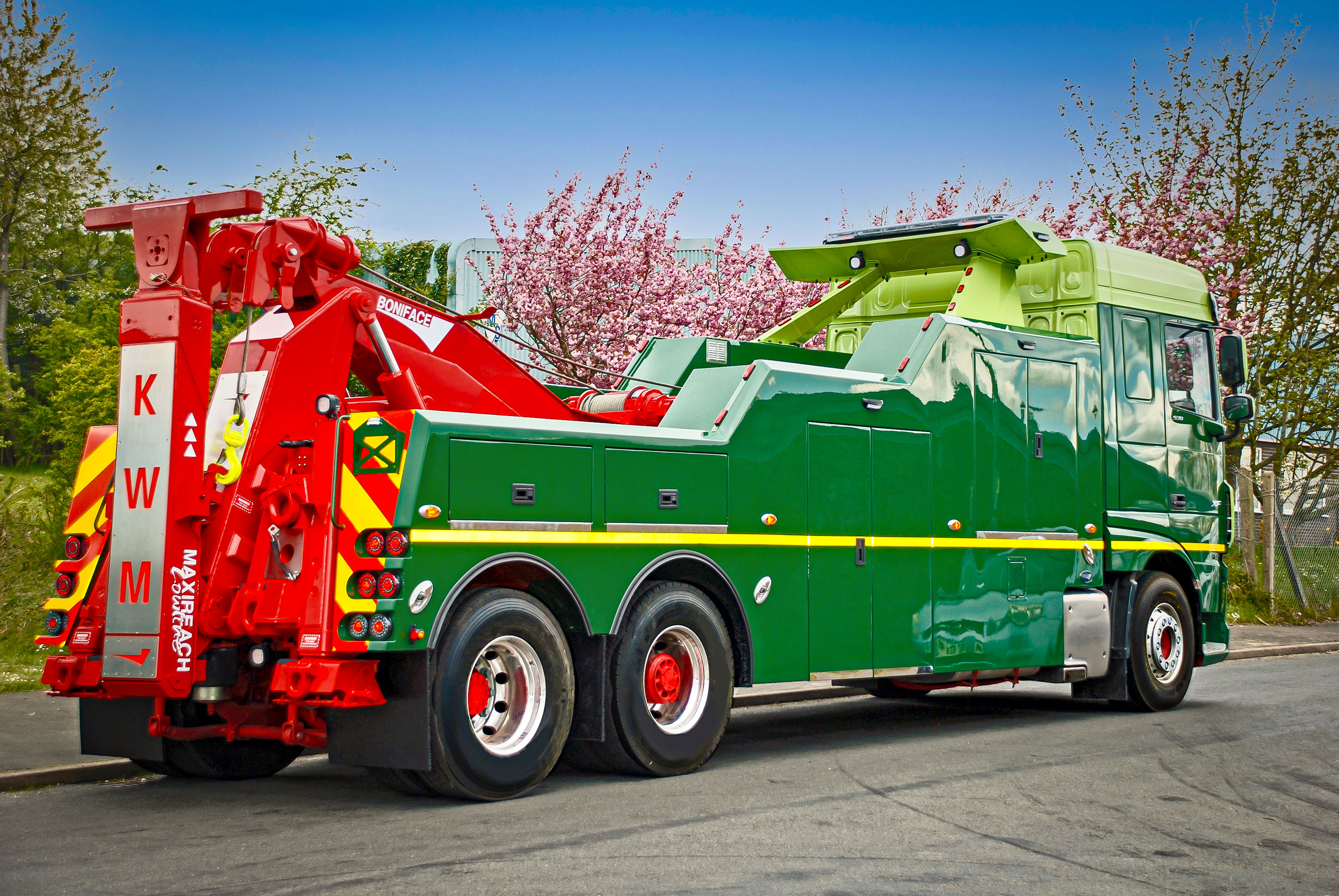 Another Boniface Interstater Heads to Wales
2021-10-13
For over 35 years, Ken Williams Motors have provided recovery, breakdown and garage services to Swansea, Carmarthen and the surrounding areas – gaining a reputation for providing outstanding customer service and getting the job done no matter what they are called to do. Over the years, Ken and his team have built up a very successful business, adding many Boniface and Century heavy duty products to their extensive fleet of recovery vehicles. Recently, they were looking to add another lift and tow vehicle to the fleet and Ken, once again, chose Boniface for the equipment – this time to build an Interstater Mk6 onto his new Euro 6 DAF XF 530 chassis.
Now in its 6th generation, the Interstater is a very capable and dependable heavy duty lift and tow machine – relied upon by professional recovery operators all over the world. It is suitable for 2, 3 and 4 axle chassis and available with a choice of Maxireach Lowline underlift booms to suit your individual requirements. Like all Boniface heavy duty products, the Interstater is available with a huge range of optional extras enabling it to be customised to your exact needs. A range of leg styles are available and the equipment may be specified with single, twin or even no winches at all. Its power tilt facility allows for both positive and negative tilt providing clearance when towing vehicles with low front spoilers.
Ken's latest DAF shown here is fitted with the Interstater Mk6 and Boniface's latest and most powerful Maxireach Lowline K underlift boom. It features twin 15 tonne winches and rear stiff legs with flip over feet/spades which provide both stability and anchorage when winching. To compliment the Interstater, Ken opted for the Boniface Deluxe Stainless Steel bodywork and iconic Stealth flyer creating a very eye catching and impressive looking vehicle. Docking lights and pathway lights fitted to the body ensure the work area around the vehicle is very well lit at nighttime and the custom stowage inside the lockers ensure that all tools and accessories are quickly accessible when needed and make it easy to see if something is missing once the job is complete.
To find out more about the Interstater or any other Boniface product, visit their web page at www.boniface-eng.com. Don't forget to follow them on Facebook, Instagram and Twitter to receive all their latest news and information.