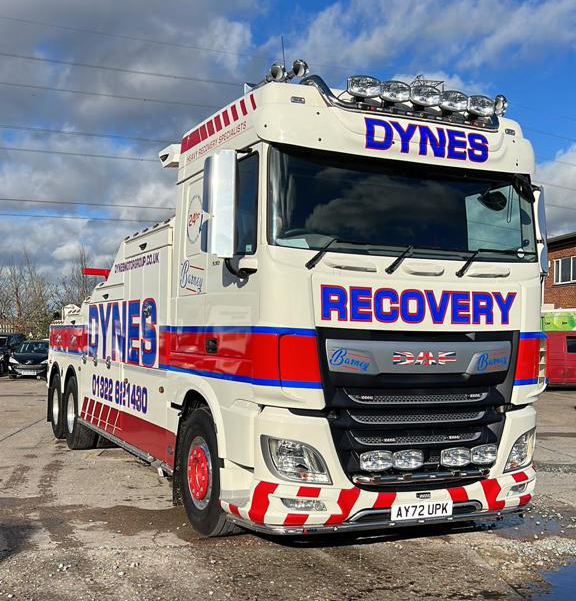 Another Boniface Interstater for Dynes
2022-11-21
Dynes have once again added a new Boniface Interstater to their ever-growing fleet of heavy recovery vehicles, continuing with their planned re-investment into the business and growing their fleet to allow a steady increase in workload without compromising their record of exceptional customer service.
This latest vehicle is one of many heavy-duty units planned over the next couple of years, and once again shows Dynes continued commitment to developing the business whilst supporting their customers. This latest Interstater was mounted onto a new DAF XF 6x2 chassis the features twin winches, rear legs and the latest Maxireach Lowline K underlift boom. The equipment is complimented by aluminium bodywork and a Stealth flyer. As with all Dynes builds the vehicle has been built to a very high specification and is packed with ancillary equipment allowing them to easily deal with any task they are required to perform – quickly, efficiently and safely. Every piece of equipment within the bodywork has been meticulously stowed to provide easy and efficient access when required. A 360-degree camera system has also been installed providing the driver with a clear view of what is happening all around the vehicle at any given moment. The rear facing camera from this system can also be used in conjunction with dash mounted switches to operate the underlift when trying to negotiate a casualty into a difficult yard. As always, the distinctive Dynes livery enhances the overall look of the vehicle whilst complimenting both cab and bodywork to create a vehicle that stands out from the crowd.
It's been 40 years since the 1st Interstater was built and the product has evolved over this time, offering more reach and greater lifting performance with each new version. The latest Mk6 version features single or twin BS EN 14492 compliant heavy-duty hydraulic winches and optional rear stiff legs with spades/feet that ensure the vehicle is well anchored and stable during heavy winching or lifting operations. Boniface currently offer two Maxireach lowline booms, both of which are compatible with the Interstater and each offering unique benefits. This new Dynes vehicle has the latest Lowline 'K' variant which is long, low and extremely powerful.
To find out more about the Interstater or any other Boniface product, give one of our friendly sales team a call on 01842 754232. Don't forget to subscribe to our Facebook, Instagram and Twitter feeds to keep up to date with all their latest news and information.