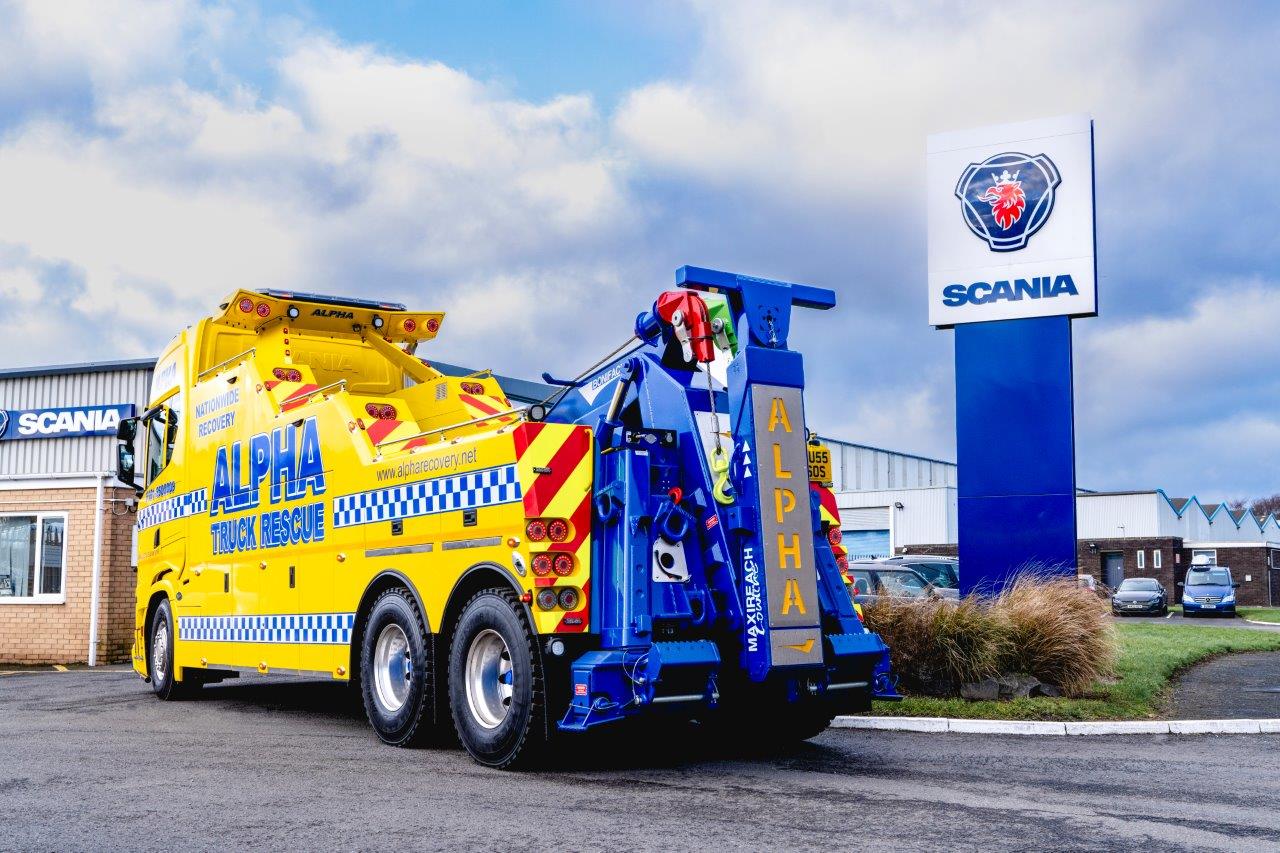 Alpha Return To Boniface For Their Latest Interstater
2023-02-09
After the success of their previous DAF XF with Recoverer Trident equipment and in line with their planned re-investment into the business, Michael Burke and Simon Narey from Alpha Recovery returned to Boniface to collect the latest in a series of heavy-duty builds which will provide additional capacity to their already impressive and ever-growing fleet.
Alpha's latest vehicle is a new Scania 540 6x2 chassis supplied by Steve Holmes at Alpha's local dealership in Newcastle upon Tyne, onto which Boniface installed their latest heavy-duty Interstater Mk6 equipment with Maxireach Lowline underlift. The equipment was specified with twin heavy duty winches, hook back points at the fairleads, additional D Rings on the rear back plate and exposed rear legs - again providing additional hook back points for winching. The vehicle features Deluxe stainless steel bodywork which has been skilfully crafted by Boniface to incorporate many unique features requested by Alpha, on top of which is the iconic Stealth flyer with duplicated repeater lights. As with all Alpha builds the vehicle has been built to a very high specification and is packed with ancillary equipment allowing them to easily deal with any task they are required to perform – quickly, efficiently and safely. Alpha worked alongside Boniface during the build process to ensure that every piece of equipment within the bodywork was meticulously stowed - ensuring quick and easy access to their most used items. A 360-degree camera and sensor system was also installed providing the driver with a clear view of what is happening all around the vehicle at any given moment. Rear facing cameras fitted to the vehicle can also be used in conjunction with the radio remote control to operate the underlift without leaving the cab when trying to negotiate a casualty into a difficult yard.
For over 40 years the Interstater product has evolved, being tried and tested in countries all over the world and offering more reach and greater lifting performance with each new version. The latest Mk6 version features single or twin BS EN 14492 compliant heavy-duty hydraulic winches, a choice of standard rear stiff legs with flip over feet/spades, or side extending rear legs as seen on this latest Alpha build which offer increased stability and anchorage whilst heavy lifting or winching. As with all Boniface heavy duty products, the Interstater is available with a huge range of optional extras allowing you to customise the build to your exact requirements.
To find out more about the Interstater or any other of our products, give one of our friendly team a call on 01842 754232. Don't forget to follow us on Facebook, Instagram and Twitter to keep up to date with all our latest news and information.