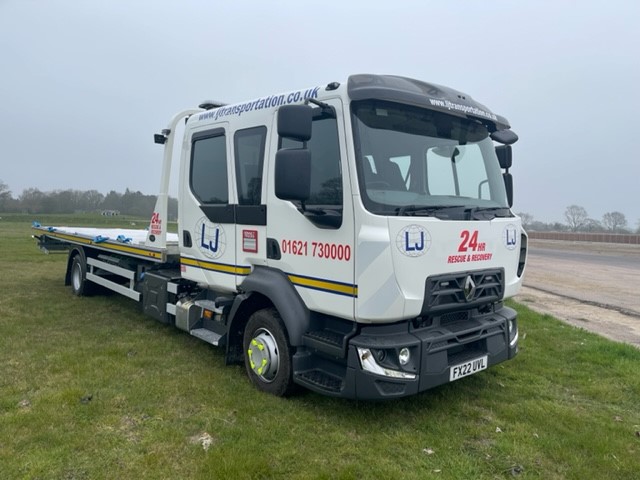 A New Year - A New Boniface VLA For LJ
2022-04-06
LJ's transportation has started 2022 in the same manner that they ended 2021 and that's with a new VLA from Boniface Engineering. Mounted onto a 12T Renault chassis this 5T VLA is the first of many trucks Mick Jennings has on order with Boniface for delivery in 2022 as part of their renewal plan for their entire fleet of vehicles. As Boniface Engineering celebrate their 40th Anniversary it is the support and long standing relationships with customers such as LJ's that they strive to improve and grow for many more years to come.
The 5T VLA supplied to LJ's is renowned for its strong and rugged aluminium bed and continues to be a firm favourite with Mick and the rest of the industry. With its single button operation for the bed and sliding hydraulic winch, 2T second car lift, chassis stowed wheel skates, 4 position side winching facility, LED beacon, LED work lights and LED strobes front and rear, the vehicle is fully equipped to offer the operator continued reliable operation. On all their builds LJ's opt to have rear strobes mounted onto the tilt frame to provide maximum visibility to other road users whilst loading casualty vehicles.
To find out more about the Recoverer Trident or any other Boniface product give one of our friendly sales staff a call on 01842 754232. Don't forget to follow us on Facebook, Instagram and Twitter to stay up to date with all our latest news and developments.