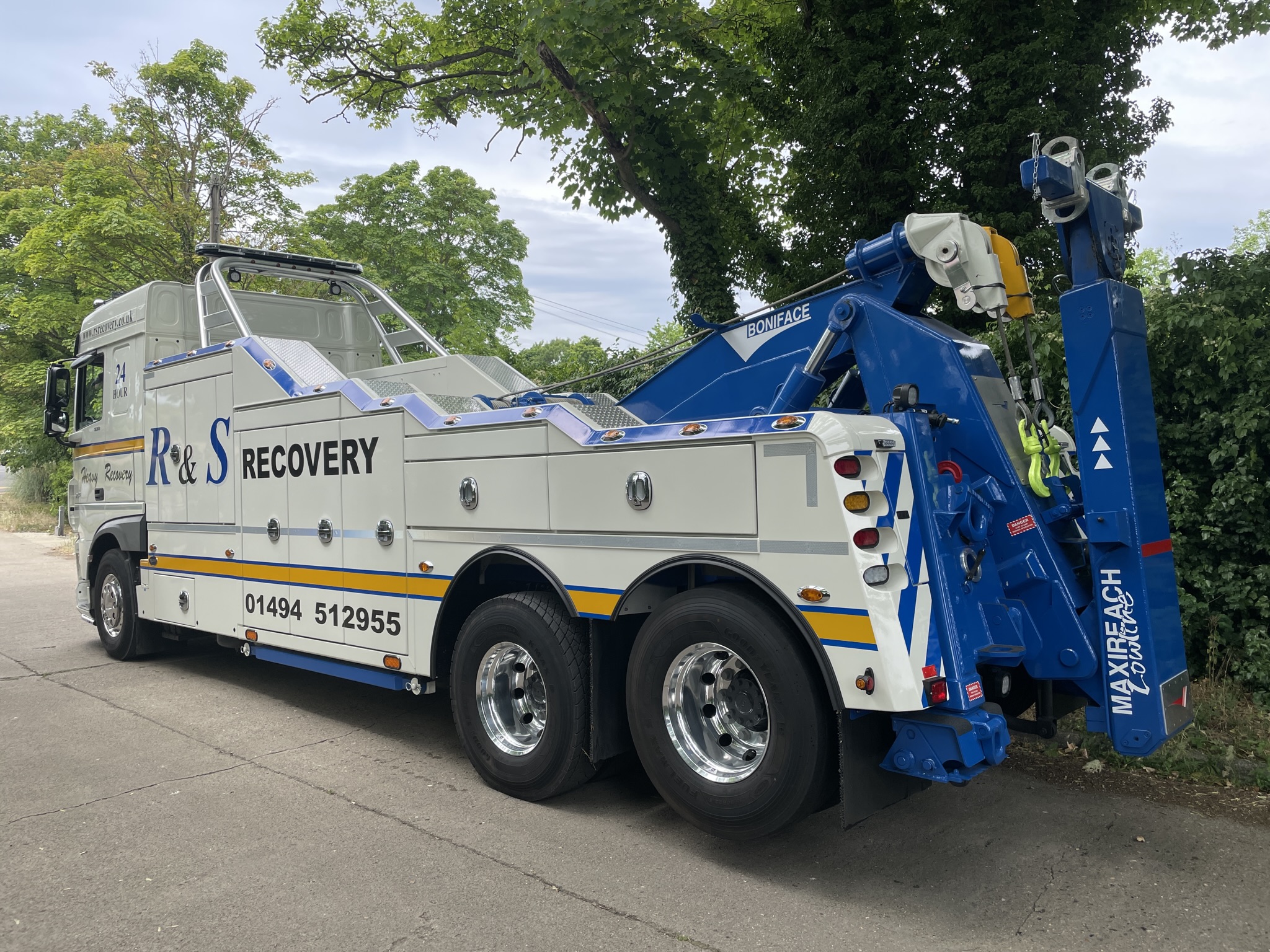 A New Interstater for R&S Recovery Services
2022-07-22
R&S Recovery Services recently took delivery of a new MK6 Interstater mounted on a DAF XF 530 Space Cab chassis. This build had the first of the newly designed aluminium bodies with additional drop-down steps to give it that more European and streamlined look, with a combination of the traditional custom stowage and the new Boniface clip in stowage system every inch of space was maximised providing excellent stowage options.
The INTERSTATER MK6 with Maxi-Reach Lowline K Boom has a maximum lift capacity of 33t when retracted at 2.04 meters and an impressive maximum lift capacity of 9T when fully extended at 4.34 metres. The rear hydraulic stabiliser legs provide a solid footprint when operating the equipment and with the flip over spades deployed, provide excellent anchorage for the twin 15,000kg winches during heavy winching operations.
R&S opted for a cab mounted 12 function radio remote control allowing the operator to lower the boom from the cab whilst utilising the rear camera system meaning less time on the ground and a quicker, safer recovery. The list of equipment required to be stowed within this body was extensive, but the truck can now deploy to any job with the confidence it is ready for any situation. In addition to the standard Boniface forks and accessories the vehicle is equipped with retractable air and electric reels, hand wash package with hot water supply, telescopic ladder, wrecker kit, and a selection of chains and snatch blocks. To maximise illumination at night and to provide safety for the driver the vehicle is fitted with LED work lights, LED strobes front and rear, Underlift work lights, Millennium side marker lights and an LED beacon mounted onto the Stealth flyer.
If you would like to know more about the Interstater or any other of our products, give us a call on 01842 754232 and one of our friendly knowledgeable staff will be happy to discuss your requirements