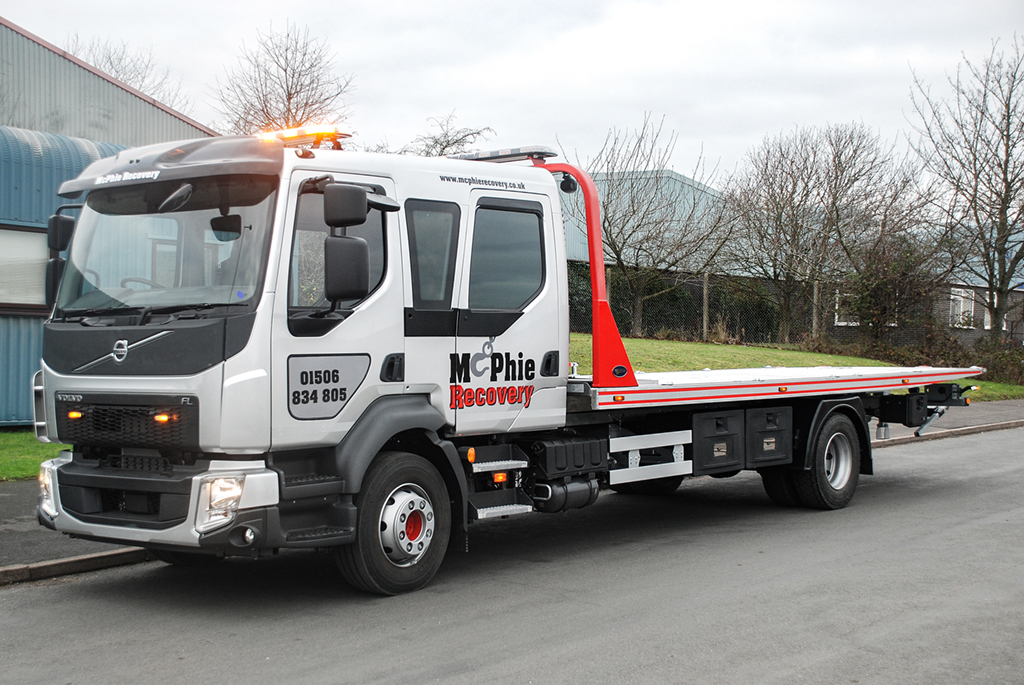 6t VLA for McPhie
2022-02-14
As we enter our 40th Anniversary Year, we have devoted time to look back and reflect and recognise some of those customers that have been returning to them for their new Recovery Vehicles over the years, McPhie Recovery feature prominently on the list. The family run business based in Linlithgow, Scotland have a had a long-standing relationship with Boniface of over 20 years, initiated after George purchased his first Interstater. George McPhie died in 2019 and since that time the business is operated by Lorna McPhie and her son Gary, Boniface has been successful in supply more product to the business recently and will endeavour to provide a service to McPhie to maintain the relationship for many years to come.
This latest build is a 6T VLA mounted onto a Volvo FL 250 14T chassis with rear air suspension. The Very Low Angle of the fully demountable bed enables the operator to recover a full range of vehicles from sports cars with low spoilers to large vans with tail lifts. The VLA's increased bed capacity from 5T to 6T combined with the additional carrying capacity of a 14t chassis over a 12T chassis, produced a payload of 5620kg future proofing McPhie's investment by easily coping with the ever-increasing weight of cars and vans. The renowned strength, durability and light weight construction of the aluminum bed will provide years of hassle-free operation without the worry of rust and corrosion. The VLA's 2.46 metre bed width can be fully utilised as the lashing rings are mounted on the side raves which helps when loading those larger or wider vehicles. The VLA comes as standard with an 8000lb hydraulic winch with a manual sliding function allowing the operator to lock the winch into the required position and maintain a straight-line pull. The new winch low pull option means vehicles can also be winched onto the 2t second car lift via a pulley system enabling the winch rope to be routed down through the bed and onto the second car lift, even when a car is already loaded onto the bed.
In addition to the 8000lb winch and fitted as standard on the VLA product, is a fully galvanized subframe and tilt frame, 2 function radio remote control allowing the bed to be deployed with the push of a single button. The winch can also be operated by the same remote via a simple change over switch. This build also had 2 x LED Beacons, LED strobes front and rear, 2 pairs of LED work lights, wrecker kit, wheel skates and skate ramps. The truck was finish painted in McPhie's traditional silver and red colours and livery was supplied and fitted by Fleet Livery.
If you would like to know more about what makes the Boniface VLA different to other low approach slide beds, give us a call on 01842 754232 and one of our friendly knowledgeable staff will be happy to talk you through the product range.